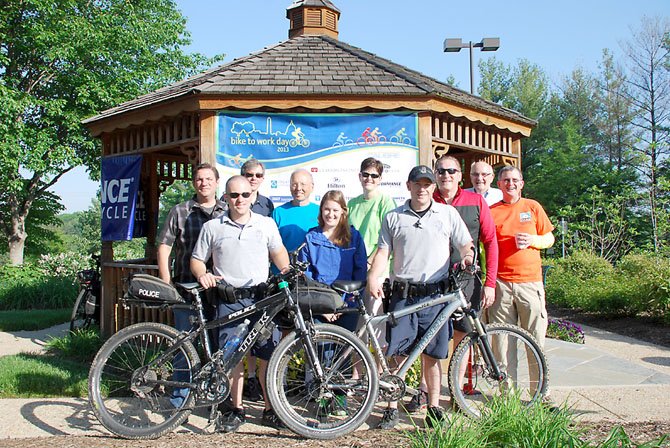 Though the Metro Park pit stop for Bike to Work Day 2013 didn't technically open until 6:30 a.m. on Friday, May 17, the first biker showed up at 6:15, according to stop Manager Nancy-jo Manney. Free T-shirts can be a big motivator.
Manney, executive director of the Greater Springfield Chamber of Commerce and West Springfield resident, was in charge of one of 70 pit stops providing free bike repair and adjustment service, health-minded drinks and snacks, and, of course, event T-shirts—an attractive deep teal. The early bird rider was one of more than 10,000 two-wheeled commuters that would participate across the D.C. metro area.
"It's about encouraging people to get out of their cars, be healthier," said Manney. But the event, which is sponsored by Virginia Megaprojects, Commuter Connections, and the Washington Area Bicyclist Association, also helps open a productive dialogue feedback from riders.
"It helps us determine where there are issues," she continued. "We can't just snap our fingers, but we can take some of these things we hear, and say, 'Now let's do something about it.'"
"It's about encouraging people to get out of their cars, be healthier."

—Nancy-jo Manney
According to Manney, issues that can typically get rapid responses include obstructions on trails and sidewalks, debris clean-up, locked gates and signal malfunctions at intersections.
Previously located at the Franconia-Springfield Metro Station, this was the fourth year the stop serviced cyclists from the Metro Park location on Walker Lane. Each of the 70 stops was outfitted by local sponsors—this location received giveaways and refreshments from businesses including Hilton, Performance Bicycle, Calibre and Clarion Partners.
Those who stopped ranged from novice riders to daily commuters, said Manney. For her, no one can do too little when it comes to integrating cycling into the grind. "People get discouraged, thinking, 'Oh, I have to go the whole way.' No, you can just start with the last mile."
Though it might not include a free T-shirt.