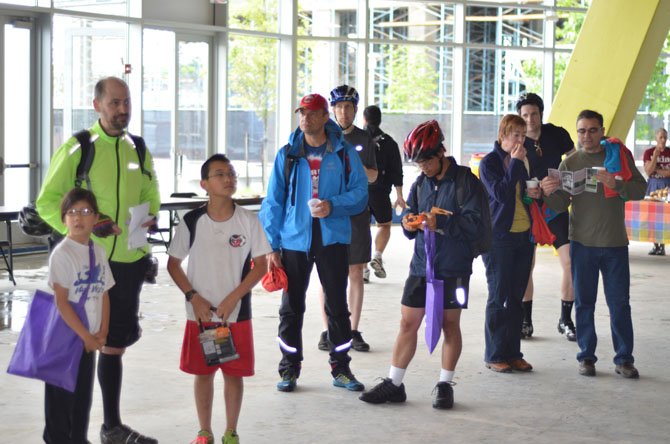 On Friday morning rainy weather hit Northern Virginia, yet volunteers at 14 bike stations throughout Fairfax County still assisted bicyclists for the annual Bike To Work Day. Coordinated by Commuter Connections and Washington Area Bicyclist Association (WABA), the Bike to Work Day event attracts participants from around the Washington metropolitan region. This year's theme was "Get your workout before you get your work in."
The number of persons that pedal to work is up 60 percent over the past decade according to a report from the Census Bureau. And with new metro stations preparing for activation along the Silver Line, organizations such as the Fairfax Advocates for Better Bicycling (FABB) hope events like Bike To Work day will build greater appreciation for bike lanes and alternate methods of transportation. In Washington, D.C. another 14 miles of bike lanes will be added this year to the 50 already in place.
"It is a great event, it brings some people out to work who have thought about it but not tried it," said Bruce Wright, Chairman of FABB. Wright helped form the Fairfax Advocates for Better Bicycling in 2005. "Fairfax County needs to keep up with its neighbors," stated Wright. "Arlington County, with one-fifth our population, has six full time people devoted to building bike facilities, encouraging people to bike, and educating cyclists and motorists. Because we haven't invested in a fully funded bicycle program, our bike coordinator doesn't have the funds to do the job." According to a demographics report published in January 2014 with the Department of Neighborhood and Community Services, Fairfax County has forecasted 2014 population of over one million residents with an average annual increase of 4,700 persons.
At a meeting in January this year the Fairfax County Board of Supervisors approved approximately $40 million in funding for bike projects over six years as part of a major six-year transportation funding package. Fairfax County has a Bicycle Master Plan that has been in draft form for nearly two years with public hearings postponed until September. A version of the plan is expected to be available sometime soon. "We think it has taken so long because the county has not devoted enough resources to a county bike program," said Wright. On Wednesday, May 21 Fairfax County bike coordinator Charlie Strunk will present a final draft of Bicycle Master Plan to Fairfax County Planning Commission's Transportation Committee at the Fairfax County Government Center. This will initiate the Commission's review process.
"In spite of the torrential rain and winds, we still had bikers, both seasoned commuters as well as some new riders trying biking to work for the first time," said Charlie Strunk, bicycle coordinator for the Fairfax County Department of Transportation. "Overall in Fairfax County at our pit stops, we saw about 20 percent of the registered riders participating. Considering the weather, I thought this was impressive. You also have to be appreciative of all the volunteers who man the pit stops." Some volunteers were out as early as 4:30 a.m. setting up in the rain. According to Strunk, the biggest bike station stops in Fairfax County for Bike To Work Day are at Herndon, Reston, and Vienna.
IN RESTON, the pit stop was held at the plaza of the new silver line metro stop at the Reston East Metro station. Comstock Partners opened the lobby of one of the buildings on the development, which was used by the event guests throughout the morning. "It was unfortunate that it rained, but Comstock was great to provide us with this space," said Larry Butler, Senior Director of Parks Recreation and Community Resources with Reston Association. Approximately 483 persons had preregistered to come to the Reston Station, but due to the rain under 200 checked in. The new Reston-Wiehle East Station will feature Fairfax County's first enclosed, secure bicycle parking facility with a capacity for over 200 bicycles.
At the Reston Station, Reston Association President Ken Knueven, Del. Ken Plum (D-36) and Supervisor Catherine M. Hudgins (D-Hunter Mill) stopped by to say a few words and thank volunteers for their services. "Bike to Work Day emphasizes what Reston residents already know, whether it's walking, riding a bike, catching a bus or the Metro, or sharing a ride in the carpool, multi-modal transportation is critical to our future way of life," said Knueven. "Reston is ripe with enthusiasm to make it work." Friday's event typifies what two of Reston Association's committees, the Transportation Advisory Committee (TAC) and the Pedestrian and Bicycling Advisory Committee (PBAC), focus on everyday representing and sharing the community's interests in improving the area's transportation needs. "We thank the sponsors and volunteers who were on the planning committee and everyone who came out despite the weather," said Reston Association special events coordinator Ashleigh Soloff.
"I saw more women bicyclists then in previous years, even with the rain," remarked Kelley Westenhoff. Westenhoff was at the Reston Station with her son John, representing the Reston Pedestrian and Bicycling Advisory Committee. "It was awesome and cool to see the space at the new metro station," said Reston resident Amy Shaw who was volunteering with the event along with Brian Jacoby.
As part of National Bike to Work Day, 79 pit stops were set up throughout the D.C area, up from 70 last year. Approximately 14,000 registered to make a pit stop along their commute Friday. Much of the D.C. metro area has invested heavily in its bike infrastructure for two-wheeled commuters. In the Town of Herndon, plans are underway to light a 3,800 foot section of the W&OD Trail with R.E. Lee as contractor for the project. Approximately 39 light posts will be installed along the trail, as well as necessary above ground transformers.
IN DOWNTOWN HERNDON by the W&OD trail there was a pit stop from 5 a.m. to 10 a.m. compliments of A-1 Cycling. "It was slow, but we had people coming in," said David Meyer, owner of Green Lizard Cycling, which hosted a booth at the Herndon station. "We had a number of bike adjustments for folks. Spirits were high, people had a good time." At the Herndon stop, set up began at 5 a.m. with the first rider arriving at 5:44 a.m. "This event is a great way to learn about biking to work and alternate exercise," said Alex Rekas, representing the Town of Herndon Parks and Recreation Department.
To learn more about Bike To Work Day, visit www.biketoworkmetrodc.org.