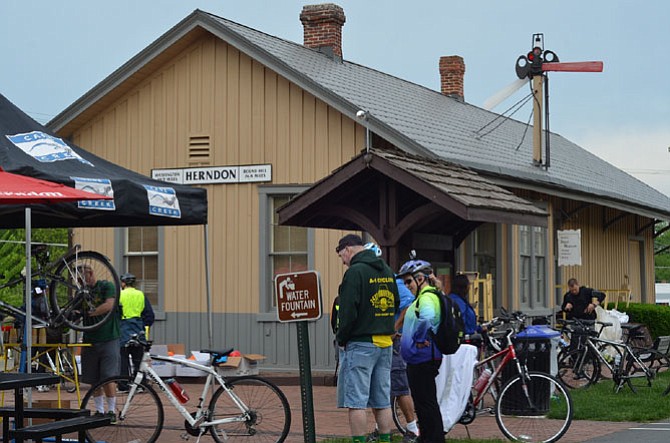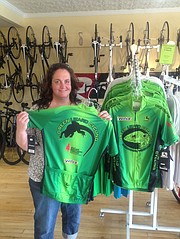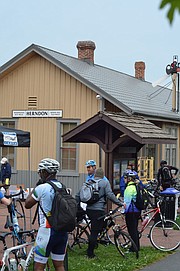 On Friday, May 15, commuters swapped gas pedals for bike pedals in the metropolitan Washington region to participate in the annual Bike to Work Day (BTWD) event. Registration for the event increased 4 percent over last year. The first BTWD was held in the region in 2001. Participants were encouraged to register for the event and then check in at one of the 79 pit-stops within the District of Columbia, Maryland and Virginia.
This year's Bike to Work Day had the highest ever registration in the D.C. metro area with more than 17,500 riders, and in Herndon pit-stop registration at 428 was an increase of 19 percent over the previous best. "It is exciting to see the growth in participation knowing that it means more people are choosing a clean, fun, and healthy way to get to work," said Cindy Roeder, director of the Town of Herndon Parks and Recreation.

Mild weather encouraged an increase in participation, and the W&OD Trail had a steady stream of bicyclists using the trail to arrive to their destinations. Co-organized by Commuter Connections and the Washington Area Bicyclist Association (WABA), cyclists enjoyed free refreshments, bike tune-ups, entertainment, and pit-stop giveaways. "We're grateful for the ongoing support from Bike to Work Day participants, volunteers, sponsors, and elected officials who've allowed the event to grow bigger and better each year," said Director of Commuter Connections Nicholas Ramfos.
At Herndon, biking store A-1 Cycling was the first bike shop sponsor for the Town of Herndon and helped begin the Herndon bike pit stop. In 2013, the bike and coffee shop Green Lizard Cycling opened a lease at the Nachman Building in downtown Herndon on 718 Lynn Street. Bike mechanics and employees with A-1 Cycling and Green Lizard helped tune and repair bikes, and refreshments including bread from Great Harvest Bread Company was available. The Herndon Pit Stop had morning and afternoon hours from 4 to 6:30 p.m., with lively entertainment compliments of the kids from Bach to Rock Herndon.
"It's exciting to see how Bike to Work Day has grown and been supported by the residents, businesses, and organizations in the region," Nicholas Ramfos, director of Commuter Connections, said in a statement.
A pit stop at Reston was located on the Plaza at the Wiehle-Reston East Metrorail Station. The location is above Fairfax County's first secure bike parking facility, blocks from the W&OD Trail. Over 500 riders stopped by, five of whom won Reston Bicycle Club water bottles and memberships.
Virginia ranks 13th nationally among states in supporting bicyclists, and tops in the South, according to the Virginia Department of Transportation (VDOT). The commonwealth moved up from 18th in last year's survey, conducted by the League of American Bicyclists.
In October last year, Fairfax County adopted a comprehensive 10-year Bicycle Master Plan. Fairfax County will get about 34.6 miles in new bicycle lanes or markings, as the Virginia Department of Transportation starts its summer paving program, according to a news release from the county.