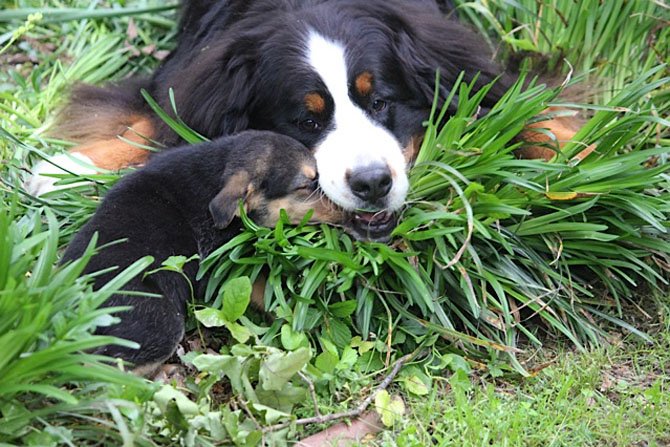 Photo Gallery
Ready for Adoption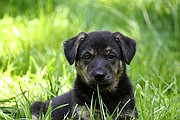 These foster dogs will be available for adoption by June 3. Contact the Animal Welfare League of Alexandria at 703-838-4774.
Click Photo for Flash
Mount Vernon — It's shocking how quickly it has become normal — and even "just right" — to have 10 dogs living in my house.
No, I'm not a hoarder. I foster rescue dogs, and two weeks ago Nala and her seven four-week-old shepherd mix pups arrived at our doorstep.
I'm sure people think we're crazy. But judging from the ongoing joy that has stemmed from that "yes" to the Animal Welfare League of Alexandria, I'd say it's a good crazy.
Ever since we started fostering for Homeward Trails last August, I get The Big Question: "But how do you let them go?" It's a valid query. In the end, though, putting our own feelings of loss ahead of the very real needs of a dog trapped in horrible conditions felt … well … ridiculous. So we took a deep collective breath, and waded in.
Over the next six months, we fostered five dogs, each for a few weeks. There were the two hilarious Boston Terrier puppies. There was the shy, dear lab mix, and the easy, sweet yellow lab. Then there was the pup who left but came back two months after her adoption because of allergies in the family. Good thing, because it turns out she was meant to be a treasured member of my sister's pack.
We have loved each of these dogs. They've been a part of our family. We've played with them, snuggled them, taught them. Our own dogs and cats have welcomed them, guided them, and given them confidence. When they leave, we like to think that this time spent in a stable pack at such a young impressionable age will be with them forever.
A FEW WEEKS AGO, I saw on Facebook that a mother dog and her puppies — less than a month old — had just been dropped off at the shelter. I thought about that nursing mom who'd been caring for those seven puppies around the clock — only to find herself suddenly homeless. There are a lot of terrible things happening on this planet about which I can do nothing. But it struck me that this was a tragedy in my corner of the world that our family could actually remedy. So (after getting the "I'm in!" from my excellent husband) I contacted AWLA, and two days later our family hit an all-time high with 10 dogs, two cats, and two fish on the premises.
I won't lie: It's been a full-time job. But this is also the honest truth: I have never had more fun. Nala is a spectacular mother, and she has melded into our pack seamlessly — somehow knowing that she could trust us (and our dogs).
And the puppies! Oh, my. They are delicious. We are constantly interacting with them, and they are so very engaged. It is endlessly entertaining to witness their curiosity. Every bush, step and log is a challenge to be explored. We watch to see which pup leads, which loves to socialize, which is happy alone. We see who runs back to us for reassurance, and who seeks a lap when tired.
I think of all of that, and then where these eight dogs would be right now — emotionally, physically, developmentally — if they were stuck in a loud dog run at the shelter at this tender time. And I resolve that this will not be the last time I say "yes."
OF COURSE fostering is great for the animals. But the surprising secret is that it is also great for those who do the work. This process is one giant exercise in three critical things: living in the moment, having faith, and letting go.
To be the pack leader this gang needs, I live in the moment. I can't worry about what problems could arise, or whether good homes will materialize. The only workable approach is to enjoy every wag and take it a day at a time. Not a bad lesson.
I have seen that I am just one little piece of a wondrous rescue puzzle. There are the people at the underfunded rural shelters who work hard to get those dogs out of there. There are the rescue folks who organize. There are the people who drive up I-95 every single Saturday with carloads of dogs. There are those of you who donate the bonanza of helpful items I found loaded into my van. There is my family, each of whom pitches in. There are my own pets, whose lives are disrupted but who seem to understand that "to whom much is given, much is expected." And then there is that person who steps up and says, "Yes. I want that dog." All of this happens, over and over again, and it is an overwhelming reminder to simply have faith. Not a bad lesson.
Now comes the letting go part. I confess that the night before each of our old fosters left, I was sleepless, wondering how this dog could possibly cope with another transition. But then a week passes, and I get emails detailing just how beautifully my pups have become a part of a new pack. And I learn that it can feel just fine, in fact quite right, to let go. Not a bad lesson at all.
In a week, it will be time to get a refresher in all of my lessons as I say goodbye to this spectacular litter.