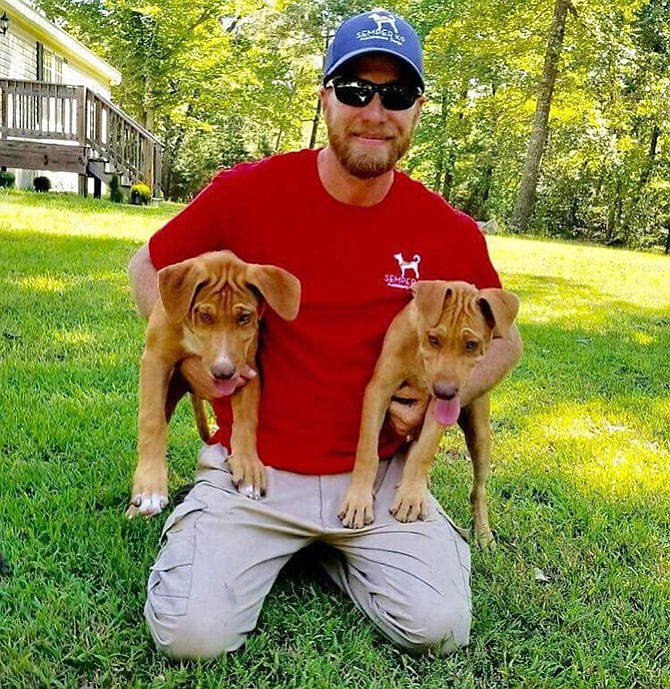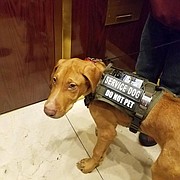 Although the odds were stacked against local puppy Alvin, the young canine has already made great strides toward establishing an extraordinary legacy. On Super Bowl Sunday of this year, for example, he wasn't curled up into his owner's lap, staring at the flashing lights of the American sports spectacle on TV. Instead, he was part of Team Fluff's starting lineup for the Puppy Bowl, an event televised on Animal Planet every year for people who find puppies a little more interesting than pigskin.
Alvin's story begins with a feral mother, a dog so deprived of human interaction that her odds of survival in a shelter were slim at best. However, thanks to Operation Paws for Homes (OPH), an Alexandria-based non-profit organization that rescues dogs from overcrowded shelters and other harmful scenarios, Alvin's family story will have a very happy ending.
"Normally you can't do much for feral dogs," said Laurie Landers, OPH director of operations. "They are basically wild animals due to their lack of human exposure. They are not comfortable around people. When we were asked to help with these puppies and their mom, I actually didn't know she was feral. When she arrived, she was bucking and thrashing and we had to think fast. It was a big surprise that we were not completely ready for but we improvised and made it work. You have to do a lot of improvising in rescue work. We were so happy that everything fell into place and we were able to help them."
OPH finds compassionate, responsible volunteers to take in their rescue dogs either as foster or forever owners. And, of course, some of the dogs have found homes with Landers or OPH founder, Jen Dodge. Through all of the organization's rescue efforts and with its network of nearly 250 active volunteers, OPH has saved thousands of lives.
Just one example, Alvin spent his formative months with OPH before putting his game face on for the Puppy Bowl. Now, he's in the process of training with Semper K9 Assistance Dogs, a Manassas non-profit organization that trains dogs to become service and therapy animals for military veterans.
Altogether, OPH has donated 13 dogs to Semper K9, including two of Annia's puppies. So, while Annia has her own rural sanctuary at Landers' personal farm, Alvin and his brother are in training to one day change human lives in incredible ways.
"We started this partnership with Semper K9 because they reached out to us and we wanted to do more to help our veterans with our shelter dogs," Landers said. "The founder of Semper K9, Chris Baity, is a veteran who had been a dog handler in the Marine Corps, and he taught me so much about the plight of veterans who return home from war. I have seen the effects of PTSD from many years of working trauma in the hospital. Some of these cases end tragically. It does not have to be that way."
Conversations with Baity combined with memories of patients she had cared for as a nurse got Landers thinking.
"It just made me think, 'what if our struggling veterans had dogs to ground them, to give them purpose? Would we be here in a trauma situation if they had that support?' Landers said. "I know firsthand that if you're having a bad day, your animals help you keep going. With all that these servicemembers do, so many of them paying the ultimate price, I am thrilled to have this partnership with Semper K9 and truly believe in what they do. In the four years since we started this partnership, it has really grown."
Baity said that OPH — and the dogs like Alvin that they provide — has been instrumental to the work he does from the very beginning.
"Our first two dogs came from OPH, and we quickly developed a close relationship with Laurie," Baity said. "In the beginning, we were doubtful that just one rescue organization could provide the dogs we would need. OPH finds and rescues such a variety of dogs with various temperaments and abilities, though, that we are easily able to find candidates for our service dog program."
This partnership provides extra layer of guarantee for both organizations — which will make a difference to the many lives both Semper K9 and OPH seek to impact.
"We usually select 10 and 20 dogs each year, but plan to increase that number to between 24 and 48 annually," Baity said. "This close relationship allows us the opportunity to plan months in advance when evaluating candidates that we believe have the necessary skills to complete our rigorous training regimen. That's so much more important than many would realize because we receive such a wide-variety of veterans with many types of disabilities. These veterans have various needs, so we look for dogs with a specific type of temperament and the ability to perform tasks for their veteran's disability."
These two operations have achieved a level of synergy.
"OPH has made Semper K9 more successful because of our shared love for rescuing dogs in need of a good home," Baity said. "Semper K9 is looking for dogs that 'want a job,' and OPH helps us find these dogs in shelters or high risk environments."
Although it's always hard to say goodbye, Landers said she knows Alvin is at the threshold of greatness. One of her parting memories of him was something pretty unforgettable, too.
"Animal Planet came out and actually filmed a segment on Alvin — called 'Pupclose with Alvin' — that they aired during the Puppy Bowl. It showed Alvin on my farm, trying to make friends with all the goats. It was a great feature."
Landers said she entered a number of puppies with the organization into Animal Planet's call for submissions for the Puppy Bowl. Five, including Alvin, ended up making it to the game.
As fun as it was for Landers and Dodge to see some OPH puppies in an event like the Puppy Bowl, the main mission they fulfill through Operation Paws is more significant. Since its inception in 2010, OPH has rescued more than 8,000 dogs from neglect, torture, and a whole host of horrors that most of humanity couldn't even begin to fathom.
"It's pretty simple how we started," Landers said. "Just like with every rescue organization, we started by rescuing dogs. I saw an ad on Craigslist that featured dogs that were going to be euthanized by a gas chamber in North Carolina. It brought images in my head of horrible things. I saw that these three dogs needed help, and I always thought, 'I've had a knack for animals and I'm good at matchmaking,' so I knew I could find good homes for these three dogs to save them from going to a gas chamber."
This initial mission turned into a rescue of far more than three dogs. That day, the OPH duo ended up rescuing 26 dogs. They had to think and act quickly, using social media to identify volunteers and foster pet parents.
Eight years later, the organization shows no signs of slowing down in their advocacy of all dogs in peril.
"We didn't know what we were doing back then, but we knew that we needed to do something to help," Landers said. "We've made a lot of mistakes. Those emergency rescues before OPH officially began were just the tip of the iceberg. We started learning that resources were scarce for many shelters and pet owners. The problem of pet overpopulation is out of control. There is a lot of work to be done. So, the organization has grown exponentially as we find more ways that we can make a difference."
Aside from its boots-on-the-ground rescue missions, OPH addresses the disease of animal mistreatment in other grassroots ways.
"We do direct rescue, adoption programs and provide shelter supply support," Landers said. "We also offer training for our adopters and for the community, and we provide children's education. When owners need help, we sponsor many cats and dogs to be spayed and neutered. We're making a huge impact in so many ways. And, the partnerships make an incredible difference too. I love the message that it sends when our dogs end up with Semper K9. These are outstanding, exceptional dogs that were once unwanted shelter dogs. It shows that they can do great things."
To watch the Animal Planet spotlight, which features some amazing OPH puppies, visit: https://www.animalplanet.com/tv-shows/puppy-bowl/videos/pup-close-and-personal-with-alvin