ArtSpace Herndon will be opening a brand new exhibit this week titled "Artists of Montorno." Beginning Tuesday, Nov. 5 the exhibit will provide a glimpse into the Montorno Studio in Seravezza, Italy. "It is a wonderful view of Italy and there is a good amount of diversity amongst the artists and their work," Public Relations Manager Brenda Page said.
The exhibit features work by Montorno Workshops instructors Trisha Adams, Danni Dawson, Mary Del Popolo, Peggy Feerick, Mike Francis, Gavin Glakas, and Kurt Schwartz, who are all locally and internationally known artists. Portraits, landscapes, still-life paintings, sculptures, drawings, pastels, printmaking, and photography are featured in the beautifully rich exhibit. Since the studio is a consummate learning experience, the work of students will be highlighted in the exhibit.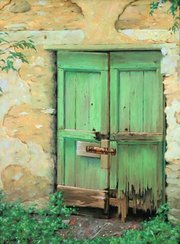 For almost two decades, Montorno studio in Seravezza, Italy, has been a refuge for artists to study the arts with famous painters and sculptors. The village of Seravezza is in a valley in the Apuane Alps in northwestern Tuscany, only a few miles from the Mediterranean Sea. Montorno is surrounded by spectacular views of marble quarries, chestnut forests, and lush valleys, leading to the Mediterranean Sea. There are approximately 60 pieces of artwork that will be on display at the exhibit, many of them available for purchase.
There will be an artists' reception on Saturday, Nov. 9, from 7 to 9 p.m. Musicians Mike and Dave Gassmann of the Gassmann Jazz Duo will be performing, and there will be light refreshments during the reception. Artists Judy Morse, Mike Francis, Kurt Schwarz and Mary Del Popolo are expected to attend.
ArtSpace Herndon is a community art gallery located at 750 Center Street, Herndon, Virginia. To learn more about the ArtSpace Herndon, visit the webpage at http://www.artspaceherndon.com.