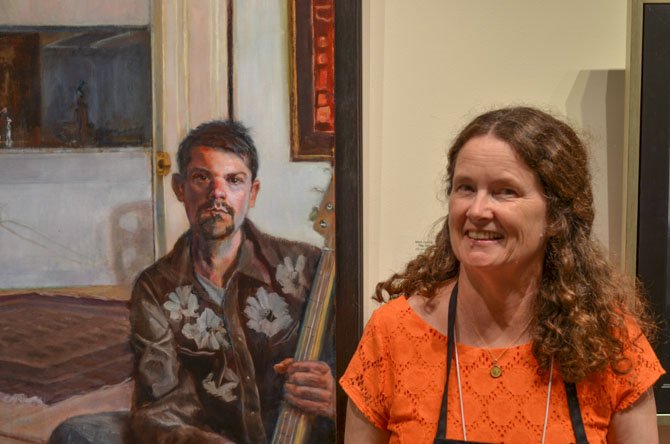 Photo Gallery
Herndon Art Exhibit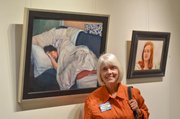 Click Photo for Flash
Art related activity in downtown Herndon is on a high as the Council for the Arts of Herndon has set up special activities and events to celebrate local artists and artwork. Events are being held at ArtSpace Herndon on 750 Center Street as well as local restaurants to highlight the opportunities to enjoy art in the town.
The Council for the Arts is again sponsoring the portrait competition at ArtSpace Herndon. The competition was judged by Edward J. Reed, an international award-winning artist, who juries numerous national and regional art competitions. "The paintings here were of such high caliber it was a challenge to choose the strongest pieces," said Reed.
The reception and awards ceremony was held on Oct. 5. This was also the last reception to be attended by Dale McGrath in the position of arts coordinator and acting director at ArtSpace Herndon. McGrath has decided to leave her position at ArtSpace to pursue other opportunities. "Dale was very pleasant to work with, she will be missed," said volunteer Ruth Blackwell.
During the reception, Reed announced the winners and honorable mentions of the competition. Monetary prizes were awarded to the first, second and third place winners. The exhibit includes the 25 finalists from the ArtSpace Herndon's annual portrait competition. Jurors Ellen Todd and Jordan Xu evaluated the entries from 77 artists and selected the 25 finalists.
FIRST PLACE went to Herndon resident Marcus Beauregard for his oil painting titled Emily. "My daughter was lying on the couch, and I was impressed by the composition," said Beauregard. "This piece took me about a month to complete."
Second place went to McLean resident Gavin Glakas for his work "Silver and Burgundy (My Wife Jasmine)." "I love ArtSpace," said Glakas. "I really enjoy coming out and seeing all the work everyone does." Glakas has been painting professionally for the past 13 years. "My wife posed for this piece," said Glakas. "She does not enjoy posing but she will pose every once in awhile."
Third place went to "Self Portrait" (oil on stainless steel) by Patricia McMahon Rice. Honorable mentions went to "The Fan" (oil on linen) by Mark Giaimo, "Red Sweatshirt" (oil) by Samantha Hand, "Versus Myself" (oil) by Christopher Hill, and "Boy" (oil on canvas paper) by Anna Watson.
The reception was artist Leah C. Olivier's second time visiting ArtSpace Herndon. "It is a very professional gallery and the exhibit was very well done," said Olivier. Olivier's work "Study of M" is also on display at ArtSpace.
Pat McIntyre, an artist and town-appointed member of the Herndon Foundation for the Cultural Arts Board of Directors was drawn to the detail of Patricia M. Rice's "Self Portrait" (oil on stainless steel). "It is astonishing, the hands were really well drawn and you cannot see the brushstrokes." McIntyre will be teaching a course on Oct. 15 at ArtSpace Herndon covering the basics in acrylic painting along with soft pastels to create a fall landscape. Registration is required to participate.
THE COUNCIL FOR THE ARTS OF HERNDON provides opportunities for local artists and the community to come together. This year the third annual Arts Crawl will be held on Oct. 9 at four local restaurants: Ice House Café, O'Sullivan's Irish Pub, Jimmy's Old Town Tavern and the Mediterranean Breeze. A special feature will be a sneak peek of the new pottery studio "Potter's Fire" at 797-B Center Street. "This event is bigger in size than last year," said Signe Friedrichs, executive director of the Council for the Arts of Herndon. "We have added a new venue and a lot of the artists are cutting edge artists," said Friedrichs.
The next day, Thursday Oct. 10 from 7 to 9:30 p.m., Ted Reed, judge of the portrait competition, will offer a free critique to artists of their own artwork at ArtSpace Herndon.
Another art related activity occurring at the ArtSpace Herndon will be the Om Shalom Trio concert on Saturday, Oct. 12 at 8 p.m. This event will have limited seating, and tickets are $18 for adults and $15 for seniors and students. Reservations in advance are strongly advised.
The portrait exhibit will be on display at ArtSpace Hendon until Sunday, Nov. 3. To learn more about ArtSpace Herndon, visit www.artspaceherndon.com.