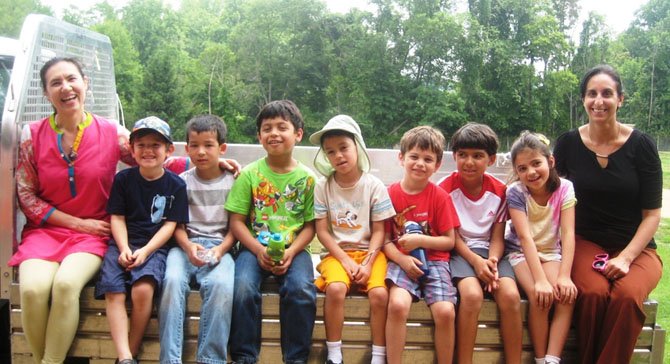 Students at Forestville Elementary School were the first to experience the rewards of a new hands-on science program currently being implemented by iSchool for the Future, a nonprofit organization based in Great Falls. With two after-school enrichment programs underway, students have begun discussing the school's water quality, mapping outdoor habitats and discovering the science behind Forestville's environment while improving 21st century life skills.
The program combines hands-on, place-based, and fun science activities with Social and Emotional Life Skills (SEL). These life skills include methods to actively improve children's abilities to effectively work in teams, regulate their emotions, and build healthy relationships. A growing body of research indicates that building SEL skills improves academic performance and overall well-being of children. Dr. Wendy Frazier, associate professor of science education in the College of Education and Human Development at George Mason University, said the program is unique because it incorporates the social and emotional development piece.
Dr. Pamela Garner, associate professor of integrative and interdisciplinary studies in New Century College at George Mason University and an expert on the social and emotional development of children, serves on the iSchool for the Future's Board of Directors. She supported the development of the SEL curriculum, which includes six core life skills: ability to identify strengths and passions, improved confidence, increased empathy for others, communication competency, self-regulation of emotions and actions, and appreciation for others and their wider community and environment. iSchool also stresses global connections and awareness.
In addition to adding an SEL component to the program, iSchool for the Future has taken the traditional STEM approach (Science, Technology, Engineering, and Math) and integrated Arts, calling their multidisciplinary model the STEAM SEL approach.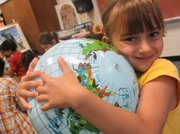 THE PROGRAM, which was launched with three summer camps in the summer of 2013, with the support of Industry Retail Group (IRG) and community program of Home Depot, demonstrated good results.
Gabitova described several examples of student achievement, including an 8-year-old who used a "magic" trick to explain the math concept of powers to a room full of adults, a 6-year-old who confidently explained the geography of Mexico to others using PowerPoint, and an entire class that was motivated to write to president Obama after they learned about climate change and its impact on marine life. Gabitova highlighted one student who participated in two camps. "When this student started the first camp he was argumentative and often in tears. During the second camp, this student was able to apply his new skills and find compromise solutions to problems that balanced multiple feelings and desires. His natural leadership skills were able to shine and his team earned the highest score," said Gabitova.
iSchool for the Future partnered with D&D Biodiversity Consulting's Anu Gupta to teach the summer camps and after-school sessions. Gupta has a scientific and environmental education background but took quickly to the SEL component. "As a mother and educator I worry about the state of science education in the US. What I see here with the STEAM SEL program is a way to integrate science with essential life skills to create analytical thinkers who incorporate an understanding of the world and its needs into their thought processes. It's done in a fun way, making it a win-win for students and society," Gupta said.
iSchool for the Future is working to expand the STEAM SEL approach to other schools in the area, and hopes to reach more than 300 students by the end of the school year. A STEAM SEL winter camp will be offered at Forestville Elementary School over the 2013 winter break. Partners from George Mason University are studying implementation of the STEAM SEL approach, developing methods to evaluate its effectiveness, and validating the scientific content.
MORE INFORMATION about iSchool for the Future and its offerings, including registration, can be found on the website: www.ischoolforthefuture.org.