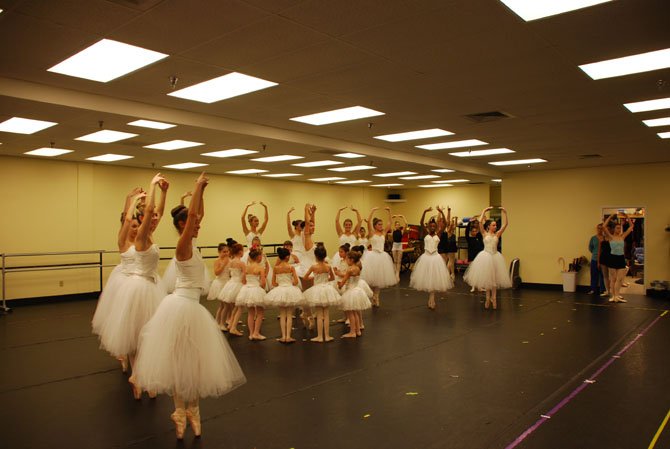 Just as Clara Stahlbaum's dream of a being whisked away by a living nutcracker prince grows increasingly fantastic over the course of the night, director Buffa Hargett's vision of a perfect performance of "The Nutcracker" ballet has evolved dramatically from mere scenes performed at local shopping malls to a staggering 200-person full production celebrating its 20th anniversary onstage.
"I'm just surprised my mom is able to make it better every year," said Fairfax Station resident Melissa Hargett, Buffa's daughter and co-director. "She instills in the staff nothing is ever perfect. We have to get better little by little, and make it an experience people want to come back to every year."
On Saturday, Nov. 16, the curtain will rise on the Burke Civic Ballet's 20th performance of the famous holiday masterpiece. Buffa opened the 1600-student Buffa's Dance Studio — a primary supplier of dancers and rehearsal resources — 33 years ago, but created the BCB in 1994 as a non-profit organization to provide a community-minded opportunity for amateur adults and students to learn and perform alongside professional dancers.
The two organizations operate in tandem for mutual benefit and education, especially in the case of a show like "The Nutcracker." "It gives young dancers the experience of a complete production," said Brian Engler of Burke, who plays Dr Stahlbaum and is the only active cast member who has been in all 20 productions. "Even in a dance recital they only see pieces of it. They go out and do a spot and they leave. For this, everything has to go like clockwork."
THE STUDENT DANCERS, who range from 3 to 18 years old, are up for the challenge. "The strength of these dancers is amazing," said Springfield resident Carla Cannonito, who plays Mother Ginger. "All of these kids are so adaptable -- they will jump in and assume a role at any time."
"Coming here, it's check your egos at the door," Cannonito continued. "It's an overarching culture, that everyone looks out for everyone else. This is something that's more unique to Buffa."
"We pride ourselves on being the anti-'dance moms'," said Melissa. "We want our dancers to try their best, but realize it's never perfect, there's always something to strive for. Nobody is perfect in anything we do."
That sentiment drives the whole production process forward, and the sense of an educational community is well established among the dancers.
"They'll tell us what to do and then we convey it to the younger kids," said West Springfield senior Melissa Lester, who plays Clara's best friend, Big Snow, Spanish lead and Dew Drop. "I love doing it. You have to have a positive atmosphere to have an amazing Nutcracker. It makes you want to be here, work, be on stage, get the entire experience of it."
TO HELP ENHANCE THE EXPERIENCE for both cast and audience, the Hargetts annually enlist the help of professional dancers to both run workshops for the older students and perform key roles in "The Nutcracker." This year, look for Colorado Ballet principal dancers Sharon Wehner as the Sugar Plum Fairy and Jesse Marks as the fairy's cavalier. Aleksey Kudrin is a local pro from the Manassas Ballet playing the Nutcracker prince, and Thomas Bell from the University of Cincinnati will offer his talents as Drosselmeyer.
In addition to the pros onstage, this anniversary production will feature fresh choreography -- the Hargetts attend multiple "Nutcracker" productions each year in an ongoing effort to stay fresh and new -- brand new Ukrainian costumes for many of the snow scene dancers and a new grandfather clock. All the costumes, set pieces and other backstage work is managed by anywhere from 200-400 parent volunteers.
When and Where
Saturday, Nov. 16, at 2 p.m. & 6 p.m. and Sunday, Nov. 17, at 2 p.m. & 6 p.m. Ticket sold online at www.buffas.com. Adults $28, children and seniors $20. Ernst Community Theater, NVCC Annandale campus.
All told, the production costs roughly $75,000 to pull off, only a third of which is recouped by ticket revenue. The rest comes from donations, audition fees and two major annual fundraisers — a Spook A Thon and Dance A Thon — that took place in October.
"It's such hard work in such a short amount of time," said Melissa. "But this gives them a way to have an end result, an end goal. It's something to produce and be proud of."
"This is my last Nutcracker, senior year," said Lester, "so I want to go out with a bang. The path I've gone to get to here, this is all I have left — I just want it to be amazing."
Giving young performers the opportunity to be stars in a major performance is what the program is all about. "That is truly [Buffa's] vision of bringing the arts to Northern Virginia," said Cannonito, "and making this accessible to all. The children make the Nutcracker come alive."