The Newgate Tavern played an important role in Centreville's history, but the average resident knows little about it. Now, though, thanks to three interpretive signs just placed at its former site in the Historic District, people may visit and learn about what happened there.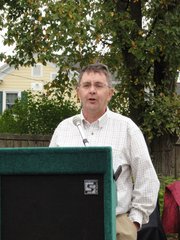 Placed near the intersection of Braddock and Mount Gilead roads, the signs were formally dedicated Oct. 19 during Centreville Day. And each one sheds light on a different facet of the tavern's history.
Built around 1768, Newgate was a Colonial inn where many travelers — including George Washington — stopped on their journeys. It stood at the heart of the crossroad village of Newgate that was later chartered as Centreville.
"This whole area during the Civil War was part of the core of the action," said Supervisor Michael R. Frey (R-Sully) during the dedication ceremony. "But Centreville's so much more — it was the frontier and one of the main thoroughfares to the west."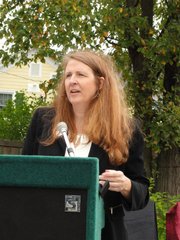 "People and goods also came through here on their way to the Port of Alexandria," he continued. "And Newgate Tavern was a jumping-off point for people leaving for the great unknown."
Elizabeth Crowell, manager of the Fairfax County Park Authority's Cultural Resources Management and Protection Branch, said the sign unveiling was "the culmination of a lot of hard work from several groups." They include Frey's office, the Park Authority, Historic Centreville Society, the Friends of Historic Centreville and the county History Commission.
A history buff, himself, Frey said he was pleased with all the partnerships. He's also glad that "we've been able to make sure the development in the Historic District is compatible with its history. We'll now put together an exhibit to display some of the artifacts found here; so this is a fun day and a good start."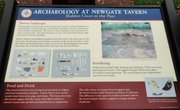 Deborah Robison, commissioner of the History Commission, said that whole area was known as Newgate in the 1760s and Newgate Tavern was one of the earliest structures built there. "It was established by William Carr Lane," she said. "The tavern was mainly for socializing, drinking and eating, and George Washington did eat here."
Robison said there were a race course and a Centreville Jockey Club in Centreville then. "And convicts — often, people who, for example, had stolen geese — were sent here from England to work in the tavern," she said. "Bottle seals were found from the Carr Lane Distillery, so they were selling their own liquor here at the tavern. And bone fragments were found, indicating that they ate a lot of meat."
Then came the unveiling of the three signs, with local residents drawing close to read them. One tells the general history of the tavern, and another discusses the convict and enslaved labor that was used there. The third examines the findings of an archaeological dig done at that site.
"We're pleased with these signs," said Paul Hancq, president of the Historic Centreville Society. "And we thank everyone involved in their placement here today."