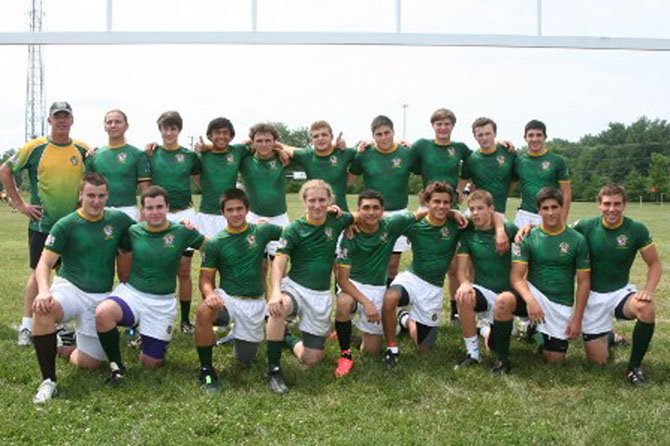 This past summer, there was a new group marching in the Fourth of July parade – 40 or so kids and parents affiliated with Great Falls Rugby. The Eagles even brought along a candy-tossing mascot. Reaction to the new organization varied. "I didn't know Great Falls had a rugby club;" "I want to sponsor you next year;" and "Do those little kids tackle?" were all overheard. The answer to the later question is, "not the little ones."
The club's first appearance in the community's annual patriotic event was (in a way) symbolic of a breakthrough year. Under the leadership of head coach, Gary Coetzee, and with the financial and laborious support of numerous parents, coaches, and community businesses Great Falls Rugby has begun to make its presence known to Rugby Virginia. Every age group from U7 to U19 placed either 3rd or 4th in Rugby Virginia's annual summer tournament. This was quite an achievement for a three years young club competing in a Commonwealth-wide, USA Rugby sponsored organization.
Founded in 2011, the club's first year was marked by a grassroots spirit among a mere 22 players. This year Great Falls Rugby has 92 registered members ranging from age 5 to 19. The club displayed their new kit this season, a major improvement on the previous seasons. Each player received a top quality sublimated practice jersey, and matching shorts, socks and a ball. In addition, the club provided match jerseys for each team at all games. No other club in the Virginia league has managed to match this. "It is important to build a sense of pride and achievement amongst the members and parents of the club," Coach Coetzee said. "We want our kids to wear their jerseys outside of rugby and encourage their friends to join!"
Coach Coetzee would like to see registration soar past 140 in 2014. "This is an ambitious but achievable goal," he said. "The problem is that for the younger age groups we are purely a summer sport competing with swim team and family vacations."
The sport also competes with a perception of violence. But, those who know the game see a youth program that teaches teamwork and provides an exceptional workout. The younger age groups play "touch rugby." In this version of the game if a player is tagged below the waist he may take two steps but then must pass the ball. Tackling starts at age 11.
According to several studies, the concussion rate in tackle rugby is, surprisingly, lower than for American football. This is due largely to the style of tackle. In fact, some football programs are now promoting and educating young players on rugby style tackle techniques in an effort to reduce injuries.
Looking toward the 2014 season, the Eagles seek opportunities to promote the club throughout the Herndon, Great Falls, Reston, McLean and Sterling areas. They are also looking for both new players and coaches.
For more information please visit www.greatfallsrugby.com. The club is also on Facebook. For information on Rugby Virginia visit http://rugbyvirginia.com.