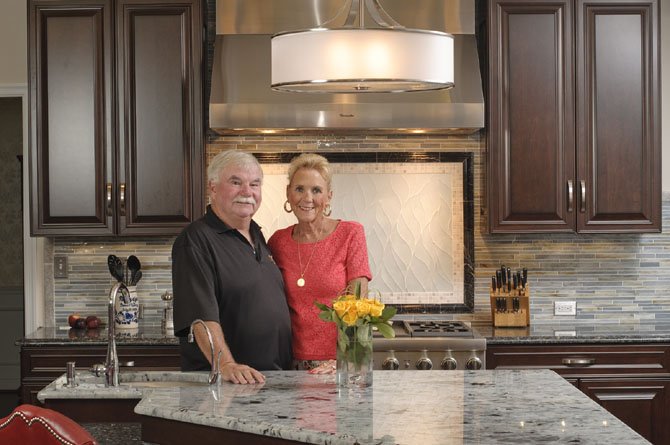 As Dave Mulligan tells it, he owes the long-coveted "blue eyes" granite countertops now in his kitchen to events that started with a leaking shower one floor above.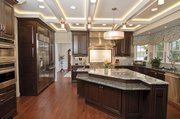 "From a few drops a mighty torrent ensued," Mulligan chuckles, referring to the flood of creativity that eventually transformed his entire house from top to bottom.
But to begin at the beginning...
In the early 1990s, Mulligan and wife Nancy purchased the spacious Oak Hill colonial they still occupy. The house was 2 years old and completely up-to-date in every respect. Moreover, with four bedrooms, a 500-square-foot kitchen with breakfast zone, a family room, and a 1,500-square-foot lower level, there was more than adequate space for two people.
"About my only peeve was that I hated the tile countertops in the kitchen," Mulligan said. "Otherwise, I saw the interior as completely in vogue...even when friends began telling me it wasn't."
The leak, however, was a sign that the house now needed attention — which, in turn, prompted Mulligan to call Sun Design Remodeling, the firm that had executed an award-winning whole house makeover for his brother, Bob, a few years ago.
It is at this point that Craig Durosko, Sun Design's founder, enters the story.
"As we talked out our visions for a new master bath," Dave Mulligan said, "I realized that Nancy and I had a lot of ideas for improving the house we'd just been putting off."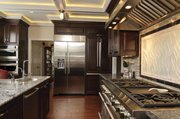 IN THE DAYS THAT FOLLOWED, Nancy Mulligan and Sun Design's Christy Doebel took charge — completely renovating the master bathroom, then the guest bath; then adding a full bath to the lower level.
For Dave Mulligan, who is the family's passionate cook, the makeover agenda didn't become really personal until conversation shifted to the kitchen.
"With the holidays coming up, I suddenly saw that our kitchen was stuck in the 1980s," Mulligan says. "For people who like to entertain as much as we do, the old plan didn't make much sense."
Indeed, with its U-shaped counter surfaces, 30-inch cooktop range, limited storage and drab lighting, the existing kitchen was a kind of cockpit in which the cook toiled away in self-imposed isolation.
When there was a party underway, it was also up to the Mulligans to regularly convey edibles between the kitchen and the formal entertainment areas.
"I understood what an open kitchen-centric plan had to offer," Dave Mulligan said." But it's the details that make it work."
So the question that really unleashed Dave Mulligan's involvement was: "how do you want the new kitchen to feel?"
"I pictured a gathering place," he said. "A lively hub where the entertaining occurs."
That said, new ovens and cutlery drawers were less important than welcoming ambiance and uncluttered traffic patterns.
To create continuity with the rest of the house, Durosko and team relocated an obtrusive hall closet, widening an archway so that the kitchen would be in view from the front foyer. Sightlines being critical, ceiling-flush HVAC bulkheads were re-routed to make way for tall cabinets trimmed in crown molding. Other finishwork details — cherrywood cabinet facings, stainless steel appliances, textured marble backsplashes — converge to present a warmly textured, yet visually neutral surface.
All of which inspired kitchen's piece d' resistance: a custom-designed coffered ceiling.
"I knew right away that this was the magic I'd been looking for," Dave Mulligan said. "I wanted the ceiling to be just as eye-catching as the walls and counters."
On the other hand, there's much to be said for the custom-designed food preparation island and dining counter. With it's 6-foot by 6-foot by 8-foot triangular surface, the configuration supports food preparation and clean-up tasks while accommodating place settings for five.
Details
Sun Design Remodeling frequently sponsors tours of recently remodeled homes as well as workshops on home remodeling topics. Headquartered in Burke, the firm recently opened a second office in McLean. Call 703-425-5588 or visit www.SunDesignInc.com.
To make the island still more inviting, seats at the counter are slightly lower than standard height, a psychological invitation to join the party reinforced by the soft-leather chairs.
"You're dining in the chef's kitchen now," Dave Mulligan said. "To sample dishes, sip wine...and enjoy."
On the more functional side of the equation, the new kitchen is also equipped with two microwave ovens, two refrigerators, a convection steam oven and a 48-inch gas range with six burners. With the addition of a walk-in pantry, storage capacity has been increased by 50 percent.
Better yet, the space makes entertaining "pure pleasure," Mulligan said. "We're hosting Thanksgiving this season for the first time in years — and it's wonderful to be so thoroughly prepared."