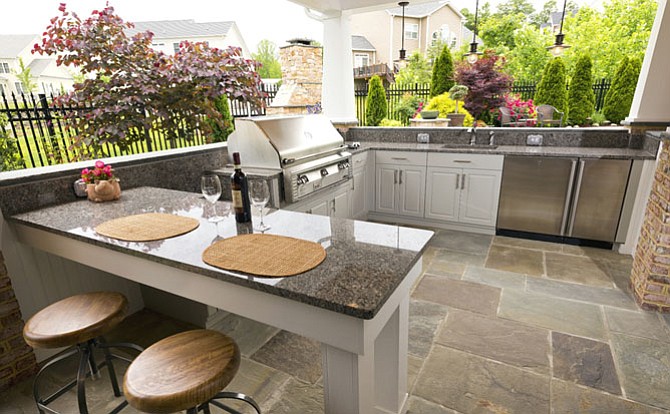 "When we started this company twenty seven years ago, our core specialty was opening up views and creating visual continuum," explains Craig Durosko, chairman and founder of Sun Design Remodeling. "That said, creating a more functional relationship between the house and its setting has always been the larger proposition we explore with homeowners."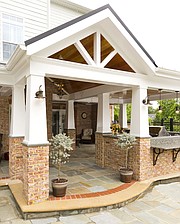 "Simply put, Northern Virginians like their green backyards and temperate climate, so finding ways to connect the house with what's just outside your door is a strong local incentive-- especially as spring unfolds into summer."
In fact, Durokso notes, homeowner expectation for better integrated outdoor spaces evolves with each season; so, too, the call for definitive sightlines linking the house to the grounds.
To accommodate, Sun Design professionals constantly assess emerging building technologies, code issues, design literature.
"You are always learning," Durosko says. "Improving on the quality of what you stand for as a company is a constant motivator for everyone here."
By way of example, Durosko cites three recent trend-setting projects.
Poolside Pavilion Features Outdoor Kitchen
Entertaining outdoors has become a primary recreational activity for Monte Zaben and family. Though he commutes regularly from his Fredericksburg home to an office in McLean, Zaben's weekends by the pool have become treasured quality time.
The reward is all the sweeter knowing that eighteen months ago his expansive backyard playground was pretty uninviting.
"The house was built to my requirements, but I hadn't thought much about the grounds." he says, "We added a saltwater pool a few years ago, only to realize that the back of the house was so sun-exposed...it was uncomfortable sitting outside."
For about a year, Zaben stockpiled ideas on how to convert the backyard into a more functional and aesthetically-pleasing outdoor play area; finally, researching online, he came across a portfolio of indoor-outdoor solutions by Sun Design and set up a meeting.
From the start, the homeowner was impressed with plans for a shaded pavilion outside the home's lower level.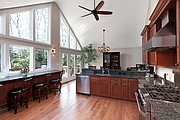 Craftsman-style piers supporting an angular metal-clad roof present a period ambiance accented with wicker chairs and cafe tables.
Under roof, three distinct activity areas provide shaded privacy within easily interactive sightlines: a lounge area; a smaller closer-in footprint with a cozy poolside vista; an outdoor kitchen equipped with a traditional grill, a smoker and a power burner.
When the summer guest list rises to fifty or more the vaulted canopy is a perfect spot for buffet tables.
"We use our outdoor space on just about every seasonable day of the year," Zaben says. "It's very much part of our lives now."
Screen porch, rear decking: weather-resistant materials finely applied
As Fairfax homeowner Joanne Alger tells it, Sun Design's solution to a previous problem was key to a new project.
Impressed with the outcome, the Algers now sought Durosko's ideas for a grander rear elevation indoor/outdoor component, one that would better connect the sprawling house with its six acre wooded setting.
There had been lots ideas for the backyard over the years. One with a pool. But in the end the Algers embraced a Sun Design scheme with three main components: a 17-by-16-foot screen porch, a grilling deck, and a ground-level patio.
To preserve sightlines from the house, Durosko situated the grilling deck immediately outside the kitchen door. From the grilling deck, a stairway descends to a landing where it splits in two directions before reconnecting at a ground-level patio. The patio, in turn, segues to a hard-scape platform featuring an eight-foot stone hearth and comfortable seating.
Meanwhile, the screen porch demonstrates how highly-durable materials can be shaped to meet demanding aesthetics. A Trex "transend" railing with black aluminum balusters was selected since it won't obscure views by reflecting light. The fiberglass charcoal screen, likewise, makes it hard to see the porch interior from the outside.
Pressure-treated southern yellow pine flooring under-girded with screen mesh keeps the bugs out. The fir-beaded tongue-and-groove wood ceiling lends a natural burnish to the open-air ambiance.
As a finishing touch: paneled Hardiboard for the porch's inside wall, a neutral backdrop for the wide-screen plasma TV mounted next to a window that serves as a food and beverage pass-through.
Overhead fans and portable heaters keep the outdoor room habitable in all but the coldest days of winter.
"It's our preferred gathering place now, "Alger says. "And so comfortable we can use it from early spring to late fall."
Bringing the Outside Indoors
Nick Bonadies, Sun Design's Director of New Business Development, points to the 25-by-16-foot custom window wall in a newly remodeled Fairfax home as a kind of triumph of glazing technologies over the strong wind.
"Homeowners come to us for ideas that will open up space and invite visual continuum," he explains, "But Fairfax County's rules on the wind-resistance requirements of large-scale windows can inspire a search for innovations that yield a better view."
Since wind-load can cause windows to crack and even shatter, the relationship of a window's size to its distance from adjacent bracing panels must meet an exacting metric. Finding engineering solutions that will assure homeowners the exceptional effects they seek is, thus, critical to doing the job well.
Sun Design had converted Gini Mulligan's 2,200-square-foot 1960s split foyer home into a 4,238-square-foot French colonial complete with wrap-around porches, a new master bedroom suite addition, and a spacious gourmet kitchen with a jaw-dropping view of towering backyard trees.
"We bought the house over 20 years ago, mainly because of the lovely wooded setting," Mulligan said. "I then spent so many years gazing out of a small back window, trying to imagine how the house would feel if we had a better view."
Details
Sun Design Remodeling frequently sponsors tours of recently remodeled homes as well as workshops on home remodeling topics. Headquartered in Burke, the firm also has an office in McLean. Call 703-425-5588 or visit http://www.SunDesig…">www.SunDesignInc.com
Of course, the scale of Mulligan's vision, a two-story window wall, presented feasibility questions.
"We knew had to custom-design the window frame, since a traditional wooden frame with the tensile strength required by code would be so thick it would actually restrict the view," Bonadies says.
Which is why Bonadies and team proposed a steel "moment" frame. It's an unusual in a residential application, but allows for as much as a 40 percent increase in unobstructed glass surface.
"It all looks very delicate-- but this window can withstand winds of up to 90 miles per hour," Bonadies said.
John Byrd (byrdmatx@comcast.net) has been writing about home improvement topics for 30 years.