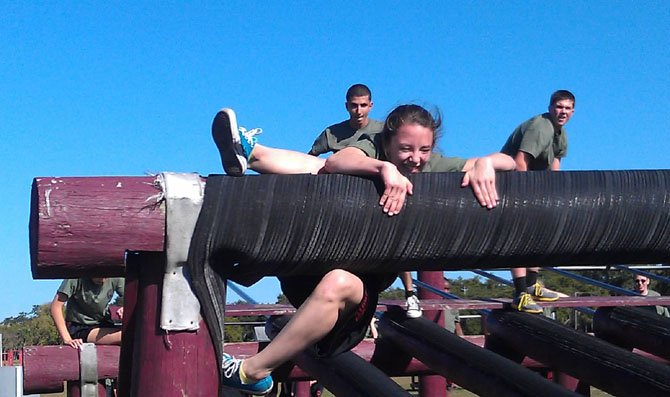 "Ready! Pain! Move! Discipline!" are just some of the many command and response calls that Herndon High's Navy Junior Reserve Office Training Corps (NJROTC) learned during their November orientation visit to the most rigorous military training camp in the world – Parris Island. There, seasoned U.S. Marine Corps (USMC) drill sergeants put the Herndon cadets through a weekend of stress, all designed to give the cadets a little taste of that Semper Fidelis, or "always faithful," for which the USMC is so famous. After only 48 long hours, the cadets came away with a better understanding of honor, courage, and commitment.
As one cadet shared, "When we got off the bus and lined up to go inside the barracks, some of us thought all the formality and screaming was just an act. After finally being allowed into the barracks after two attempts, we learned that the drill sergeants were serious and that we better be serious too. That wasn't difficult; by that point, we were pretty scared!"
The rest of the trip proved to be one where every cadet would find him or herself challenged mentally, physically, and intellectually. There were the grueling 5 a.m. awakenings to reveille, the detailed routines, the precision movement, the very high expectations, and, yes, the "motivational speeches." There also were once-in-a-lifetime learning opportunities. Highlights included visiting the Marine Corps museum, getting an introduction to the gas chamber, maneuvering through a difficult obstacle course, conquering a demanding challenge course, and shooting a simulated M-4 semi-automatic rifle.
Cadets returned to Herndon exhausted but inspired by the high expectations their drill sergeants had for them and the little successes they gained along the way. "I tried to do it over and over again. Finally, I got it!"
To learn more about Herndon High's NJROTC unit, visit "herndonnjrotc.com" or send an email to Commander Rick Cassara at rjcassara@fcps.edu.