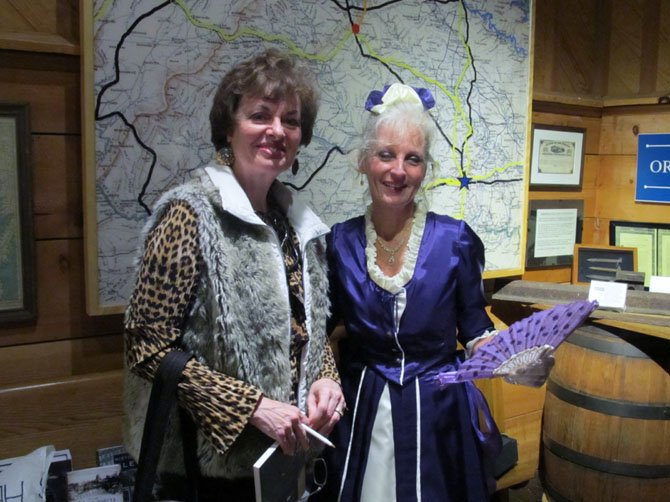 Lynn Garvey-Hodge took members and guests at the Nov. 7 meeting of the Clifton Community Women's Club back in time to the 19th century during her latest historical re-enactment, "Railroads: Rough and Regal Times- Meet Mrs. John Henry Devereux."
Garvey-Hodge acted as Antoinette Cecilia Kelsey Devereux in her performance, telling the story of her husband, John Henry Devereux, who Clifton was once named after as Devereux Station.
Garvey-Hodge first learned about Mrs. Devereux while researching for her book on Clifton, which was published in 2009.
Garvey-Hodge has been performing these re-enactments for five years, previously acting as a suffragette.
"My favorite part of the performance is the patriotism because I love this country, I really do, and I'm so happy that we're behind the Civil War, we're beyond it," Garvey-Hodge said of her latest re-enactment.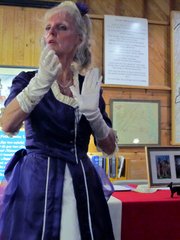 The re-enactment was well received by the audience, many of whom had seen Garvey-Hodge in her previous re-enactments.
"She's just incredible. I've heard her other one too. It's amazing the volume of information that she can retain with no notes," said Ginny Ax, a retired schoolteacher from Clifton and a 10 year member of the Women's Club.
Kristi Roberts of Centreville spent 15 hours making Garvey-Hodge's dress for the re-enactment.
"We just looked at the pictures from Godey's Lady's Book, from that era, and made it work. She decided the color because she could also use it for her suffragette outfit, because purple is the color of women's suffrage," Roberts said.
The performance gave the audience a glimpse into life after the Civil War, as well as Mrs. Devereux's personal life. Amanda Fox of Clifton, an employee for Fairfax County Government, said she enjoyed the part about how Mrs. Devereux met her husband.
"Lynn did such a great job. It was all so good. Her gown was beautiful and she looked wonderful in it," Fox said.
Garvey-Hodge's performance included talk about life in the 19th century, with many references to the civil war, the gilded age, and famous people such as Mark Twain and John Rockefeller.
Garvey-Hodge also focused on the railroad industry during the 19th century. While speaking about the Great Train Wreck of 1856 in White Marsh Pennsylvania, Garvey-Hodge had each member of the audience read the name and age of a victim of the accident, most of whom were school children on a picnic.
According to Garvey-Hodge, she shares many connections with the Devereux family, especially with Mrs. Devereux because of her strong patriotism and love for the United States.