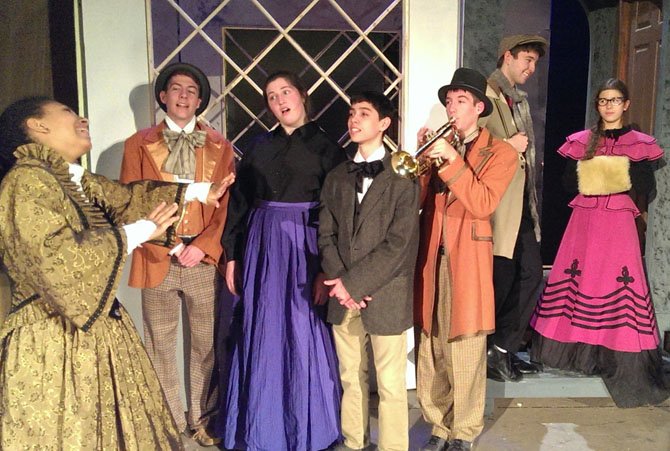 Sure, Paul VI is performing "A Dickens Christmas Carol: A Traveling Travesty in Two Tumultuous Acts." But instead of being a serious drama about a miser named Scrooge, it's a rollicking comedy about a theater troupe trying to perform that play while chaos is breaking out all around them.
"Their show's past its prime, the actors are tired of doing it and Bettina, the leading lady, phones to say she's sick and won't be able to go on," said Paul VI Director Katherine Miller. "She plays Mrs. Cratchit and thinks they'd never do the play without her. But an understudy replaces her and, when Bettina returns, she tries to take back her role by force – while the play's in progress."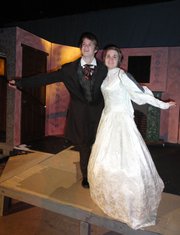 THE CURTAIN RISES Thursday, Nov. 21, at 7 p.m.; Friday-Saturday, Nov. 22-23, at 7:30 p.m.; and Sunday, Nov. 24, at 2 p.m. Tickets are $5, students and senior citizens; $10, adults; and $25, family of four at the door or via www.PaulVI.net (and see link to show).
There's also a short performance called "The Drama before the Show," prior to the main event. "It's a backstage story about putting on a play," said Miller. "Even though I double-cast the main show, I had so many talented students that I wanted to involve as many as possible."
So the audience will see sound checks, makeup skills and set-building. "My real tech people are playing themselves," said Miller. "They're phenomenal and I wanted to highlight them."
The main play has a cast and crew of more than 50. "It's a slapstick comedy and each actor plays many roles," said Miller. "There are quick costume changes, confusion and pandemonium. It's going to be hilarious and the audience will enjoy all the twists and turns. The actors never speak to each other as people; the whole time, they're performing 'A Christmas Carol.'"
Playing Elyot are Brendan McAlevy and junior Joey Arzeno. "Elyot's a seasoned actor, but in Mexico, not on Broadway," said Arzeno. "He's almost past his prime, so this is the only show he could get. But he's still a good, experienced actor. He's energetic, but the fast costume changes and the females fighting affect his acting."
Arzeno loves his role because he gets to play many different roles. "So I have to change my voice, posture and way of acting, on a dime," he said. "In one scene, I play four different characters without leaving the stage." He said the audience will like "seeing the characters butt heads during the show, and it's funny watching them struggle through all their roadblocks."
Junior Maddy Whitfield shares the role of Bettina with Elinor Curry. "She's the diva who doesn't want the show going on without her or someone else playing her role," said Whifield. "So she comes into the show screaming. She's the star of every show and loves the limelight – being the center of attention, having the biggest part and the most elaborate costumes. She's loud and obnoxious and causes a ruckus backstage."
IT'S THE FIRST TIME Whitfield's played a diva and such a physical role. "Bettina's larger than life and makes everything a drama," she said. "It's a good learning experience for me as an actor." Whitfield said this show is "something the audience won't expect. They'll be surprised at all the physical comedy, plus the tension between the actors onstage. There are lots of funny moments."
Portraying Sir Selsdon Piddock (who plays Scrooge in the traveling show) are Jacob Rozmajzl and senior Spencer Loessberg. "He's a big ham who's acted for a long time and tries to overshadow everyone else onstage during the show," explained Loessberg. "He's self-centered and full of himself; he's also overly dramatic and emotional, so it's easy to tell what he's feeling."
This is Loessberg's second year acting, so he's excited to get a lead role. "Selsdon's overwhelming and obnoxious, so it's fun playing somebody so different from me," he said. Loessberg said the audience will enjoy the theater troupe's dynamic. "People's personalities are amplified off each other," he said. "And the energy coming from the actors makes it fantastic."
Sharing the part of Cordelia, Bettina's understudy, are Sarah Giuseppe and Evelyn Lockwood. "When Bettina doesn't show up, Cordelia gets to play her role for awhile," said Lockwood. "But once Bettina arrives, things go south really fast. Cordelia had to work her way up in the theater, so she's more worldly and rough than Bettina. If someone pushes her, she'll push back."
Lockwood likes playing Cordelia and all the roles that actress portrays because there's a lot for her to do in the show. Similarly, she said there's something happening onstage all the time to capture the audience's attention. "For example, if someone's giving a monologue, there'll be a fistfight behind them," she said. "And right before the end of the show, there's a big event the audience will talk about, the rest of the night."