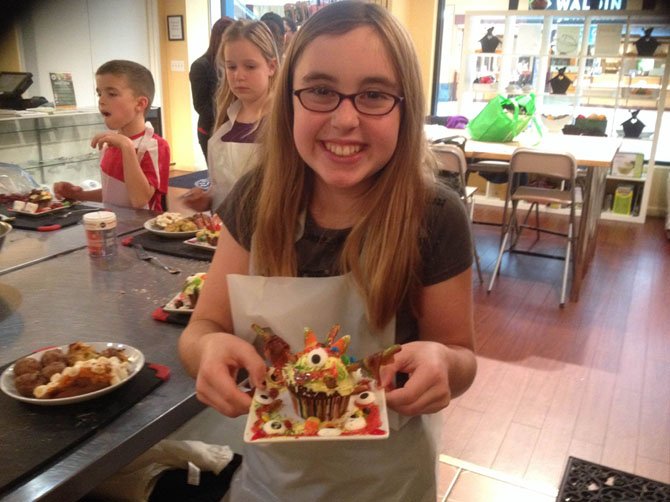 Maria Kopsidas recalls childhood holidays filled with turkey, sweets and merriment. Because she grew up in a family of professional chefs, cookbook authors and culinary enthusiasts, the stretch from Thanksgiving to Christmas always brings fond food recollections.
"My grandmother was always tasked with seven to eight pies, my aunt made her famous stuffing and brownies [and] my uncle cooked the turkey. My mother was in charge of everything else, [including] and more importantly, playing referee between my two grandmothers, who competed over the invisible gravy of the year award," said Kopsidas, who owns Cookology Recreational Culinary School, in Dulles Town Center.
Kopsidas and other culinary instructors say the holidays are an ideal time to spend time in the kitchen with children. When tasks match a child's age and ability, the kitchen becomes fertile ground for making memories, learning and creating lasting bonds.
"Don't let holiday cooking take away from time with your kids," said Erika LaChance, of Tiny Chefs Cooking School, with locations in Arlington, Alexandria, Fairfax and McLean, Va., and Potomac, Md. "Get them involved too. A great way to get in some extra quality time with the kids during the holidays is to let them lend a helping hand in the kitchen. Depending on how old they are, they can help with a number of different tasks, which will not only help them build confidence in the kitchen, but also enjoy the feeling of contributing to the family meal."
Stephen P. Sands, of Culinaria Cooking School in Vienna, agrees. "Besides being educational — teaching them math through measuring ingredients, and the chemistry of food, such as why egg whites cause soufflés to rise, or why or how baking soda works — it bonds families together," he said. "It provides all with a purpose, a fun way to work together, and the results are enjoyed by everyone. Some of life's great lessons can be learned in the kitchen."
Kopsidas believes that children between the ages of 3 and 9 would enjoy creating a dish designed especially for other children. "Sit down with your children to discuss what they think each child/guest would like to eat for Thanksgiving," she said. "Discuss who is a picky eater, who would love vegetables, potatoes, sweet potatoes, cranberry sauce, pie. Let them help make baked goods like pies, brownies and cupcakes."
Sands said praise and encouragement can make meal preparation a joyful experience for children. "At an early age, provide positive reinforcement, a sense of accomplishment and pride in the work they produce," he said. "However, remember there are those negatives: like egg shells in the batter, salt being added to a dessert instead of sugar and my favorite, the spatula in the mixer while it's running, [which] results in chocolate splatter on the walls, not to mention you, them and probably the dog. Regardless, it is a fun experience all will enjoy."
Even children who may not enjoy spending time in the kitchen can take part in process. "Have your kids set the kids' table, making colorful place settings with each kid's name and maybe a drawing of their likeness," said Kopsidas. "This will make the guest children feel special when they arrive at a new home."
Children who are 10 and older can be tasked with making a specific dish. "Work with them to choose a recipe and encourage them to gather the ingredients and make the dish themselves, with little or no supervision, except when it comes to dealing with the oven or the stovetop," said Kopsidas. "A lot of ingredients can be prepared in the microwave, such as melting chocolate chips. Children who are 9 years old and older have the motor skills to handle a knife. Give them a quick safety tip on keeping their stabilizing hand away from the cutting blade, and tell them calmly to take their time when they are cutting."
For those looking for cookbooks designed for children or parents and children, Emily Henry of Hurray for Books in Old Town Alexandria recommends "I'm Dreaming of a Chocolate Christmas: Recipes and Holiday Inspiration for Chocolate Lovers," by Cheryl Burkirk and "Cooking with Love: Comfort Food that Hugs You" by Carla Hall.
Mini Apple Pies
(Courtesy of Maria Kopsidas, Cookology, Recreational Culinary School, in Dulles Town Center Mall)
"This is a fun activity to do the day of Thanksgiving if you're looking for something the entire family can do together."
Make these in 4-6" Ramekins. This recipe makes approximately six mini pies.
Pre-heat oven to 350 degrees.
Pie Crust
2 1/2 cups all-purpose flour, plus additional for dusting
1 cup unsalted butter, very cold, cut into small cubes
1 tsp. salt
1 tsp. sugar
6-8 tbsp. ice water
Combine flour, salt and sugar in a food processor and pulse to mix. Add butter and pulse until resembles coarse meal, approximately 6-8 times. You can also use your hands, which is more fun.
Add 1 tablespoon of water at a time and pulse until mixture just begins to come together.If using your hands, form a small well in the center of your dough and add one tablespoon of water, knead, add more water, etc until mixture comes together in a ball. Don't over pulse or knead.
Form dough into two rounds on floured surface. Cover with plastic wrap and refrigerate for 20 minutes. Let stand at room temperature 5 minutes before using.
Pie Filling:
2-3 Gala or Granny Smith apples, sliced
2 tbsp. brown sugar
1 tsp cinnamon or apple pie spice
2 tbsp butter
1 egg
1 tbsp water
Baking spray
Roll out pie crust to about 1/8 in. thick. Cut rounds the size of the ramekin by turning over ramekin and cutting a template to a size slightly larger than the ramekin. Spray baking spray into ramekins to prevent sticking. Place rounds into cupcake tins sprayed with baking spray to prevent sticking. Gently press the dough into place. Any additional dough on sides should be cut, but there should be a nice thick crust on the ramekin. Once dough is in place, poke several fork holes in bottom. Put pie dough and ramekin back into refrigerator until you're ready to fill.
Mix apple slices, brown sugar and cinnamon/apple pie spice in bowl.
Remove ramekin with pie crust and place slices into the pie crust lined ramekins. Break butter into tiny pieces and place on top of apples.
With remaining pie crust, cut additional rounds and place over top the apples. Pinch sides together and slice a few notches to allow steam to escape. Or slice pie crust into strips and form lattice on top of apples.
Whisk together egg and water to create egg wash. Brush top of pie with egg wash and bake at 350F until browned, approximately 10-15 minutes. Remove, cool and enjoy!
Pear Cranberry Mini Pies
(Courtesy of Tiny Chefs Cooking School)
Makes 12-18 mini pies
Ingredients
1-2 pears, peeled, cored, thinly sliced and diced
1 cup fresh cranberries
Pinch or 1/4 tsp ground cloves
1/4 cup or 1/2 cup brown sugar
1 tbsp or 2 tbsp unsalted butter, melted
3 tsp or 1 tbsp all-purpose flour
3 tsp or 1 tbsp heavy cream
Zest of 1/2 or 1 lemon
Juice of 1/4 or 1/2 lemon
1/2 tsp or 1 tsp vanilla extract
1 box Pillsbury refrigerated pie crusts, softened as directed on box
Directions
Preheat oven to 375 degrees. Spray a mini muffin tin with non-stick spray.
In a large bowl, combine the pears, cranberries, cloves, sugar, butter, flour, cream, lemon juice and zest, and vanilla until evenly mixed.
Remove pie crusts from package; unroll on lightly floured work surface.
Using 3-inch round biscuit or cookie cutter, cut 10 rounds from each crust.
Re-roll scraps and cut as many additional rounds as possible.
Press rounds in bottoms and up sides of muffin cups.
Add filling to crusts. Fill about 3/4 of the way to the top.
Bake 20-25 minutes or until crust is golden brown and fruit is bubbling.