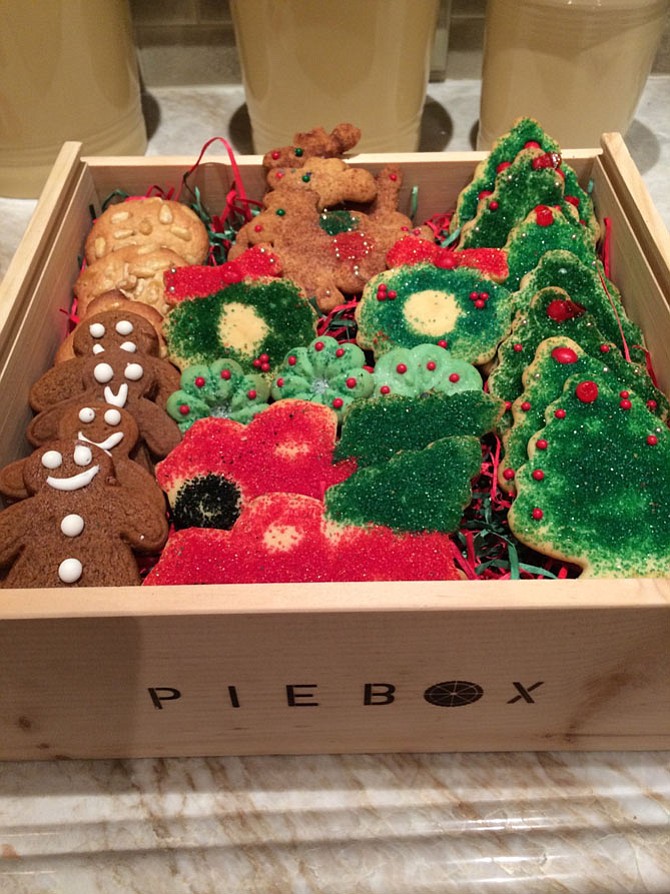 Ever since Bernadette Lott can remember, she's had a sweet tooth as big as a sugar cane field. Describing herself as a hard and fast confection lover of the extreme type, she thinks her predilection for all things candy-coated probably started with her grandmother, who pretended not to notice when she devoured spoonfuls of sugar while the two were baking.  
"I must have been three or four, standing on a stool in the kitchen, craning my neck to see," said Lott.
In fact, baking was a hobby she learned at her grandmother's hand, which later became a practical skill. She learned that to satisfy her ravenous sugar cravings, be they for shiny glazed lemon tarts or gooey chocolate trifles moistened with rum, she needed to learn to bake.
"I think my first word was cake," Lott said. "I love to bake, but I also do my fair share of tasting."
It's no wonder that for Lott and other foodies, the holidays offer a chance to legitimatize an obsession with baking marathons that, if done at any other time of the year, might appear to be the sugar-coated, chocolate mania.
In response, dozens of local chefs and culinary enthusiasts are rolling out a slew of holiday cooking classes this season. Want to make your own lemon rugelach? Considering letting your children take over the gingerbread baking? Interested in assembling a buche noel? From the informal classes that Lott runs out of her Alexandria kitchen to formal cooking schools with classes taught by professional chefs, there's instruction for students at both ends of the skills spectrum.
"These cooking classes help people get into the holiday spirit," said Toni Lipe of Culinaria Cooking School in Vienna. "They learn to make things that they can wrap in paper and ribbon and give as gifts."
Students at Culinaria enter a holiday cookie paradise of softened butter, vanilla and coconut, and spend hours cutting, rolling and decorating, emerging at the end of class with boxes of rugelach, almond macaroons and other confections. 
"The classes are filled with laughter and chatter," said Lipe. "It's like a party, such a wonderful experience."
In Lott's lessons, which she runs informally out of her home — students discover her through word of mouth — she demonstrates tooth-achingly rich buche de noel and fudge-filled, whiskey-soaked chocolate bundt cake recipes. A limited class size allows her to guide students through the process, from melting chocolate over simmering water to adding a good dousing of liqueur to the mixture to beating a fluffy batter before sliding it into the oven.
"Some of my best holiday childhood memories were baking with my family," said Lott. "I love being able to share that love with other people so that they can create their own memories."
During her lessons, students rummage through a treasure trove of cookie cutters in shapes ranging from angels and wreaths to starfish and rosebuds. After mixing flour and nutmeg with lemon zest and vanilla extract, then chilling, rolling and cutting the dough, their effort bursts forth in the form of highly spiced citrus, ginger cookies.
"I still like nibbling the cookie dough as much as I did when I was a little kid," said Claudia Yost, a recent student.
Even the youngest gourmands can add calorie-laden joy to the world this season. Diminutive cooks-in-training use seasonal bounty to create child-friendly versions of traditional Thanksgiving fare at Tiny Chefs cooking school. They use yeast, flour and sweet potatoes to create warm, fluffy doughnuts, encased in sugar that crunch slightly to the bite.  
"Cooking during the holidays, and at any time, builds memories and gives them skills that they can use when they're responsible for preparing dinners later on down the road," said Katie Raguindin of Tiny Chefs.
In the gingerbread house-making class, instructors support children's imaginations, encouraging the wackiest, most creative designs, propelled by a rainbow of colored icing and decorative candies. There's even a gift class where they fill mason jars with ingredients for cookie dough. They become present-ready when topped with shiny bows.
"We're giving them a nice way to participate with the holiday cooking," said Raguindin. "It's a good family activity, and they can remember for years to come that they got to cook with Mom and Dad for Christmas dinner." 
Even as adults, life-long friends can relive their childhood sugarplum fantasies. At the start of the holiday season, Terri Carr and Elaine Agran gather in Carr's Potomac, Md., kitchen to preserve a baking tradition that spans more than three decades. For four days and four nights, the two friends lose themselves in a shrine of softened butter, flour and sugar, emerging with several thousand sugar cookies that they package and ship to friends, family and colleagues.  
"We take turns. One of us sleeps while the other one bakes," said Carr, of Terri's Table, a cooking school she runs out of her home.  
This year, Carr is focused on Thanksgiving, teaching students both main and side dishes, such as a crunchy and deeply nutty pecan pie.
At the end of her classes, Carr sets a festive table around which her apprentices gather, raising a chorus of oohs and aahs and noshing on the fruit of the holiday labor until the last crumb is devoured.