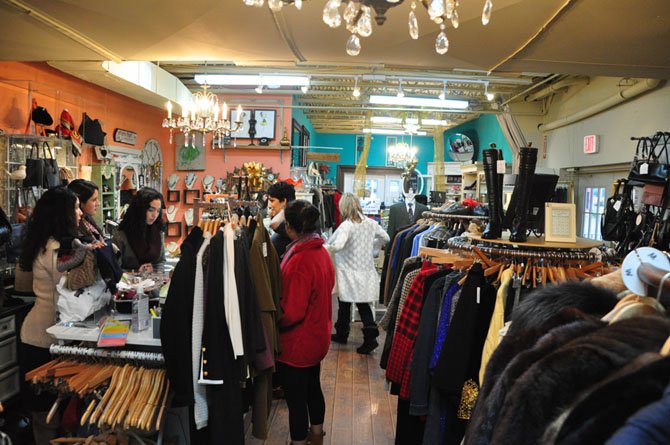 Great Falls — Shopping malls are almost guaranteed to be among the most crowded stores around as the holiday season approaches, but great gifts can be had a long way from Tysons Corner in Great Falls, just at the corner of Walker Road and Colvin Run Road.
HAVANA VINTAGE is an upscale consignment boutique founded in 2011 by Nolkis Roman, a native of Cuba who moved to the U.S. in 1987. Since its opening it has quickly established itself as one of the most fashion forward places around.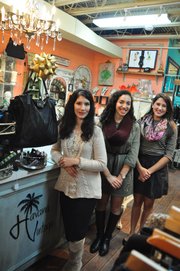 "I go into Havana Vintage with 100 percent confidence that I'll find something that not only looks great, but looks good on me too. The staff is great about answering questions, giving suggestions, and finding things that will complement it," said Sarah Ferlin of Vienna. "And the price, especially for what brands you're getting, is very friendly as well."
While the racks of clothes, handbags, scarves, shoes and other items are what people imagine when they think of a consignment store, there are other items as well.
European soaps and lotions, as well as a wide selection of jewelry, is available, as well as a selection of home goods. Roman is planning to expand the store next year to include a section with more home furnishings.
"We've had a lot of people coming in to look at our jewelry selection," Roman said. "We've got pieces that you would find for $2,000 to $3,000 that are under $1,000 here."
Roman says other popular items of late have been sweaters, especially cashmere, as well as wallets, belts and handbags, which are 100 percent authentic, which Nolkis says can be hard to find in other consignment shops.
There is also a men's section with a selection of Ferragamo neckties, jackets and more.
"It's been a great time so far, and I'm so grateful for our customers, whose amazing support is the key to success," Roman said. "It's been great to see what kind of support this community has for a small business."
Havana Vintage will have a Black Friday sale Friday, Nov. 29, where they will open at 8 a.m. and have 10 percent off of designer handbags and clothing, and 20 percent off many other items in the store including fur coats.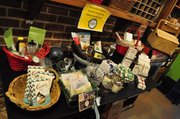 They will also raffle off a Burberry handbag, with a purchase good for a chance in the raffle.
More information can be found at www.havanavintageboutique.com.
ONLY A FEW FEET AWAY from Havana Vintage is Salud Healthy Pantry, a market with plenty of gift ideas. The store opened up in the summer of 2012, and while they specialize in organic groceries, there are plenty of gift options available.
"Our Skincando and Shea Terra skincare products are quite popular, they're organic and great for gifts," said Denise Rodriguez, the owner.
Salud has a selection of gift baskets for lovers of all things food, including chocolate (with Bolivian El Ceibo chocolates) and tea (with selections from the Great Falls Tea Garden).
"We can also make a custom basket for anyone that walks in, we'll walk them around the store and fill it with whatever they'd like," Rodriguez said. "We can do things like a gluten-free basket with some great snacks that we have in stock."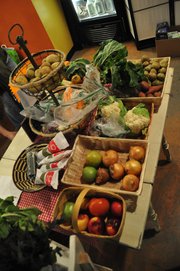 Rodriguez says other popular gift items are Cervantes Coffee (freshly roasted in Maryland), juice cleanses, gluten-free dog snacks, vintage teapots, or a selection from the olive oil bar, which includes flavors such as garlic, rosemary, basil, blood orange and the latest selection, black truffle. They also have gift cards.
"Last year I came to Salud for stocking stuffers, and they went over very well with my nieces and nephews," said Gina Haywood of Great Falls. "I got them some of the dark chocolate flavors, gluten free snacks and some of the crackers with whole grains, and it was a hit, different than usual snacks, and healthier than a Snickers and some potato chips."
Their Community Supported Agriculture club also sells gift memberships for those who are always on the search for good produce.
"We offer subscriptions to the CSA by season. For example, the fall is seven weeks. Our members sign up for the produce they would like, and it comes in every Saturday," Rodriguez said. "It's all fresh, picked less than 24 hours before pickup, its all in season, and it comes from local farms. People just come in every week and pick of their bag of fresh produce."
The club had about 40 members for the fall season, where they offered items like potatoes, bok choy, onions, apples, sweet potatoes and cauliflower.
Another popular item is the made-to-order kombucha, a fermented tea drink that aids in immune and digestive function, among others. The drink can be ordered by the case with the recipient's name on each bottle.
Salud will also have a Black Friday sale. Customers can get a free cup of coffee with any purchase, and there will be 30 percent off all supplements and 20 percent off Skincando and Shea Tera skincare products.
More information is available at www.saludhealthypantry.com.