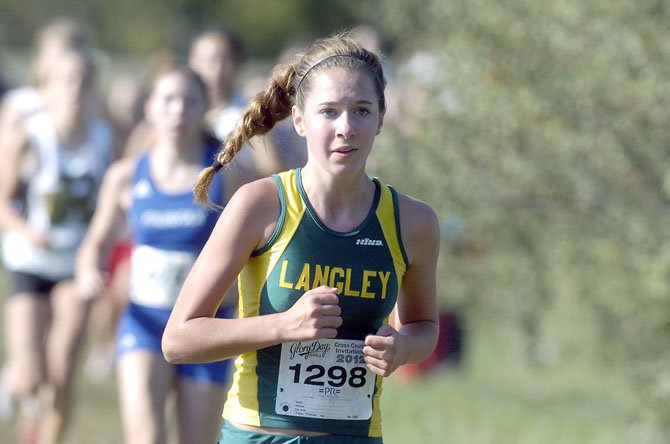 fairfax station — For the second straight season, Oakton's Allie Klimkiewicz held off Robinson's Macey Schweikert to win the Concorde District girls' cross country championship.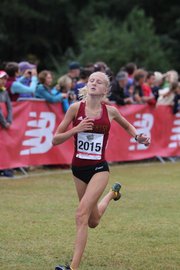 After edging Schweikert by three seconds in 2011, Klimkiewicz beat her opponent from Robinson by one second on Oct. 24 at Burke Lake Park. Klimkiewicz finished with a time of 17:36, leading Oakton to a third straight team title.
"I knew she was there," Klimkiewicz said. "I was pretty sure she was close because you can kind of see shadows."
Schweikert finished second with a time of 17:37, helping Robinson to a runner-up team finish and a berth in the Northern Region championship meet, scheduled for Thursday, Nov. 1 at Burke Lake Park. Oakton finished with a score of 40 at the district meet. Robinson finished with 45, followed by Chantilly (72) and Centreville (100).
Hailey Dougherty placed fourth (18:22) for Oakton. Kristi Carrigan finished ninth (18:56), Briana Stewart was 12th (19:22) and Kara Kendall was 14th (19:24).
Langley's Jessica Miles finished second with a time of 19:21. McLean's Katie Montgomery (19:28) and Megan McCormack (19:40) finished third and sixth, respectively. South Lakes' Devin Nieusma (19:56) and Monica Lannen (19:59) were 10th and 13th, respectively.
In boys' action, Oakton placed fourth, grabbing the final regional berth. Chantilly won the event with a 19. Robinson finished second with a total of 64, followed by Westfield (92) and Oakton (95).
Oakton's top boys' finisher was Jack Stoney, who placed eighth with a time of 15:52. Chantilly's Sean McGorty won the event with a time of 14:38, one minute faster than his nearest competitor.
Later in the day, a pair of Madison harriers captured the individual Liberty District boys' and girls' championships.
Laura Sullivan won the girls' championship with a time of 19:11, helping the Warhawks capture the team title. Sullivan and her coach said they didn't expect such a strong performance. As a freshman last season, Sullivan placed 20th at districts.
"It came out of nowhere," Sullivan said. "I wasn't expecting it at all. I wanted to medal; I wanted to get top five. I got to the halfway point and I was in first and I didn't think much of it. It didn't process until the two-mile mark and I was like, 'I'm in first.'"
"Laura definitely stepped up," Madison coach Craig Chasse said. "That was a surprise. I wouldn't have predicted her winning. If you ask any of the other coaches, I don't think they would have guessed it. They would have guessed somebody else."
Madison's Amanda Swaak finished fourth (19:37). Christina Galiano placed seventh (19:47), Morgan Wittrock was 15th (20:02) and Anna Stone was 22nd (20:17).
In boys' action, Madison's Matthew Calem took home the individual title with a time of 15:43, edging Stone Bridge's Brady Guertin.
"He ran a smart race," Chasse said about Calem. "Nobody in the boys' race really wanted to take the lead, it looked like. They were pretty slow—5:17 at the mile—it's a little hot today; it became tactical…"
MADISON FINISHED FIFTH, one spot away from a regional berth. Stone Bridge won the team title with a score of 43, followed by Thomas Jefferson (73), McLean (89) and South Lakes (95).
McLean's David Galdo (10th, 16:36) and Lewis Millholland (13th, 16:41) earned all-district. South Lakes' Ashkan Mohammadi (fourth, 16:12), Michael McHugh (11th, 16:39) and Andrew McCool (14th, 16:42) were also all-district.
Marshall's MacKenzie Haight finished third with a time of 16:08.