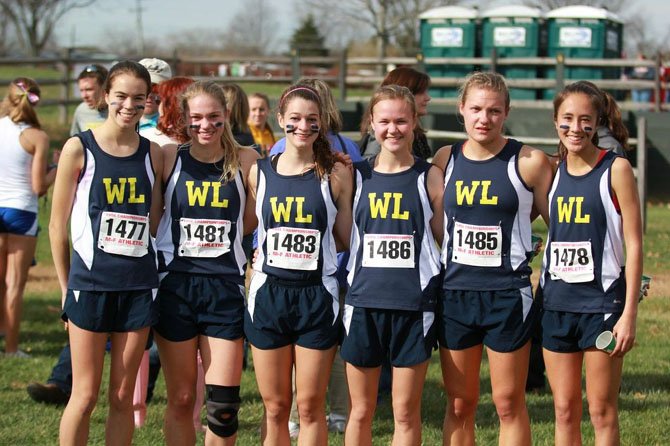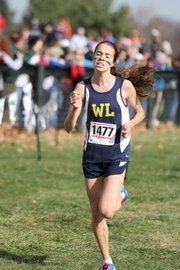 After placing second at the 6A North regional meet Nov. 6 and earning its first state berth, the Washington-Lee girls' cross country team made school history yet again on Friday, Nov. 15, by placing second in the 6A race at the VHSL state meet with a total of 100 points.
Oakton placed first with 55 points and Lake Braddock placed third with 112 points.
Sarah Angell was the Generals' top runner with a time of 18:18, followed by Jordan Selby (18:30), Kathryn Eng (19:25), Donia Nichols (19:32), Sarah Sears (19:47), Jordan Grimaldi (19:51) and Annika Macewen (20:34). The race was highlighted by Caroline Alcorta of West Springfield, who set a course record in 17 minutes and 13 seconds.
The Generals have had an exciting season to say the least. In August, the athletes made it their goal to win their conference meet, be in the top three in the region, and finish in the top three at states.
Their recipe for success included hard work, team dynamic, and passion for the sport. Coach Matt Przydzial believes that the 2013 group of girls is special because all seven individuals demonstrated an unrivaled commitment to cross training, logging in summer miles, and staying focused during the season. Usually only three to four girls each year show this kind of passion for the sport.
Przydzial said that "even though we did not have seven girls run personal bests, we had seven girls that never gave up and pushed through a very challenging course."
The Great Meadow course is known for its breathtaking scenery yet tough terrain. The first mile features a flat and twisting grass section; the second mile features a creek and some notable hills, then the third mile weeds out strong runners from weak ones with a burdensome uphill. Finally, the runners sprint through a deceiving 600-meter stretch that seems a lot shorter than it really is.
"One of our last bits of advice before the race," Przydzial said, "was not to give up mentally since we knew most of the race was going to be run without the help of spectators."
Preparation for the meet included riding a private charter bus to a hotel where the girls stayed overnight. They surveyed the course on Thursday to prepare for a challenging race the next day. The girls were simultaneously excited and nervous about putting their potential into action.
"I was the most nervous I've ever been on the starting line," Selby said, "but plugging in hard workouts and having a nice team finish at regionals gave me the confidence to finish strong."
Each varsity harrier carries her own distinctive personality. Together, the girls work in unison to create a fun team atmosphere. They crack jokes and elicit laughter as they teach the coaches' two young daughters how to say new words. Selby and Angell listened to a special states playlist as Eng talked to Coach Laura Jenkins. Angell exudes the confidence and poise of a top-tier runner.
"I was slightly less nervous due to my performance at regionals," she said. "I knew that I could depend on my teammates for support."
Coach Przydzial said that "Angell had a particularly impressive race to earn fifth place and all-state honors. She certainly proved that she's in shape entering indoor and outdoor track seasons."
Angell had unfinished business after coming to the state meet as an individual last year and having a disappointing finish.
Washington-Lee can expect big things to happen heading into track season. Both Sears and Grimaldi have had breakout performances over the last few months.