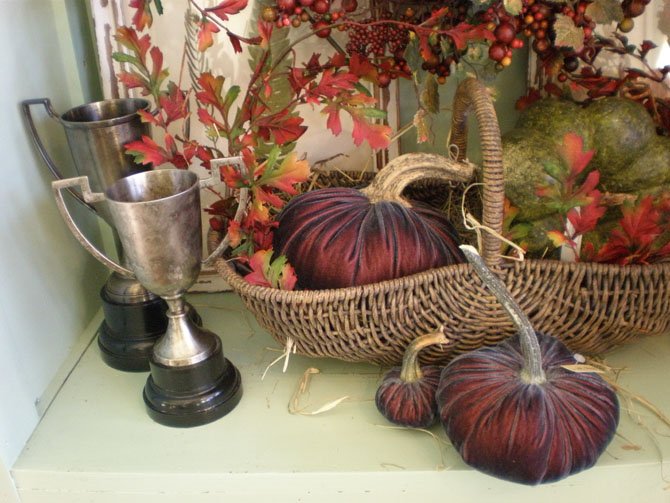 While food preparation can be all-consuming on Thanksgiving Day, the table décor also plays a major role in a Turkey Day feast. Whether your style is subdued and casual or chic and sophisticated, local designers offer ideas and inspiration for table settings that are as delectable as the meal itself.
Emily Wallace, of Kelley Interior Design in Bethesda, suggests making your tablescape a collective effort. "A relative's collection of vintage sterling silver napkin rings could be the perfect finishing touch," she said. "The mix is key, [like] the use of vintage with new results in a sophisticated scheme. Family heirloom china on new metallic chargers is an example."
She does recommend keeping decor cohesive to create a clean tablescape. "If you use mismatched water glasses, make sure other items such as plates and flatware are in sets," she said. "Or, use a theme such as color [like] golds and browns as an overall guide. Create an ambiance. Keep lights low to allow for candles to glisten. Music playing softly in the background is a bonus."
"Do not be afraid to skip the tablecloth. A table runner, place mats or unique linen napkins will suffice."

— Emily Wallace, Kelley Interior Design
Wallace believes that the use of foliage is vital to laying a beautiful table: "You can try one larger arrangement for the center — keep it low so you can see your guests — or several smaller arrangements lining the center of the table."
Evelyn Kinville, a designer for Behnke's Florist Shop in Potomac, suggests going linear with décor. "To add additional color, try adding pumpkins, gourds, fresh grapes or faux berry stems laid out in an elongated way from the centerpieces. The foliage can be arranged in a line like garland that looks connected like one long decoration. I have a client who will have four, eight-foot long tables with centerpieces and linear groupings to cover the entire space."
Wallace suggests getting creative when it comes to table linens. "Do not be afraid to skip the tablecloth," she said. "A table runner, placemats or unique linen napkins will suffice."
Courtney Thomas, of The Picket Fence in Burke, said, "For napkin rings, cut thin strips of burlap long enough to wrap around a rolled napkin. Glue the ends together to make a ring and attach an acorn to the top. You could use real acorns from the yard or buy fake acorns at a gift [or] craft store. If you prefer a more substantial look, cluster three small acorns together."
Place cards are not to be overlooked. "[They] make a table setting special," said Wallace. "This is a great way to be creative, whether handmade or printed professionally."
Thomas says small gourds or mini pumpkins can even be used as place cards. "Simply write the guest's name with a metallic Sharpie or paint pen on the side of the gourd," she said. "Mix and match the shapes/styles of the gourds for an eclectic look."