There's more to an elegant Thanksgiving table than a perfectly roasted turkey and fluffy mashed potatoes. Local design experts say that with a little planning and a few natural elements, it is possible to set a Thanksgiving table that is as tantalizing as the food it holds.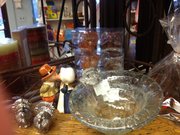 Ann O'Shields of The Nest Egg in Fairfax, suggests simplicity and seasonality. "Less is usually more when it comes to tablescapes, and this time of year with all the beautiful colors outside, I think the best thing is to pull those into the color palate that you're going to use. Focus on the bright orange, the red, the yellow, with some green. It is always nice to be simple with the color of the service pieces, like a white or cream color. That way it shows off your decorations a little bit more."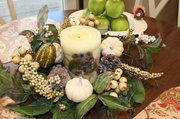 Light up the table. "Candles are great," said O'Shields. "If you're going to go with pillars, I like to do more than just one set. It's nice if you can kind of repeat them all the way down the table and do them in a little cluster. If you don't have candleholders, you can hollow out the inside of a small pumpkin and use that as your holder. That would look great going all the way down the center of a table."
Sharon Kleinman of Transition by Sharon Kleinman advises bringing the outside indoors. "I like to take to autumn leaves and scatter them down the table," she said. "A friend and I baked a cornucopia and shellacked it and filled it with vegetables. I also like to tie napkins with different things like raffia or a ribbon and add a flower to it."
Another designer who incorporates foliage is Sallie Kjos, of Grey Hunt Interiors in South Riding. "One thing you do is gather fresh leaves and press them in wax paper so that they are preserved and flat," she said. "When you are setting the Thanksgiving table, put the platter down — without the turkey — and place the leaves around it to make a decorative border. You can also do that around the dinner plates. It's easy to do and it's free, but it's very festive and looks almost like a placemat."
"I love mixing pinecones, really tall grasses and three round, boldly colored flowers with large heads like chrysanthemums," said McLean resident Jean Freeman, a professor of interior design at Marymount University in Arlington. "I use three or five different items that have different texture, colors and heights. The grasses are tall, the flowers medium height and the pines cones are low. Sometimes I will scatter yellow rose petals on the table." When it comes to pumpkins, Potomac-based designer Susan Matus suggests thinking beyond traditional varieties. "There are so many interesting types of pumpkins, not just the traditional orange jack- o-lantern," she said. I've seen peanut pumpkins, fairytale pumpkins, sweet meat pumpkins … they range in color from orange, to green to white and yellow and aren't always perfect. We see that people like the idea of decorating with something that they can actually use when finished. The idea of creating a centerpiece around some of these interesting pumpkins and squashes, means that after the holiday, they can be baked, whether into pies or side dishes."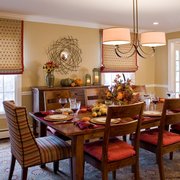 "Less is usually more when it comes to tablescapes."
—Ann O'Shields, The Nest Egg of Fairfax
Matus adds the fall home décor is taking a cue from the runway. "Colors that seem popular are like those that hit fashion this year, ox blood red, or that deep wine color are great centerpiece options, especially since red is one of the colors that stimulates our palates," she said.
CREATE A FESTIVE MOOD with fragrance. "I use candles throughout the first floor to create inviting aromas for family and friends," said Meyer. "Another trick we use in my home is to steep mulling spices on the stovetop for a few hours. It creates a wonderful aroma full of holiday nostalgia."
Incorporate elements that can be found in the kitchen. "Adding pieces of fresh herbs to a tablescape — in a fragrance that goes well with food — can add a nice scent," said O'Shields. "You can use rosemary, bay leaves or cinnamon cloves, which look sort of branchy and evergreen."
Noreen Lucey, of Write for You, in Washington, offers traditional ideas: "Menu cards, place cards are absolutely seen at Thanksgiving [as are] decorative napkins or pewter napkin rings with a turkey.
"Another thing that is really popular is crackers, which are often used at Christmas time," she said. "It is like an old party popper, but it has a fall motif and you put it on each person's plate and the idea is that brings you good luck and good fortune for the year. You hold one side and you cross your hands and you hold the other side of the person's next to you and one-two-three and everybody pulls at the crackers and out pops like a party hat and a little fortune. It is a neat family tradition."