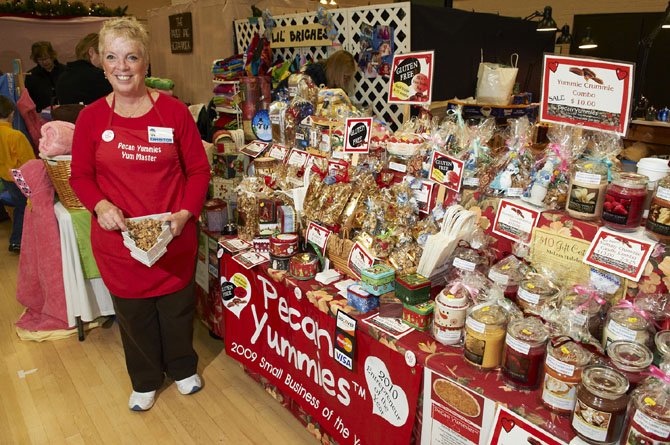 Madeline Marzilli plans to start making her Christmas list right after her Thanksgiving house guests leave this weekend. On her list will be one-of-a-kind items for family and friends that she hopes to pick up at some of the local holiday craft shows.
"I am primarily looking for hand-knitted scarves and sweaters, said Marzilli, who lives in Oak Hill. "I'd like to get some jewelry for my mom and my daughters, and a piece of pottery or two for myself."
As the holiday shopping season starts in earnest, craft shows may seem ubiquitous, but local show directors say one of the advantages of shopping for presents at craft markets instead of large retail stores is the ability to purchase original items while supporting local artists.
Jean P. Freeman, a professor of interior design at Marymount University in Arlington, Va., uses American Craft Council Shows as a source for purchasing art.
"One of the great sources that I use are the American Craft shows," said Freeman. "Not only are there the usual paintings, but all sorts of other types of wall hanging, sculpture [and] crafts. The breadth and depth of the shows will have something for everyone. In the American Craft shows the buyers are supporting the artists themselves and not a huge industry-made product."
Local craft show directors say the same is true for smaller holiday craft shows. Sam Roberts, director of special events at the McLean Community Center, is organizing the 31st annual McLean Holiday Crafts Show. "These shows will have a lot of specialty arts and crafts," said Roberts, who has been running the show for 25 years. "The items that will be here will unique because they are handcrafted by the exhibiter. We've worked hard over the years to make sure our craft show stays personal and one-of-a-kind, not commercialized."
Patrice Roe of Holly & Ivy: A Christmas Marketplace, which is sponsored by Our Lady of Good Counsel Catholic Church in Vienna said, "We sell everything from jewelry, which is ubiquitous at holiday bazaars, to hand-crocheted and knitted items. We will have 40 vendors over two days."
Sabrina Anwah, communications director for the McLean Community Center suggests that to avoid feeling overwhelmed by the magnitude of buying options, show goers should arrive with an idea of what they are looking to purchase.
"We'll have everything you can imagine, like wood items, ceramics, pottery, holiday decorations, jewelry and gourmet food items," she said. "It is a good idea to come with a list of who [you] are buying for and what the person might want."
Anwah suggests that before making buying decisions, visitors should take a look at the entire fair. "It is good for people to see what is here first and talk to the vendors about what they have to offer," she said. "The people who made the product will be on hand and can answer questions."
Since most items will be one-of-a-kind, Anwah suggests asking the vendor questions before making a purchase. "Ask them to explain how it was made," she said. "Ask if it can be customized. Ask what materials it was made from and how it functions."
Roe, who is also director of development for Our Lady of Good Counsel Catholic Church and School adds that Holly & Ivy: A Christmas Marketplace will offer the works of three fine arts vendors, including two professionally trained artists. "We have one vendor who raises alpacas and makes hand-made items like hats, gloves and scarves."