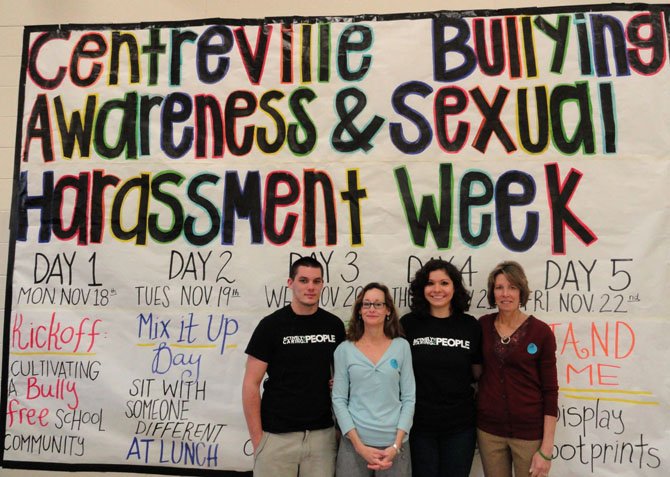 Centreville — Not bullying means more than just not taunting or hitting someone; it also means being kind and considerate. So it was fitting that members of Virginia Tech's program, Actively Caring for People (AC4P), shared their message Monday, Nov. 18, during the first day of Cluster VII's Bullying Awareness Week.
Visiting Centreville High were AC4P representatives Sophia Teie and Alex Jones. "We're starting AC4P at Centreville in January," said Teie. "A lot of our AC4P coaches came from Northern Virginia, so it's exciting for us to be here."
Created at Virginia Tech in the aftermath of the April 2007 tragedy in which a young man who'd been bullied killed 32 people there, AC4P has now become a worldwide movement. The premise is that, when people are encouraged to actively care for others, they're inspired to perform intentional acts of kindness as a regular part of their daily lives.
During school lunches on Monday, Teie and Jones were in Centreville's cafeteria, along with Angel Fund Board of Directors members LuAnn McNabb and Debbie Lawall. Westfield High grad Reema Samaha was one of the Virginia Tech victims, and the nonprofit Angel Fund was begun by her parents to create safer schools and communities by focusing on mental-health issues, privacy laws and information sharing.
Angel Fund paid for AC4P's visit to Centreville and is also funding the AC4P Wildcat T-shirts and wristbands the students will receive in January. The idea is to observe an act of kindness, thank the person for actively caring, reward him or her with an AC4P wristband and tell that person to pass it on.
Teie briefly mentioned the program to the students, and those interested in learning more about it signed up for a meeting after school. "We'll tell them what other high schools have done," she said. "For example, Woodson High's leadership team is incorporating it into their own initiative. We want it to be student-run."
In January, AC4P will hold a series of workshops at Centreville. Students will learn the psychological science behind what it means to actively care. "No one's born knowing how to reach out of their comfort zone and actively care for someone else," said Teie. "So we'll give them the tools to infuse AC4P in either their school, community or local middle school. The goal is to make a culture change that's not imposed on the students, but is something they want to do."
Senior Sonya Kim and junior Ariana Nozary were among those signing up for Monday's after-school meeting. "I agree with anti-bullying and I'd like to help," said Kim. "And it would be great to go to elementary and middle schools and tell them how they can handle bullies."
"We've all been bullied," added Nozary. "I was bullied really badly, so I know how it feels. So I'd like to help people and show them they're not alone in it."
Sophomore Alison Gomeiz also signed up. "I think we need something in the community to bring people together and prevent these kinds of things from happening again," she said.
School counselor Autumn Koo said it's important for students to model good behavior so that acts of kindness become contagious. "Hopefully, we can foster a caring environment that will carry through the whole school year," she said. "Bullying's always present in our school system, but showing kindness in action will be empowering to the students."
Koo said FCPS gives anti-bullying lessons, but AC4P is a "more creative way" to teach it. Said Koo: "It meets students where they are."
Signing up for the after-school meeting, senior Arezou Zarghami said, "I'm so against bullying. I want to help everyone by letting them know the consequences of bullying — what it can do to people — and tell them they shouldn't bully others."
Pleased with how things were going, Teie said, "We're just planting the seeds today and introducing the phrase, 'Actively Caring for Others.' Then when we come back in January, the students will be familiar with it."
Also happy to be at Centreville, McNabb said school counselor Sinitra DeHaven approached her at a bullying-prevention workshop last year. McNabb then gave DeHaven her card, told her about AC4P and linked her to Teie.
"Our hope is that the AC4P program is implemented at Centreville," said McNabb. "We're expecting it to be successful here and want to get it into as many Fairfax County public schools as we can."
"I think this is awesome," added DeHaven. "We really do have caring students at Centreville, so I think it'll be a good fit here."
For more information, go to www.activelycaringforpeople.org.