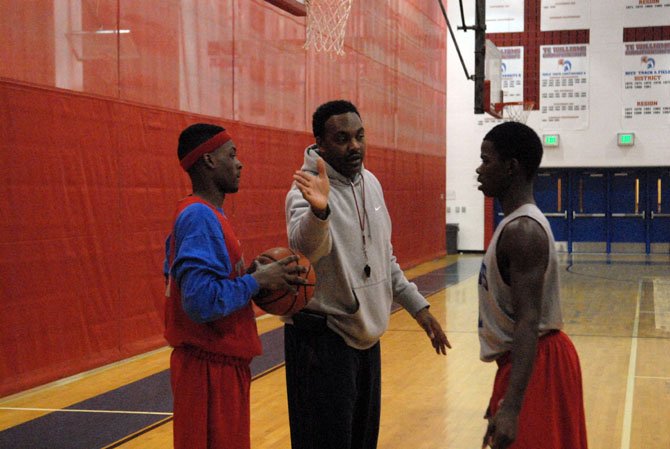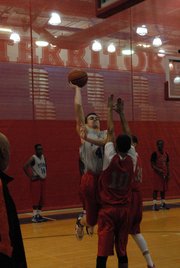 Two days after a strong performance during a scrimmage at Landon, the T.C. Williams boys' basketball team concluded Monday's practice with a missed layup that caused head coach Julian King to wave the Titans to the baseline for some running.
"That's a terrible ending," King said to the Titans, "to a bad day."
There will be good days and there will be bad days for the Titans early in the 2013-14 season as a group of new faces tries to get on the same page. With first-team all-district performer Malik Carney and 6-foot-6 inside presence Jeremiah Clarke opting to focus on their football futures at the University of North Carolina rather than play basketball, the Titans are left with two players — senior guard Mert Ozkaynak and junior guard Darius Holland — who were on last year's roster. Holland missed time as a sophomore due to academic ineligibility, adding to the team's inexperience level.
So who is going to step up and carry T.C. Williams?
"Everybody," King said. "I know that's a little vague, but I'll be honest — everybody, just because we are a completely new group that has been thrown together and it's going to take some time for us to figure out who is going to be the guy that we can count on night in and night out. I just preach to the guys, let's do everything by committee. Let's not worry about individual accolades. Let's just worry about our team goals at the moment. As we go on, [during] certain games each individual talent will shine through and you'll get your just due in time."
In 2011, T.C. won the Patriot District and Northern Region championships before suffering an overtime loss in the state semifinals. In 2012, the Titans repeated as district champions. Last year, however, T.C. was bounced in the district semifinals and lost to Wakefield in the opening round of the regional tournament — a down year for a program with a winning tradition.
Is last season's early postseason exit motivation for the Titans?
"If we execute the way we know we can, we're going to states."

— T.C. Williams junior Darius Holland
"It should be," King said. "I bring it up every day. If not's not, shame on you for wanting to be a basketball player and a competitor. You should look at it and say … it was a down year for TC standards, let's change that. You have to say, not on my watch. Let's get it back on the right track."
While King is looking for a group effort early in the season, there are several candidates to break out and lead the Titans.
Ozkaynak has been on the varsity since he was a freshman, but King said his game needs a confidence injection.
"He's had a lot of ups and downs and a lot of it has to do with a confidence issue," King said. "… I've seen a lot of growth and maturity out of him. The thing is keeping it consistent and him adding a little aggressiveness to it."
Holland showed his athletic ability on the football field as the school's varsity quarterback and will now try to be a playmaker on the court.
The junior said winning would help convert Titans doubters.
"They can doubt us," Holland said, "but if we prove them wrong then they'll become supporters."
Junior guard Andrew Hill is a transfer from Bishop O'Connell who could be a difference-maker. Senior post Michael Gray, at 6 feet 5 and 300-plus pounds, gives the Titans size in the paint.
Seniors Tomi Fadahunsi, John Chandler, Kevin Perry, Alex Bledsoe, Justin Kerekes, Khalil Celestine, and Warren Smith, juniors Boubacar Diallo, Curtis Jordan, and Jamison Clark, and sophomores Dejuan Robinson and Jordan Jones are also on the team.
T.C. Williams will open the season Dec. 7 on the road against Wakefield in the annual Parker-Gray/Hoffman-Boston memorial contest. Other notable Titan games include a matchup with Warwick on Dec. 21 at Kecoughtan High School and contests against Duval (Dec. 27) and Montrose Christian (Dec. 28) in Baltimore.
"If we execute the way we know we can, we're going to states," Holland said. "Most people say we're undersized [and] we don't have the experience that most teams down [south] have, but basketball is universal. … It's all about execution."