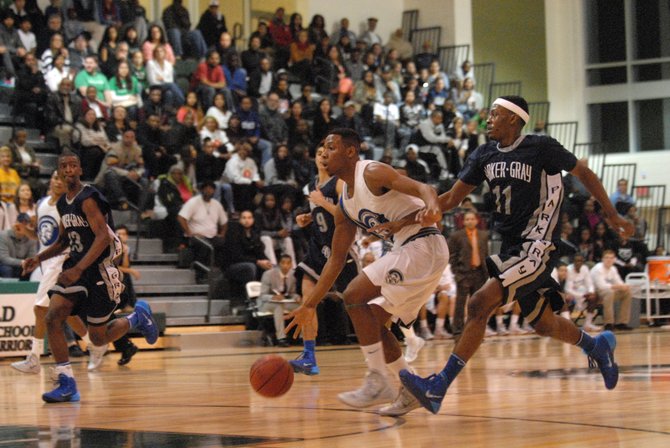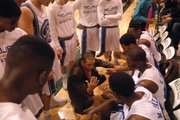 When the Wakefield boys' basketball team defeated T.C. Williams in February during the opening round of last season's regional tournament, it was believed to be the Warriors' first victory over the Titans since 1996 and propelled Wakefield to a postseason run that reached the state semifinals.
Nearly 10 months later, the schools met in the fourth annual Parker-Gray/Hoffman-Boston memorial game, during which the teams wear throwback jerseys to honor the historically black schools in Alexandria (Parker-Gray) and Arlington (Hoffman-Boston). T.C. Williams won the first three meetings, with each game played in the Titans' home gym.
Saturday's contest was a game of firsts for the schools located two miles apart. Wakefield hosted the memorial game for the first time. It was the first boys' game in the school's new gym. And when it was over, Wakefield had earned its first win while donning the Hoffman-Boston Trojan jerseys, helping prove last year's victory over T.C. Williams was no fluke.
Wakefield closed the game on a 6-1 run and beat T.C. Williams 56-51 on Dec. 7 at Wakefield High School. The Warriors held on despite standout forward Dominique Tham getting in early foul trouble and the team shooting 9-for-30 from the free-throw line. But while Wakefield's performance left room for improvement, it also gave the Warriors a 1-0 record and a confidence-building victory.
"It's always good to beat T.C. Williams," Wakefield head coach Tony Bentley said. "T.C. Williams is who you model your program after. … We've never beat them in the Hoffman-Boston/Parker-Gray game, so that was an accomplishment. Beating them in the regional tournament was getting over the hump, so I think tonight we had the confidence we could beat them."
Re'Quan Hopson led Wakefield with 19 points and 12 rebounds. The senior forward's transition bucket, with an assist from Jalen Carver, gave Wakefield a 54-50 lead late in the fourth quarter. Hopson said he enjoyed the environment inside the Warriors' new gym.
"It's always good to beat T.C. Williams. T.C. Williams is who you model your program after."

--- Wakefield boys' basketball coach Tony Bentley
"It was great," he said. "It kind of felt like T.C. [Williams' gym], but this one was more enclosed, so it felt even louder and amplified. I liked it a lot."
How did this win compare to beating the Titans in last year's regional tournament?
"I think it's more of a big deal now," Hopson said, "because now we can say we did it more than once."
Wakefield led by 10 in the first quarter and held a 42-36 advantage entering the fourth. T.C. Williams battled back with 9-2 run, taking a 45-44 lead when sophomore guard Jordan Jones buried a 3-pointer with 5:34 remaining. Twenty seconds later, Wakefield guard Marqua Walton knocked down a 3-pointer to put the Warriors back in front. Walton's second 3-pointer gave Wakefield a 50-47 advantage, but T.C. Williams guard Andrew Hill tied the game with a 3-pointer from the left corner with 3:36 left on the clock.
Hill's 3-pointer was the Titans' last field goal, however, while the Warriors got buckets from Tham, Hopson and a pair of free throws from Carver to pull out the win.
"Once we made a run, Wakefield stayed tough and stayed true to the way they play," T.C. Williams head coach Julian King said. "And that kid (Walton) hit a couple big [3-pointers] and took the air out of us."
Walton finished with 11 points and seven rebounds.
"The facility, it's beautiful," he said. "… It felt really good to pull a victory for our first win in this new gym."
Wakefield's poor foul shooting kept the game close. The Warriors made just 9 of 30 attempts, including 7 of 22 in the second half.
"We were terrible from the free-throw line," Bentley said. "Someone said if we would have made our free throws we would have won by 20."
Walton, who went 1-for-2 from the line, expected repercussions from the team's performance from the line.
"All I've got to say," Walton said, "is on Monday we're going to be shooting a lot of free throws."
Carver finished with 13 points and went 4-for-4 from the free-throw line. Tham scored two points and grabbed six rebounds. The junior forward went to the bench after being called for two early fouls.
"He plays aggressive," Bentley said. "He picked up some stupid fouls. He's only a junior, but he's a veteran and he's got to learn we need him on the court."
Bentley praised junior forward Xavier Cooper, who finished with eight points and five rebounds.
"My guy tonight was Xavier Cooper," Bentley said. "[He] really shined for us tonight on the boards. … He was a kid who didn't play much for us last year. He had [dreadlocks] last year. He cut his hair [and] everyone thinks he's a transfer. He played his butt off tonight and I was very excited to see him bang down low and get going."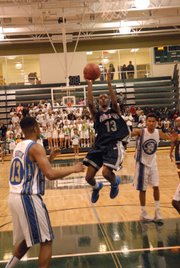 White, a transfer from Bishop O'Connell playing in his first game as a Titan, led T.C. Williams with 15 points.
"First game, I think we played pretty well together," he said. "We need to build more chemistry as a team --- hang out more, get to know each other more so we can play better as a unit."
Jones scored 13 points for the Titans.
"Jordan Jones played a great game," King said. "He's only a sophomore. He's fearless."
Junior forward Jamison Clark scored 10 points for T.C. Williams and senior guard Mert Ozkaynak added eight.
Wakefield will travel to face Anacostia at 6:30 p.m. on Wednesday, Dec. 11. T.C. Williams will host West Springfield at 7:30 p.m. on Friday, Dec. 13.
King said he hopes Saturday's loss is a wake-up call for the inexperienced Titans.
"You can preach over and over in practice that, hey, we're not working hard enough. We need to do this, we need to do that," King said. "Because they're going against themselves or they've had maybe a little success in scrimmages … they don't really understand the speed of the game and the effort you have to put in the game until we actually arrive at the season, which, now I think they know. Now I think I may have their attention. Maybe we'll pick it up a little more in practice and pay a little more attention to detail."