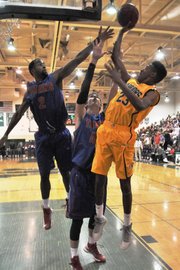 Arlington — The Wakefield and T.C. Williams boys' basketball teams talked trash Monday night. They shoved one another. They received technical fouls.
Just like Tony Bentley had planned.
The Wakefield head coach thought his team played scared in recent meetings with T.C. Williams — including a 56-48 loss on Dec. 15. With each team's season on the line in the opening round of the Northern Region tournament, Bentley wanted the Warriors to come out aggressive.
"We reviewed a whole bunch of tape when we played against TC the first time [this season] and we felt like we were scared against T.C. Williams the first time," Bentley said. "Tonight, we were the ones that came out pushing first. If we get a tech, fine, but I wanted my guys to set the tone to let TC know we're here tonight."
Consider Monday's performance a point proven for Wakefield.
The Warriors defeated T.C. Williams 67-53 at Wakefield High School, earning a trip to the region quarterfinals. Wakefield, the No. 1 seed from the National District, led by nine after three quarters and extended its lead to 12 when senior guard Khory Moore buried a 3-pointer early in the fourth. TC, the No. 4 seed from the Patriot District, pulled to within six on a Malik Carney bucket with 1:53 remaining, but the Warriors closed the contest on an 8-0 run to secure the program's first victory against T.C. Williams since 1996, and first home win against the Titans since 1971.
"Tonight, we were the ones that came out pushing first. If we get a tech, fine, but I wanted my guys to set the tone to let TC know we're here tonight."

— Wakefield boys' basketball coach Tony Bentley
"We came out real intense because these past couple years we've had games against TC and been getting blown out; we've been scared," said Wakefield junior ReQuan Hopson, who scored 12 of his 21 points in the first half. "We just wanted to prove a point that we're the bigger team."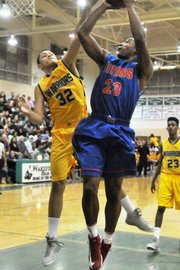 T.C. Williams and Wakefield faced one another during the last three regular seasons. The teams wore throwback jerseys to honor historically black schools Parker-Gray (TC) and Hoffman-Boston (Wakefield). The Titans won each game, all of which were played at T.C. Williams High School.
"We always wanted the opportunity to play them [at Wakefield]," Bentley said. "Every time we play them, we play kind of scared and nervous and it makes no sense. I said, what do you do to a heavyweight champion? He's the best man; he gets punched in the face, now he's got to respond. No one's ever punched them in the face. We had to be the first ones to bob and weave and catch them and now, let's see how they respond."
Punches weren't thrown, but emotion was evident early. Both sides engaged in trash talking and each team had a player receive a technical foul as the result of shoving in the first half.
"I wasn't going to back down for [anything]," Wakefield senior Ermias Nega said. "We came too far to just lose. I was just going to play my heart out and trash talking is part of the game."
Nega finished with 14 points for Wakefield. Hopson led all scorers with 21.
"ReQuan is a key for us because everyone knows Khory, everyone knows Ermias," Bentley said. "You get a ReQuan going to the basket strong, getting a couple rebounds here, now you've got to stretch it out a little bit. ReQuan has been doing this for us all year long."
Moore finished with 17 points, including 15 in the second half. The senior guard knocked down four 3-pointers, each of which extended a single-digit Wakefield lead into a double-digit advantage.
"Khory had one of his worst games in the [National District] championship game [against Mount Vernon on Feb. 15] because he wanted it so much," Bentley said. "We're trying to tell Khory, let it come, let it come to him. The first half, he was off a little bit. The second half, Khory just stepped up and became Khory. He didn't want to go home. He kept saying, 'I don't want to go home, I'm still hungry.'"
Wakefield sophomore Dominique Tham finished with 10 points.
T.C. Williams' Grant Dickinson scored a career-high 20 points. The 6-foot-8 senior made a trio of 3-pointers.
"[Wakefield] improved a lot during the season," Dickinson said, "and we didn't do what we're supposed to do tonight."
Carney scored 10 points for the Titans.
Wakefield, the 2013 National District champion, will host Langley, the No. 2 seed from the Liberty District, at 7:30 p.m. today in the quarterfinals of the Northern Region tournament.
"[The Wakefield-T.C. Williams rivalry is about] so much more than us," Moore said. "It's about the past, people that have been here, Hoffman-Boston, Parker-Gray [and] it's a bad rep to keep losing to [the Titans]. This game, coming in, I just felt like it was our time to win, it was our time to show everybody that we're not scared, we're not going to back down from TC.