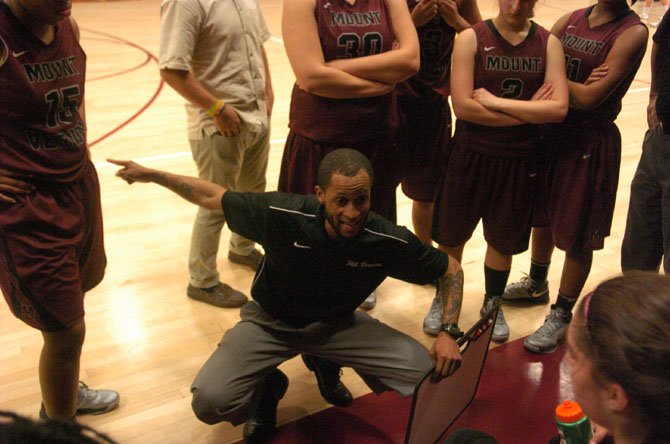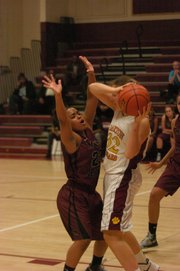 The loss sticks with Chanel Shannon.
She remembers her then-senior teammates at Mount Vernon, who suddenly had their high school careers ended, suffering for not just hours after the game, but weeks and months.
The loss motivates Shannon to prevent her high school career from ending in a similar fashion.
The 2012-13 Mount Vernon girls' basketball team was loaded with talent and high expectations. The Majors had three seniors — Kelly Loftus (Hofstra), Taylor Dunham (Navy prep school), Tiffany Webster (Barton) — who would go on to play college ball and a group of game-changing younger players who contributed scoring, defense and hustle. The Majors did the expected by winning their third consecutive National District championship. But two games later, Mount Vernon's season ended in the Northern Region quarterfinals when South Lakes guard Caitlin Jensen buried a jumper at the buzzer, giving the Seahawks a 46-45 victory.
Mount Vernon had a chance to pad its one-point lead late in the game, but twice missed the front end of a one-and-one and turned the ball over with an errant in-bound pass.
The Majors shed tears immediately following the loss, but Shannon, who was a sharpshooting junior at the time, remembers the lingering pain of a season that ended too soon.
"I use it as motivation for my senior season, to do everything so that doesn't happen again," Shannon said. "… That really tore them apart for weeks and months and I don't want to feel the same pain they did."
Shannon isn't the only one who still thinks about the loss. Senior post Samantha Porter remembers the defeat. It's still on the mind of head coach Courtney Coffer, who said Loftus, Dunham and Webster still think about it, as well. But while the Majors have motivation, two returning starters and some talented newcomers, Coffer said the team figures to fly under the radar, which could lead to a more relaxed group.
"I use it as motivation for my senior season, to do everything so that doesn't happen again. ... That really tore them apart for weeks and months and I don't want to feel the same pain they did."

— Mount Vernon senior Chanel Shannon
"The underdog role is something we're looking forward to," Coffer said. "When you lose the three seniors that we lost, I think it's pretty safe to say no one is expecting much from us this year. … That motives the kids and that motivates me. … It's not easy dealing with that pressure, expecting to win every night and getting everyone's best shot and you have no room for error."
Shannon, a 5-foot-6 guard, and Porter, a 6-foot post player, are the Majors' most experienced returning athletes. Shannon is one of the team's top perimeter threats. She knocked down five 3-pointers and scored 26 points during Mount Vernon's 68-52 victory over Oakton last season, which snapped the Cougars' 34-game winning streak. Porter never stops working and is a consistent double-double threat in the paint. Both will play college basketball — Shannon at Barton and Porter at Christopher Newport — and each will be expected to do even more this season.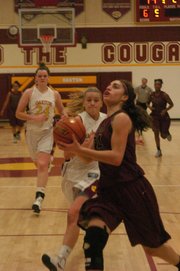 Coffer said Shannon and Porter have already shown they have the talent to be difference-makers, but now they'll have more opportunities at the offensive end.
"First thing we definitely need is leadership," Coffer said. "We need those two to be leaders, we need those two to have a huge voice in the locker room … and [hold] people accountable."
Porter's hard work on the court sets an example for others to follow.
"This season, I believe my role has changed to be more of a leader figure," Porter wrote in an email. "In order to be successful, we need to work hard together as a team. I'm confident that Chanel and I will be able to lead the team and be successful."
Sophomore forward Jasmine Collier (5-9) and sophomore guard Chanise Ray (5-6) were on the varsity as freshmen and figure to have a greater impact this season. Sophomore guard Deja King (5-8), a transfer from North Carolina, will also be a contributor.
Coffer raves about senior transfer DJ JeanPierre, calling her "freakishly athletic." The 5-foot-9 point guard transferred to Mount Vernon this season after playing her previous two seasons in Alabama and Mississippi.
"She has a great basketball IQ," Coffer said. "She has played on some really, really good basketball teams. … She can flat-out shoot the basketball."
Six-foot senior Kelly Quigley, 6-foot freshman Miracle Wyatt and 5-foot-10 junior Iris Garcia-Rivera provide Mount Vernon with size.
Senior guard Morgan Kuhns (5-6) has been with the varsity since her sophomore season.
While Coffer has preached tenacious defense in the past, the Majors are especially focused on defending well this season after graduating three scoring threats. Coffer said the Majors have studied film of the VCU men's team playing defense and hope to hold opponents to 45 points or less.
Mount Vernon will open the season on the road against Centreville at 7:30 p.m. on Dec. 3. Centreville reached the region final four last season and returns standout guard Jenna Green. The Majors' first home game is Dec. 10 against West Potomac.
"People are definitely going to doubt us because we lost Kelly, Tiffany and Taylor," Shannon said. "… We're working hard every day to prove them wrong."