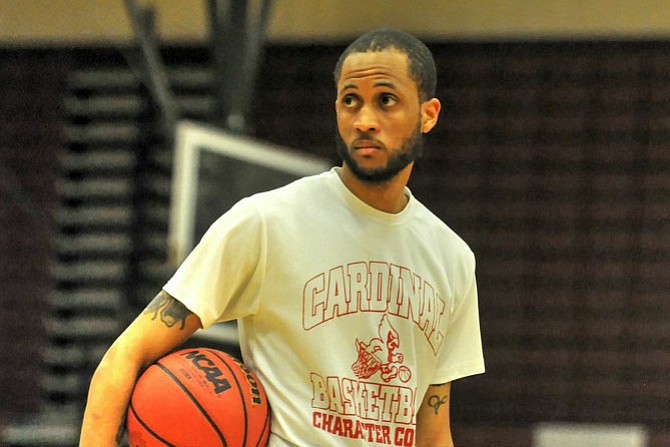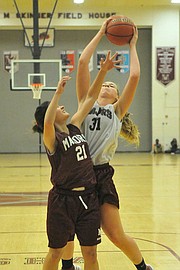 Mount Vernon girls' basketball coach Courtney Coffer didn't hold back when voicing his displeasure with the Majors' performance following a recent scrimmage.
"We're terrible," the coach said in a phone interview. "... I was trying to get these kids in the gym all fall and none of them showed up. None of them were really interested and we're paying the price so far."
Coffer, who is entering his fifth season as head coach of the Majors, went on to say his players have a subpar basketball IQ and lack toughness.
While Coffer's words paint a grim picture for Mount Vernon, which opens the 2014-15 season at home against Centreville at 7:30 p.m. on Tuesday, Dec. 2, there is still hope for the Majors.
After graduating a trio of college-bound players, Mount Vernon opened the 2013-14 season with a 60-32 loss to a Centreville team that would make its second consecutive trip to the region semifinals. At the time, Coffer hoped the loss would serve as a wake-up call for a group that could no longer rely upon Kelly Loftus (Hofstra), Taylor Dunham (Navy) or Tiffany Webster (Barton).
The Majors responded by winning 19 of their next 22 games and went on to finish runner-up in Conference 13 and the 5A North region, losing to Edison in the conference and region championship games. Mount Vernon qualified for the state tournament, where the Majors lost in the semifinals to eventual champion Princess Anne, which has reached the state championship game in six straight seasons.
Coffer said this year's team can fix its problems, but the Majors will have to work.
"The problems are pretty similar," Coffer said, comparing this year's Mount Vernon team to last season's. "... I had real basketball players last year. If they lose a game they're going to take it to heart. It's going to matter to them. These kids are going to have to prove they're of that caliber.

"... These kids ... are not showing any heart. We're so soft."
Mount Vernon again lost a trio of primary contributors to graduation. Gone is 1,000-point scorer and rebounding machine Samantha Porter, a 5-foot-11 post who was the heart of the Majors' defense. She now plays at Christopher Newport.
Coffer spoke highly of Porter's toughness, referring to a time she got one of her front teeth knocked out during a game and continued to play.
"They don't make them like her anymore," Coffer said. "... A kid like Samantha Porter comes around once every 20 years."
Mount Vernon also graduated DJ Jeanpierre, a 5-foot-7 point guard who spent one season with the Majors as a military transfer, and sharpshooter Chanel Shannon.
While Mount Vernon has lost ample talent in recent years, the Majors still have some weapons, including a pair of freshmen who Coffer said are "oozing with potential"
Nori Solomon, a 5-foot-8 guard, and Susannah Anderson, a 6-foot post, have bright futures ahead of them, but also have the opportunity to be difference-makers as ninth-graders.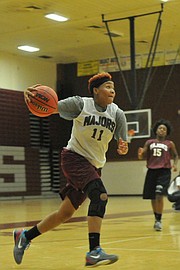 "[Solomon is] freakishly athletic," Coffer said. "She's quick, tough, and she can score the ball, but she does not have a basketball IQ whatsoever. I'm excited, but until we can get her to understand the game, she's going to struggle.
"... [Anderson has] got a lot of potential, but she's soft."
Coffer asked junior guard Elisa Solomon (5-8) to shoulder more of the scoring load this season and the coach has liked what he has seen in the preseason.
"Elisa Solomon is playing really strong and consistent," Coffer said. "... She's actually been a bright spot. She's looking pretty good."
Five-foot-6 junior Chanise Ray enters her third season on the varsity and takes over as the team's starting point guard. Junior forward Jasmine Collier (5-9) averaged 14 points per contest during Mount Vernon's final 12 games last season, and scored 18 in the Majors' state semifinal loss.
Coffer said he's looking for seniors Shazia Smith (5-6 guard) and Iris Garcia-Rivera (5-10 post) to step up.
One week after Mount Vernon's season opener against Centreville, the Majors will travel to face West Potomac on Dec. 9.
"This is going to be my most challenging season ever," Coffer said. "I'm one of those people, I love a challenge ... I'm going to be hard on these kids ... because I expect perfection. ... We're striving for perfection so we can reach excellence.
"... This scrimmage was so bad for us, hopefully this wakes us up the way we woke up after that Centerville loss [last season]."