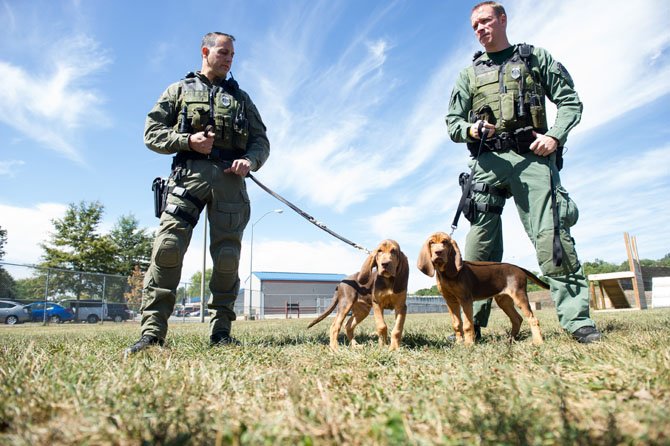 The newest members of the Fairfax County Police Department don't wear badges or carry guns. But they're officers, just the same — and they're awfully cute.
They're Bolt and Silas (Sy, for short) and they're 14-week-old bloodhound puppies being trained to track and find people by scent. They were introduced to the public recently by their partners, MPO Pete Masood and PFC Kevin Clarke, respectively.
"They've got thousands of years of instinct using their noses in trailing and tracking," said Clarke. "They have the capability to run a very old trail, which is a forte of bloodhounds. They won't do narcotics or criminal apprehension; they'll only learn one discipline — tracking."
The pups will be used to follow clues in homicide investigations and find missing adults, such as Alzheimer's patients, and lost children. And when they locate the object of their search, they won't bite.
Instead, said Clarke, "They're friendly and non-aggressive. All they want to do is be around people. So they'll love [whoever they've found]. They'll jump on them, lick their faces and give them hugs and kisses. Then they'll be ready for their reward from us — which is the love we give them."
First, though, the warm-brown puppies with tender, expressive eyes have to be trained. Last Wednesday, Sept. 18, outside the police K-9 Training Facility in Chantilly, the pair of puppies — who are brothers — stayed close to each other and to their partners.
Since the facility is next to the police firing range, multiple shots often rang out while the pups stood on the grass. And each time, the puppies startled. But it's just one of the many sounds and surfaces they'll have to get used to.
"We'll get them out here and acclimate them to the noises — gunfire, [vehicle] brakes and birds," said Masood. They'll also be exposed to airplanes, wind, rain, heat, car horns honking, plus obstacles such as fences. And they'll learn how it feels on their paws to walk in the woods, through brush, on cement, carpet, tile floors, etc.
That way, said Clarke, "When they get out on the street, when they're almost a year old, they'll be ready."
The police got the purebred puppies from Huntsville, Ala., for $600 each, when they were just 7 weeks. But, added Clarke, "A fully trained bloodhound goes for $15,000-$20,000 because of the training they've received."
Masood said police have had success with this bloodline, as these pups are the second pair from the Alabama site. They'll eventually be 90-100 pounds but, said Masood, "If they're leaner, they'll have less hip problems and more endurance. We want to be able to work them long hours. It's also easier on us, lifting them up over obstacles, if they're not so heavy."
Bolt and Sy are eating specially designed, high-protein, dry dog food. "But they eat a lot of it — and anything else they can get a hold of — children's toys, hardware," said Clarke. "Officer Masood's dog is named Bolt because, after a week home, he removed a bolt from his crate and ingested it."
"He worked the bolt loose overnight," said Masood. "I found the nut, the next day, and took him to the vet, who X-rayed him, saw the bolt still in his stomach and got it out."
As for Clarke's puppy, he said, "My kids named him Silas after Uncle Sy on [the TV show] 'Duck Dynasty,' and I think it's a fitting bloodhound name."
The department has 15 patrol K-9 officers, including current bloodhounds Shnoz and Cody. Masood and Clarke also each work with a patrol dog, trained to apprehend criminal suspects. And usually two or three dogs a night are on the job.
"I've been in this section 12 years, working with German Shepherds, and have worked with Shnoz since 2008," said Masood. "Officer Clarke has worked with Shepherds five years, but this is his first bloodhound. Officer Marshal Thielen works with Cody."
Ideally, police would like the dogs to work for 10 years; but sometimes, health problems force them to be retired early. So they want to get Sy and Bolt up and running as soon as possible because they'll eventually replace Shnoz and Cody.
The bond between the K-9s and their partners is critically important. "They want to please us — that's their reward —so the dogs come home with us and our families," said Clarke. "They're with us 24/7; we have safe and secure backyard kennels at our houses."
"My wife used to be a vet," said Masood. "And she and our 4-year-old daughter both love Bolt."
Colt, Clarke's German Shepherd, and Sy are part of a team now, as are Shnoz and Bolt, where the more-experienced bloodhound teaches the newcomer. "If Sy sees Colt do something, he does it, too," said Clarke. "The same is true of Shnoz and Bolt."
The bloodhound pups will train 30 hours/month and, once they're done, Clarke expects they'll be requested for help throughout the region and even across state lines. "Most regions have patrol dogs," he said. "Bloodhounds are rare because of the time, energy and expense to train them. They're smart and obedient, but stubborn, because they think with their nose first and their brain second."
"They can be given a piece of clothing and they'll stay with that scent, despite other, different odors in an area," continued Clarke. "And they can follow a scent even a week later. For example, they could find a person missing in a park, although hundreds of other people were hiking there."
He said one of the "biggest perks" of having bloodhounds is their scent-specific training. Said Clarke: "A dog can also be trained to identify someone — almost like in a lineup — by putting his paws on the chest of the person whose scent he tracked."
"Each track always yields positive, successful leads for the detectives," he added. "Even if the dog can't find the subject, he could, for example, find the bus stop where the subject last was. Or he could tell us where the scent stopped by just circling around that spot."
Police dogs are also considered law-enforcement officers. "They're working dogs," said Masood. "And if someone assaults them, that person can be charged."
Currently, Bolt and Sy are focusing on bonding with Masood and Clarke. But within a month or two, they'll begin short tracks. "We'll then stretch out the time and distance to teach them to eventually run three- and four-day tracks," said Clarke. "Tracking is in their blood; they're one of the oldest tracking dogs in the world — we're just harnessing it."
Actually, he said, "It's a game to these dogs. So when it becomes real, it's still fun for them."
"Their natural instinct is to hunt animals," added Masood. "We just train them to hunt humans."
The puppies are first trained by someone showing them food and then running away with it, and they have to find it. "They'll learn the game through repetition," said Clarke. "And at the end, there's a party — verbal and physical praise, plus a food reward."
Eventually, said Masood, they'll receive scent articles to track. That's because, said Clarke, "It's what they're bred to do — and they love it."