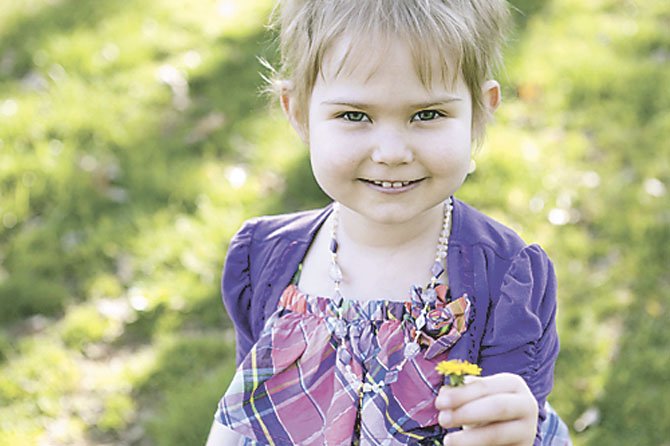 Centreville — "Ava B" of Fairfax Corner was a typical 2-year-old when she fell ill with leukemia on Dec. 9, 2011. After having a fever for four days, her mom "Jeannie B" took to a doctor and ran a few tests. A hematologist then confirmed that she had Pre-B Acute Lymphoblastic Leukemia. (The family asked that their last name not be used.)
"Our family was devastated," said Jeannie B, a stay-at-home mom married to husband Steve, a computer analyst. "We were heart-broken; our faith and spirit were shattered. We couldn't understand why our daughter of 2 had leukemia."
The treatment was immediately effective and Ava went into remission after eight days. Today, at age 4 1/2, the fearless Ava has completed 21 months of chemotherapy and is in the last phase of her treatment, which ends March 21, 2014, before her fifth birthday. Every three months, she has a spinal tap, and gets chemo injected into her spine four times a year.
Ava, who they call a "bubbly old soul," loves her grandma Baba, and tries to be a normal pre-schooler. A "girly-girl," she plays Barbies and dresses up like a princess, said her mom. "She does fashion shows for me all the time."

Ava was delighted to be interviewed for this story. Asked what she enjoys doing, and she replied: "I like to watch 'Sponge Bob' and 'Dora' (The Explorer)." Plus playing with her girlfriends Sasha and Deana.

On Saturday, Oct. 5, a "Light the Night Walk" will be held in Reston Town Center to raise money and awareness for The Leukemia and Lymphoma Society (LLS). Walkers who walk around Reston Town Center will enjoy live music, food and beverages, and family activities. It takes about 20 minutes to complete.
Two other walks will be held locally — Oct. 12 at the Rockville Town Square in Rockville, Md.; and Oct. 19 at Freedom Plaza in the District. The goal is to raise $2.5 million for research and patient services.
This year, Ava is an Honored Hero — a survivor of blood cancer who provides inspiration and support for others. So far, 20 people have pledged about $6,000. Last year, Team Ava raised $8,700. People can also write checks or send cash. If a team raises $5,000, they get a table at the walk; if they raise $10,000, they get their own tent.
"It's beautiful because they have illuminated balloons," said Jeannie B. of the nighttime walk.
"The Light the Night Walks provide inspiration and hope for our patients and their families, showing them they are not alone in their fight, while remembering those that have lost their battle," said Beth Gorman, executive director of LLS's National Capital Area Chapter.
Each Honored Hero team has its own website and donations can be made at Ava's fundraising page: http://pages.lightthenight.org/nca/Reston13/TeamAva. Or visit www.teamava.com or www.lightthenight.org/nca.
The 2013 Honored Heroes include: leukemia survivor Aracelis Vicente of Silver Spring; Manassas resident and lymphoma survivor Richard Zavadowski; Arlington leukemia survivor Moira Hogan; 4-year-old leukemia survivor Logan Taliaferro of Upper Marlboro, and leukemia patient Billind Taib of Centreville.
Because Ava is an Honored Hero, her mom spoke about LLS at the Microsoft Store in Pentagon City to help raise awareness. Last year the Microsoft Team raised close to $30,000 for Light the Night, and have committed another $75,000 to LLS in 2013.
"We hope that no other child and family has to experience what we're going through," said Jeannie B. "We need to find better cures; it's so important because if anybody's going to find a cure, it's going to be them."
ClearChannel & WTTG will serve as media partners at this year's Light the Night Walks. The Northern Virginia walk will be led by 98.7 WMZQ's Boxer of "The Boxer Show" ("Today's Country Music"). For more information on forming a team, visit www.lightthenight.org/nca or call 703-399-2941.
LLS has 59 U.S. chapters, and the National Capital Area Chapter is one of the highest revenue-generating chapters in the nation.