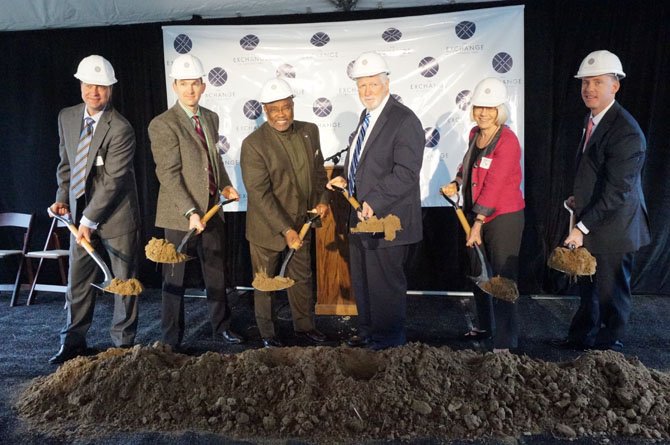 Alexandria — Mayor Bill Euille and U.S. Rep. Jim Moran (D-8) joined City of Alexandria officials as the JBG Companies and MidAtlantic Realty Partners held a ceremonial groundbreaking Oct. 9 to officially launch The Exchange at Potomac Yard, a mixed-use development along the Route 1 corridor in Alexandria and Arlington.
"Unlike the folks on Capitol Hill, we are moving ahead and keeping people working," said JGB managing partner Matt Kelly, referring to the federal government shutdown.
The first phase of the 19-acre development will include two multi-family communities with a combined 65,000 square feet of retail and nearly 400,000 square feet of office space. The Alric, with 323 residential units, broke ground last February with occupancy expected in September of 2014.
"This project is about a future generation of Alexandrians and Northern Virginians," said Moran, who also made a reference to the lack of productivity on Capitol Hill. "This will be part of a new community where residents can live, work and shop without having to deal with extended traffic interruptions."
The Exchange at Potomac Yard comprises nearly 2 million square feet of mixed-use development in Potomac Yard, a 300-acre development of a former rail yard that spans 4 miles along Route 1. The project incorporates nine buildings surrounding a Town Square and will feature 1.1 million square feet of office and hotel space, 110,000 square feet of retail space and approximately 670 residential units.
"There was a time when someone who owned a football team thought this would be a good place for a stadium," Euille said in reference to former Washington Redskins owner Jack Kent Cooke eyeing Potomac Yard as a site for the team in the early 1990s. "That controversy inspired many in this community to get involved and say 'We can do better for Alexandria.'"
Notch 8, named for the railroad term meaning "full speed ahead," was part of the groundbreaking ceremony and will feature 253 residential units, 12 of which are designated affordable, and a Giant grocery store.
An anticipated third phase of the development, a nearly 400,000-square-foot headquarters for the Institute of Defense Analyses, will be built on land just north of the Alric and Notch 8, which sit along the Route 1 corridor at the intersection of Main Line Boulevard and E. Glebe Road.
The future Potomac Line Metro station with Yellow and Blue Line service will be adjacent to The Exchange. The station is currently in the funding and design stages.
"Once we get the Metro station finalized and BRT done, the transit project here will be second to none and an economic boom for the city," Euille said. "There is still a lot of economic opportunity here for the future of Alexandria."
At the conclusion of the ceremony, Andy Van Horn, vice president of the JBG Companies, announced a contribution to Rebuilding Together Alexandria and The Scholarship Fund of Alexandria.
"Rather than give everyone some memento of today that may sit on your desk for a week, we decided to make a donation to these two organizations that do so much for Alexandria," Van Horn said. Each organization will receive $5,000.