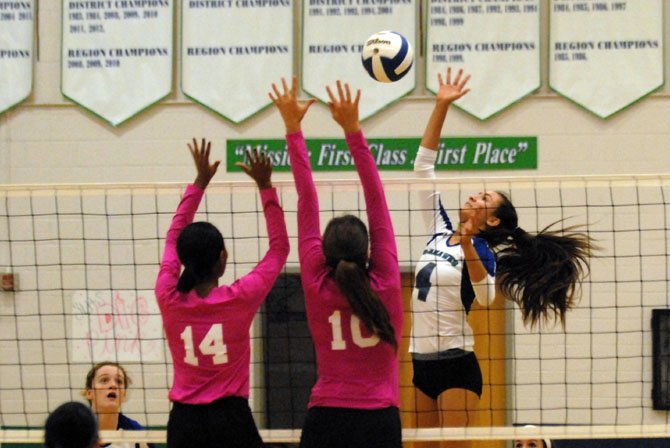 South Lakes outside hitter Melody Caloyannides doesn't need a perfect set to be an offensive force, Seahawks head coach Cheri Hostetler said. But when a teammate puts the ball on the money, the 6-foot sophomore is capable of putting down kills with authority.
Caloyannides was the driving force behind the South Lakes volleyball team's 3-1 (25-20, 21-25, 25-16, 25-21) victory against rival Herndon on Monday night during a Dig Pink match at South Lakes High School. She finished with 18 kills, including eight in the fourth set.
After a 5-1 Herndon run cut the South Lakes lead to 16-15 in the fourth set, Caloyannides had four kills down the stretch to help the Seahawks capture their second victory in a best-of-five match this season and improve their record to 10-9.
"She's great," Hostetler said about Caloyannides. "Just getting her the right sets is part of our challenge with her. You can see, even if she has a bad set, she still makes something happen. But you see when she gets a perfect set: it's a crusher."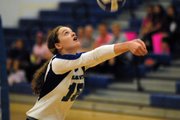 Caloyannides wasn't the only South Lakes sophomore who had a strong performance against Herndon. Outside hitter Kristina Brownell totaled 12 kills and five aces. Six-foot-1 middle blocker Vela McBride had eight kills and five stuff blocks.
McBride missed a month with a fractured bone in her foot, but has been a force at the net upon her return.
"The first couple matches, it took her a little bit to get into it," Hostetler said. "But now she's fully into it. We just need to set her more."
After dropping six straight matches, South Lakes has won seven of its last eight, including a 5-0 mark in best-of-three matches during the Hayfield Hawks Invitational. On Monday, the Seahawks won the first set, but dropped the second to the Hornets. In the third set, South Lakes scored the final five points to earn the win.
Herndon scored three straight in the fourth set to cut the South Lakes lead to 21-19, but the Seahawks scored four of the final six points to win.
"It feels great to get the win over [our] rival," McBride said. "We had a great [crowd]."
Senior outside hitter Kayleen Harrington had 12 kills for Herndon. Senior outside hitter Catherine Nickle had five kills and senior opposite hitter Katie Gettler had four.
"They're doing well on offense, but I think they have to focus more on truly playing until the end of the point," Herndon coach Rebecca Waters said about the Hornets. "South Lakes hustled and got a lot of those balls back over that should have been kills, and we didn't get that."
South Lakes will host Oakton at 7:15 p.m. on Thursday, Oct. 10. Herndon, which dropped to 5-3 in best-of-five matches, will host Chantilly.