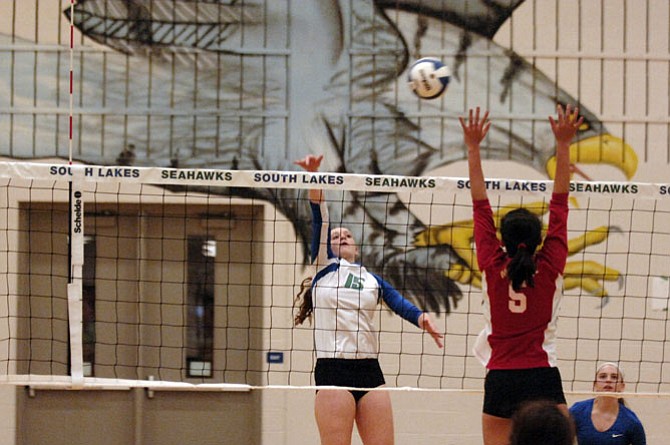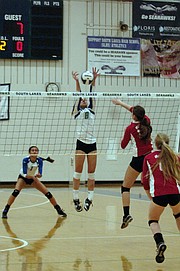 One day after a three-set loss to defending state runner-up Madisonon Oct. 15, first-year South Lakes volleyball coach Mike Ware decided to push his players in practice.
Ware wondered if he was too hard on the Seahawks, but the feedback he would receive left him at ease.
"We had maybe what I would call our toughest practice on Friday," Ware said. "I thought that they were beat up and I got texts from the girls saying, 'Hey, this was the best practice that we've had all season and we like this.' ... I went home thinking, 'Did you go a little bit too hard?' because it was after the Madison loss, too, so my patience level was a little thin for nonsense."
After South Lakes took the court Monday, Ware received further confirmation the Seahawks had re-focused after their first Conference 6 defeat.
Senior outside hitter Kristina Brownell put away seven of her team-high 13 kills in the third set and the Seahawks defeated McLean 3-0 (25-20, 25-23, 25-23) on Oct. 19 at South Lakes High School.
South Lakes improved to 9-3, including 3-1 in the conference by sweeping a McLean team that entered the match with an 18-4 record (9-2 in best-of-five matches), including 3-0 in the conference.
THE SEAHAWKS didn't let up after winning the first two sets, finishing the sweep with a come-from-behind victory in the third. South Lakes trailed 23-21, but closed the match with four straight points.
"It can be hard [to not let up after winning the first two sets] because you get a little bit too comfortable sometimes," said South Lakes senior opposite hitter Vela McBride. "Teams aren't going to roll over and give the match to you, so you've really got to focus and push through."
What did finishing the sweep say about the Seahawks?
"It says that they've learned from what happened in the past," Ware said. "Early in the season, we lost to a team who, quite honestly, they're not on the same level as us. We had won the first two and the girls acted like we won the lottery or something, and then the momentum left us and we lost it. It was one of the toughest losses of my career."
South Lakes hasn't lost many this season and appears to be a contender for the program's first conference title.
"[Our] biggest goal, first of all, is to get something on that banner up there [in the gym] because there's nothing on it right now," said McBride, who is committed to play at Navy. "We want to be conference champs and then after that we want to continue on and eventually make it to states, hopefully. We are aiming high this year. We're excited."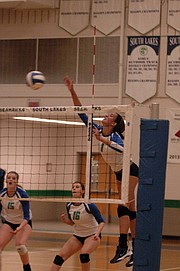 Brownell was the go-to hitter for South Lakes on Monday, tallying seven kills in the third set.
"It feels good because you're on a hot streak," Brownell said about her performance in the third set, "and you just keep going and ... you're supporting your team."
Brownell finished with 13 kills and hit .500. She also had four aces.
"I have told her often that her game is one of the types of games that are my favorite to watch," Ware said. "I love watching her. She's spectacular. She hits every set. You rarely see that. She can hit any set. It could be behind her, in front of her, high, low, inside, outside, it doesn't matter — she can crank it."
South Lakes senior outside hitter Melody Caloyannides totaled eight kills, six digs, five aces, five assists and one block. Caloyannides plans to play in college and said she has narrowed her choices to Virginia Tech and James Madison University.
McBride had six kills, five digs and three blocks.
"They're All-American-type players," Ware said about Caloyannides and McBride, who are each four-year varsity players. "They don't come around every day. They raise everybody's level."
Senior outside hitter Sophie Cross had five aces for South Lakes. Junior setter Kristin Allgaier totaled 20 assists and six digs. Junior Rachel Abelson led the Seahawks with seven digs.
McLean sophomore outside hitter Madison McArthur finished with 12 kills.
SOUTH LAKES will travel to face Langley (15-4, 4-0) at 7:15 p.m. on Wednesday, Oct. 21. McLean will host Madison (14-3, 4-0) at 7:15 p.m. on Wednesday.