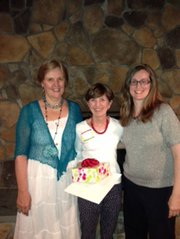 The Clifton Community Woman's Club (CCWC) awarded Sherry Slawski with the 2013 Gold Medallion Award for outstanding service to their club and community at their September meeting. Slawski is a long-time volunteer on the board of directors for the Fairfax Station Railroad Museum. The CCWC has been holding their monthly meetings at the museum for many years. As the event and rental manager for the Fairfax Station Railroad Museum, Slawski generously provides invaluable service and contribution to the club through the use of the museum every month. According to Michele Belisle, 2012 CCWC Night Unit president, "Sherry makes the scheduling of meetings uncomplicated and stress-free, and most importantly has given the CCWC a place to call home for many years. Because of her dedication to CCWC and our mission we can focus more of our time and resources to serve others."
Fairfax Station Railroad Museum is located at 11200 Fairfax Station Road, Fairfax Station. The museum portrays the history that the station played in the region during the 1800s and 1900s and is supported completely by volunteers and is a non-profit organization.
The Clifton Community Woman's Club was founded in 1971 as a non-profit organization dedicated to serving Clifton and the surrounding community.
Through their donations they support food banks, women and children's causes, wounded warriors, libraries and college scholarships to name a few.
CliftonCWC.org—P.O. Box 229 Clifton, VA 20124.