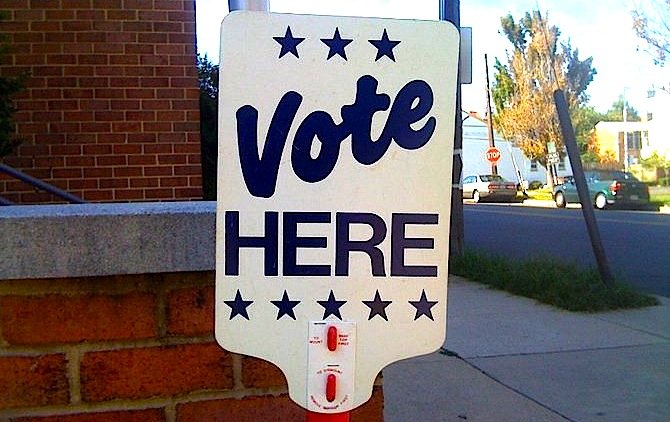 For many years, Northern Virginia has been written off by both parties as a Democratic stronghold — a place where Republicans simply try to cut their losses while they focus on the rest of the commonwealth. But this election cycle may be different. All three of the gubernatorial candidates are from Fairfax County. And recent statewide candidates have not been able to win without picking off selected jurisdictions in Northern Virginia.
"As you look at Northern Virginia that's further from Washington, you see a more Republican area — Prince William, western Fairfax, Fauquier," said Stephen Farnsworth, professor at University of Mary Washington. "That's where the real action is in Northern Virginia politics."
As Election Day draws closer and television becomes a virtual battlefield for attention, a real battle is brewing on the ground here in Northern Virginia. Candidates and their advisors are looking at the path to victory back in 2009 for Republican Bob McDonnell, who won Prince William County, Fairfax County and Fauquier County. Although this race is likely to be closer than 2009, the importance of Northern Virginia is looming larger than ever.
"I don't expect Ken Cuccinelli to actually win Fairfax County, which Bob McDonnell actually managed to do in 2009," said Geoff Skelley, analyst with the University of Virginia Center for Politics. "Cuccinelli will do very poorly in Reston or Annandale, so just because he's from Fairfax doesn't mean he has appeal throughout the county."
ONE OF THE QUIRKS of Virginia politics is that the gubernatorial elections follow presidential elections, a phenomenon that has frequently seen voters reject the party that won the White House the previous year. But a look at the numbers tells a different story. Although 3.7 million voters cast a ballot in 2008, fewer than 2 million votes participated the next year. That means that election officials are expecting about half of last year's turnout, which included a record-breaking 3.8 million votes.
"For McAuliffe, the goal is to get as many voters out as possible," said Skelley. "For Cuccinelli, the goal is to hold down the margins."
According to Census data, Northern Virginia expanded its population about 24 percent in the last decade — growing from 2.6 million from 2.1 million. Northern Virginia is the most populous region of the commonwealth and the Washington Metropolitian Area. And the rate of growth here far outpaces other urban areas in Virginia, including Richmond and Hampton Roads. That means rural and outlying areas are experiencing an erosion of influence, particularly in western parts of the state and Southside.
"The big problem for Republicans statewide is how they do in the more rapidly suburbanizing areas," said Farnsworth. "This is true in Northern Virginia and in the Richmond area."
DURING THE GUBERNATORIAL debate last week, Republican Ken Cuccinelli was trying to establish himself as the choice for Northern Virginia. He mentioned the region five times, and he tried to use his experience representing Fairfax County in the General Assembly to his advantage. When the issue of the government shutdown was raised, Cuccinelli responded with a direct appeal to residents of the region who have strong economic ties to the federal government.
"I'm a Northern Virginian. I've lived up here my whole life," said Cuccinelli. "We're already seeing in the Virginia economy the problems associated with the uncertainty of federal budgeting as it is, both in Northern Virginia and in Southeastern Virginia in the Hampton Roads area."
Despite the fact that the debate took place in Tysons Corner, the McAuliffe did not point out that he has lived in Fairfax County for more than 20 years. Instead, the Democrat attempted to portray himself as the best candidate for the interests of Northern Virginia voters. At one point, he pointed out Fairfax Chamber of Commerce president and CEO Jim Corcoran in the front row and mentioned he agreed with the chamber's position on Medicaid expansion. Later in the debate, he argued that Cuccinelli's tax proposal would hurt Northern Virginia.
"What it would mean to Fairfax County to be losing this revenue," said McAuliffe. "What it would mean to Sharon Bulova and Fairfax County and the loss of teachers at a time we should be investing in our teachers, investing in those STEM courses, science, technology, engineering and math," said McAuliffe. "His plan literally would force us to lay off thousands of teachers."
THE TENSION within the region was evident in recent weeks as business leaders across Northern Virginia began issuing their endorsements. The first was from the political arm of the Northern Virginia Technology Council, which endorsed Cuccinelli last month. But that announcement was delayed after some internal dissension within the organization, which led to a series of accusations and counter-accusations. The drama surrounding the delay of the endorsement became a talking point for Republicans eager to portray McAuliffe as a Washington insider.
"I am appalled that Terry McAuliffe and other prominent Democrats would threaten to hold the legislative agenda of Northern Virginia business leaders hostage to their political agenda," said Republican House of Delegates Speaker Bill Howell in a written statement. "That might work in Washington, but it is unacceptable here in Virginia."
Hours after Cuccinelli and McAuliffe debated each other at the Fairfax Chamber of Commerce's forum, the organization issued its own endorsement for the Democrat. In a statement explaining the endorsement, the business group praised McAuliffe for opposing mandatory project labor agreements and supporting Virginia's longstanding right-to-work law. The chamber also mentioned his support for accepting federal funds for Medicaid expansion and his support of the transportation funding package that passed the General Assembly earlier this year — both of which were opposed by the Republican candidate.
"In terms of the priorities of the Northern Virginia business community," said Corcoran in a written statement, "Mr. McAuliffe's policy positions and proposals closely align with the Fairfax Chamber's legislative agenda."