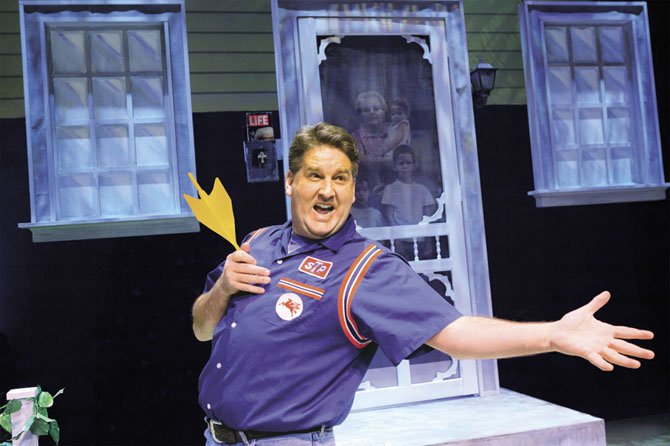 Finding your childhood sense of wonder again is what the "The Wonder Bread Years" is all about. It is a one-man performance combining stand-up comedy and theater. It was written by and stars one of the original writers of the "Seinfeld" show, Pat Hazell.
Where and When
"The Wonder Bread Years" at the Alden Theater, McLean Community Center, 1234 Ingleside Ave., McLean. Performance: Saturday, Oct. 26, 8 p.m. Tickets: $15-$30. Call 703-790-9223 or visit http://www.mclean...">www.mcleancenter.org.
A "lovely salute to childhood that will have the audience laughing and laughing ... it's hilarious" is how Sarah Schallern, director for performing arts, McLean's Alden Theatre, described the show. "It's not just for Baby Boomers but everyone," said Schallern, a self-described Gen Xer.
Hazell began in stand-up comedy soon opening for Rodney Dangerfield and then Jerry Seinfeld. That led to a writing gig with the Seinfeld show and warming up the audience before a Seinfeld show taping.
In an interview, Hazell described "The Wonder Bread Years" as "a sweet nostalgia, with gentle jokes about reflecting back to childhood." He is an observer and commenter on "what it was like to be a kid, like a form of comfort food in a time when we can feel bombarded by bad news. So many have a hunger for escape into the more positive and hopeful."
Audiences can expect to be cheerfully reminded of generational influences giving them an "opportunity to laugh as a group as they recall the simple pleasures of growing up."
"The Wonder Bread Years" even employs toys on stage as well as projections of visual images to awaken memories. Hazell uses evocative images of actual real life events as memory inducing touchstones. Stories can run the gamut from Halloween trick or treating to Thanksgiving dinner at the "kids" table, or even how a child dealt with going to the dentist or with carrying around milk-money back in the day. And plenty of family stories, of course.
While the show is scripted, Hazell "listens to the audience as they react, in an open door approach." He enjoys what "sparks the audience as he has a chat with them at the performance." Hazell is always listening to "continually keep the show fresh" as he tours around the country.
The show will be "positive and forward thinking" in its 90 minute, one intermission performance. Hazell "wants the audience to just feel good; like they are at a hangout party with their best friends, remembering when." And then asking themselves, "did I really do that too?"
A good time for good memories. Pass it on.