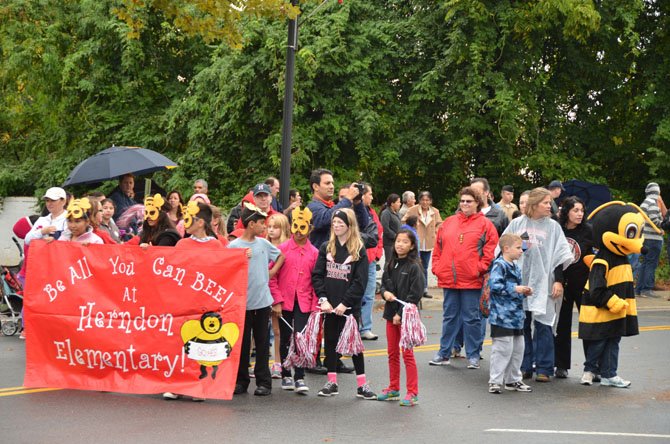 Despite overcast weather and a continued drizzle, Herndon High School held the annual homecoming parade in downtown Herndon on Saturday, Oct. 12. Parade participants began staging on Sterling Road, where the parade kicked off at 9:30 a.m. The parade then turned left onto Elden Street and headed into downtown.
Herndon resident Tim Phillips, owner of Rock Creek Productions Inc., whose son plays percussion, captured some video footage of the Herndon High band performing during the event. "The band has been an amazing experience for my kids," said Phillips.
The Herndon High School marching band "The Pride of Herndon" has been selected by members of Congress and the United States Marine Band to represent Virginia in the 2013 Pearl Harbor Memorial Parade. A resolution was passed by the Herndon Town Council in October to offset each student's cost to Pearl Harbor by $50.
Herndon High's Theatre Department marched in the parade, performing numbers from their upcoming musical, "Seussical." The musical begins production at Herndon High School on Nov. 15, 16 and 17. The Herndon High School Step Team was also in the parade and demonstrated several step routines.
At least 50 entries marched in the parade, including community clubs and teams, schools, local organizations, businesses, and both town and state officials.
The parade traveled down Elden until it turns onto Lynn Street and went down to Center Street, where Herndon Town Councilmembers and Mayor Lisa Merkel had a grandstand from which they judged this year's floats. Judges for the event included councilmembers Sheila Olem, David Kirby, Melissa Jonas, Vice Mayor Connie Hutchinson, and Town of Herndon Chief of Police Colonel Maggie A. DeBoard.
"I am happy with the number of people that came out despite the weather and that so many people were able to participate," said John Mossesso. Mossesso has been running the Herndon homecoming operation for more than 20 years. Mossesso is also the volunteer coordinator for the summer Herndon Festival.
"We thank everyone for coming out … the participants were top quality and we enjoyed the show," said councilmember Olem. "I am so glad everyone came out despite the drizzling rain," said councilmember Jonas. "I was glad to see all the spirit everyone has for the town."
The theme of the 2013 parade was "Sea Swept." Herndon High's senior class of 2014 took home first place in the Class Float category with their Pirates of the Caribbean theme. The freshman class of 2017 had a float with a "Finding Nemo" theme. To combat the rain, some participants in the parade brought umbrellas and rain jackets.
Award Winners
Second Place: Herndon Optimist's Youth Sports
First Place: Cub Scouts Pack 913
Second Place: Herndon Middle School Marching Band
First Place: Herndon High School Step Team
Second Place: Dranesville Elementary School
First Place: Herndon High School Theatre Department
Second Place: Historic Firetrucks
First Place: Cornerstones (formerly Reston Interfaith)
Second Place: Herndon High's Class of 2015
First Place: Herndon High's Class of 2014
SPECIAL—RICHARD F. DOWNER THEME AWARD:

Girl Scouts of Our Nation's Capital, Service Units 51-9 and 51-11
SPECIAL—MAJOR ROBERT E. CHURCH "BEST IN PARADE":
Herndon High School's Pride of Herndon Marching Band