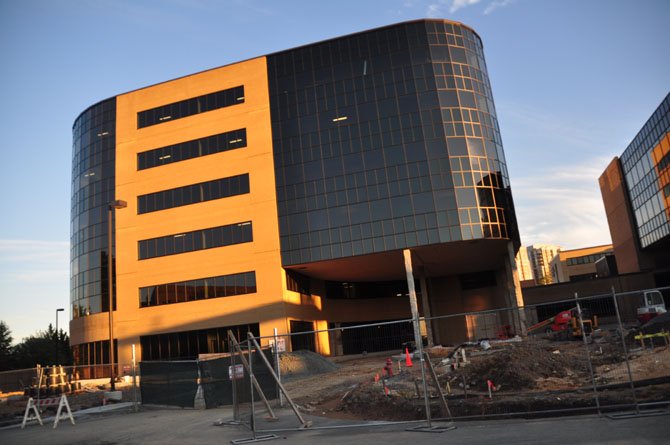 Reston — Reston Hospital Center is currently in the process of adding more than 150,000 square feet of new office space and facilities. The project, which began in September 2012, is estimated to cost about $25 million.
"We're adding a fourth medical office building to the campus, with physician offices on the top floors and new hospital services in the lower levels," said Tracey White, vice president of Community and Government Relations for Hospital Corporation of America Virginia Health System, the owners of the hospital. "The project also includes an expansion of our operating rooms, with four new rooms that will be online by late 2014 or early 2015."
The new facilities will include a second robot for performing gallbladder, prostate and other gastrointestinal surgeries. The hospital's helipad will also be moved to the top of the new building.
White said the new building is expected to start moving in physicians right after Thanksgiving.
"This piece of property is the last open piece of lawn we have on campus. We have more expansion planned in the future as part of our long range plan, but it will all be going up," White said. "As Reston continues to grow, it puts more pressure on Reston Hospital Center to grow with it. Demand from Loudoun County is growing as well. For example, we estimate about 30 to 40 percent of our obstetrics patients come from Loudoun, and we recently opened Stone Spring Emergency Center to help take some of that pressure off as well."
The Hospital Corporation of America operates 13 hospitals in Virginia, which includes four in the southwest region of the state and three in the Richmond area. Locally, they operate hospitals in Falls Church and Loudoun County in addition to Reston.
HCA employs just under 15,000 people, making it the fifth largest private employer in the state, and has given approximately $657 million in uncompensated care.
An outside economic impact study two years ago estimated they add approximately $3.7 billion to Virginia's economy.