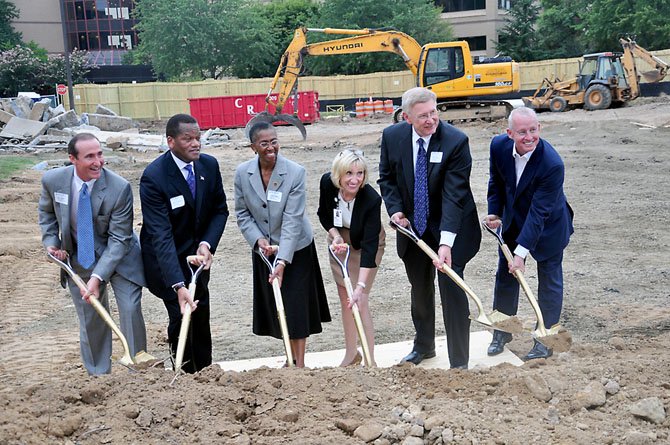 Reston — The Reston Hospital Center broke ground on their new medical office building Monday, Sept. 17. The new building, which is estimated to be completed in late fall 2013, will add 180,000 square feet of physician offices and hospital services.
The addition originated in 2010, with the Reston Master Plan rezoning.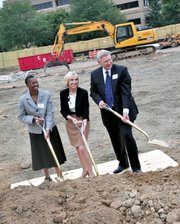 "Reston has seen tremendous growth since we opened our doors 25 years ago. This milestone comes at
an important and crucial time," said Jane Raymond, vice president and chief operating officer. "We're on the cusp of finally welcoming rail to the corridor, so it's an opportunity to honor both history and celebrate the change the future will bring."
The $25 million building is the first phase of future growth of Reston Hospital. It will be a LEED certified building, which is a first for the Hospital Corporation of America in the United States.
"We've tried to make the design even more special by incorporating elements of what makes this community great. Anybody that knows Reston knows that nature and the arts are two very important
pieces to Reston," Anthony said. "The earth tones and tree motifs were chosen to reflect the nature of Reston and we've also planned for art installations in key areas around the building."
Reston Hospital will partner with the Greater Reston Arts Center and the Initiative for Public Art-Reston to provide art in the designated spaces of the new building.
"These elements are not only reflective of our community, but make a positive impact on the patients who view them," Raymond said. Reston Hospital serves 47,000 patients yearly in their emergency department; oversees births of 3,300 babies and admits 12,000 patients per year. Last year they gave more than $34 million in uncompensated care.