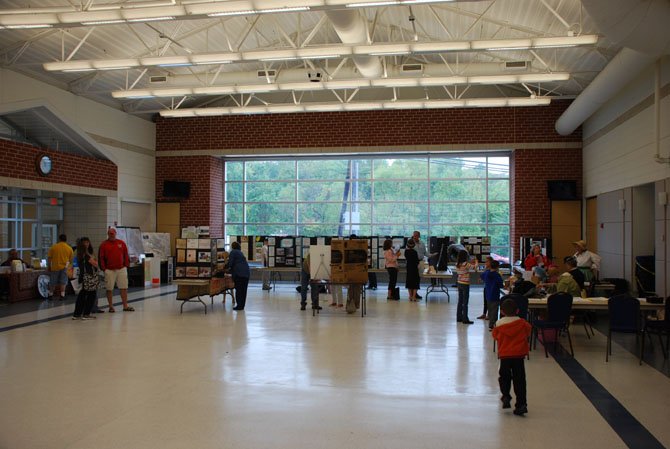 On Saturday, Oct. 12, grey skies and light rain didn't put a damper on the first Burke History Day since the 1990s. From 10 a.m. to 4 p.m., a steady stream of visitors ventured into the large hall of the Burke Volunteer Fire and Rescue Department facility as costumed members of the Burke Historical Society revived a former community event—albeit with a few modifications.
Originating in the 1970s, the Burke History Day was held annually in the parking lot of the Burke Village Center Giant grocery store. Previous incarnations had "more of an arts and crafts atmosphere," said Burke Historical Society President and Burke resident Jon Vrana (clad authentically as Colonel Silas Burke).
NOW THE FOCUS is squarely on sharing history, through detailed texts and images, artifacts and the society's elaborately garbed "historical dramatists," according to Vrana.
Linda Lau, a Fairfax resident and member of the historical society, was dressed to represent the fashion of the 1850s, and had several of her Victorian-era hats available for children to try on. "It's very beneficial to hold something and touch it," she said. "They really, really respond well to that."
Fairfax resident Helen Anderson also brought the 1850s to life with her attire. "We dress like this to get people excited about history," she said.
"We've pretty well covered the gamut, the timeline," said Vrana, "from Antebellum through the Civil War, World War I and World War II—and this area was supposed to be Dulles International Airport in the 1950s, but people rose up against that idea and were able to prevent that from happening."
From Stuart's Christmas Raid of 1862 to the Burke forest fire of 1941 and onward, the Burke History Day exhibits displayed a wealth of information about the town's numerous transitions from minor agricultural community to popular resort area and "bedroom to Washington," according to Vrana. It's all part of a rich local history Vrana is passionate about sharing.
"I like to think of Burke's history as hidden in plain sight," said Vrana. "Just relatively few yards from where we stand here, you have remnants from the railroad back in 1852. You have a real diverse amount of history that spans from the residents that have lived here a long time to the new residents that are coming here new that are making history themselves."
Though the Burke Historical Society was responsible for the majority of the content on offer at the free event, it took a larger group effort to pull everything off. Supervisors Pat Herrity and John C Cook, and Chairman Sharon Bulova made opening remarks at the start of the day, and the exhibition was enriched by assistance from members of the Fairfax County History Commission and Cemetery Preservation Association.
"It's wonderful the kind of support we get from the county supervisors," said Vrana. "It's a real example of collaboration when it comes to teaching people about history."
OUTSIDE OF THE HISTORICAL ARENA, the society also received big help from the Burke Volunteer Fire and Rescue Department. Not only did the outfit facilitate Burke History Day, but their conveniently scheduled open house and fire safety demonstrations helped draw a larger crowd for both events.
"There's a great synergy," said Burke resident Andy Bennett (portraying the wealthy landowner and Silas Burke's brother-in-law Joshua Coffer). "We're very happy with the turnout. There's a good flow-through."
"They've made [the space] available to us," continued Vrana. "We really have to thank them for making this opportunity possible."