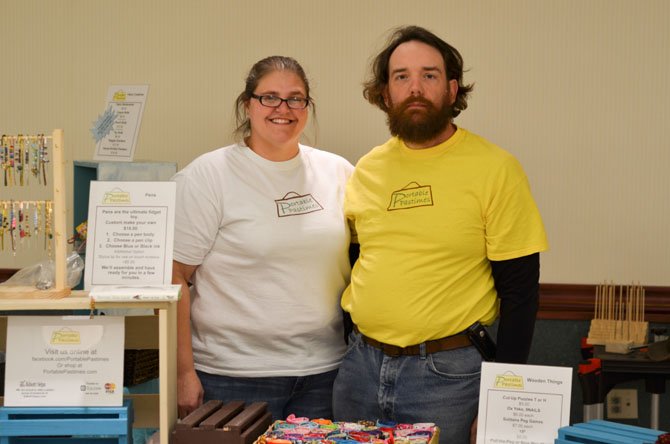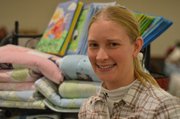 The St. Joseph's Ladies Society held its annual craft fair on the last Saturday of October. The fair was held at St. Joseph's Parish Hall, a large, well-lighted space with ample on-site parking available. "This is our ninth year and our biggest year ever," said Lisa Kimpflen.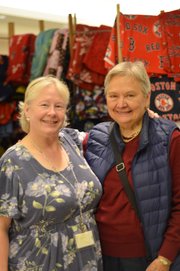 For shoppers, there was a variety of quality merchandise on offer. "It is an all volunteer run event," said Kimpflen. A resident of Sterling, Kimpflen has helped direct the craft fair since its inception. "The vendors are all really lovely people and we have a good retention rate. Of the 37 vendors we had last year, 30 of them returned this year."
The craft fair organizers provided assistance and support to the vendors, offering the option of setting up either Friday evening or Saturday morning, and providing assistance with both set-up and tear-down. Free coffee and donuts were provided during morning set-up, and vendors had the option of having lunch delivered right to their booth.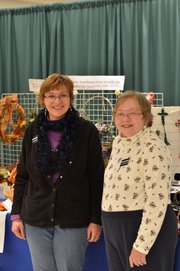 Proceeds benefit St. Joseph's Parish, and help fund various community programs.
MANY CRAFTERS donated items that were raffled off, along with merchandise donated by local businesses. There was also a food court available for snacks, drinks or lunch. "We started the craft fair with 24 vendors, and this year we had 56 craft vendors," said Kimpflen. "Each year we also offer space to one non-profit."
This year's non-profit organization was the Julien Fleming Memorial Fund based in Oak Hill. "We provide a grant to families with critically or terminally ill children. We have been around since 2002," said Lisa Paradis, treasurer of the Julien Fleming Memorial Fund. The organization had several different types of goods for sale, including intricate bookmarks, knitted crafts and jewelry.
Jackie Snow and her mother Tomiko, residents of Oakton, brought some quilts and fabrics to the craft fair. "My mom has been doing quilting for more than 20 years and I have been doing this as a hobby," said Snow. Bev Sherman, a resident of Fairfax, was another returning vendor, bringing in a collection of fleece and throw blankets. "I got into making these about 14 years ago," said Sherman. "I have been attending this craft fair for several years and the people here have always been very nice. It is one of the first local craft shows of the fall."
Chris and Therese Liebermann with their craft business Portable Pastimes were excited to be at this year's St. Joseph Craft Fair. Residents of Ashburn, the couple brought several new items this year including some bottle openers, and pizza cutters. Although they operate an account on the e-commerce website Etsy, Chis Liebermann advocates the advantages of craft fairs. "A craft fair or market lets visitors see the goods and put the stuff in a person's hand. It adds to the interaction," said Liebermann.
ANOTHER ACTIVITY continuing while the craft fair was in action was a coat drive managed by Hayres Albert, also a parishioner at St. Joseph's. All coats were being donated to the non-profit organization LINK, Inc. an emergency support organization that provides food and financial assistance to people in need in the Western Fairfax and Loudoun communities. "We had very good results," said Albert. "I think the craft show went very well, we had more shoppers and the coat donation also went very well."
To learn more about St. Joseph's Parish, visit their webpage at http://www.sjcherndon.org.