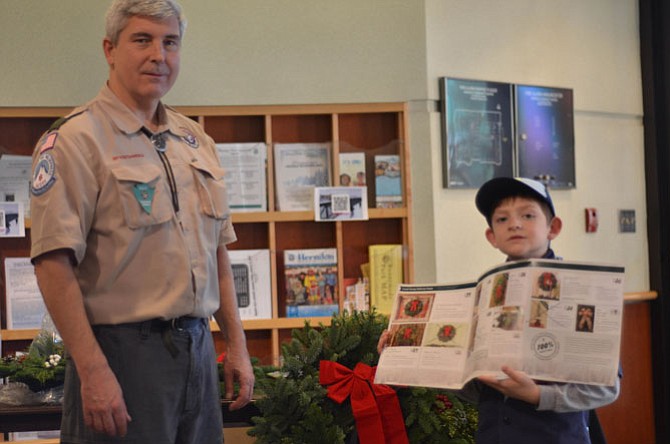 Herndon Community Center, located at 814 Ferndale Avenue hosted its Annual Arts and Crafts Show Sunday, Dec. 7. The event was well attended, and both staff and volunteers from the Herndon Woman's Club helped direct visitors to locations where crafts were on display. "We have had over a thousand visitors," said Patsy Rust, a volunteer with the Herndon Woman's Club.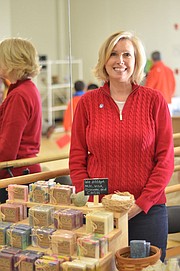 "It has been going really well," said Herndon Recreation Supervisor Dave Zakrzewski. Zakrzewski helped manage this year's craft fair event. The previous year, snowfall caused the craft fair to close early. "We got more than 30 vendors than last year," said Zakrzewski. Returning to the Herndon Arts and Crafts Show were craft vendors including Anna Atkinson and Clifton artist Maggie Des Lauriers. Reston resident Anna Atkinson had a booth for her homemade candles, and this year brought some bath soaps. "There are more vendors and more customers than last year," said Atkinson.
A VARIETY of products and merchandise were on display for the one day indoor event. Vendors arrived from all over the Northern Virginia and D.C. area. Bringing in quilts and handmade dog collars was Maryland resident Barbara Lingham. "I have been attending craft fairs since the late 1990s," said Lingham, who operates her business Doodlebug Quilts. In addition to her own webpage, Lingham also operates an Etsy webpage. Etsy is an e-commerce website focused on handmade or vintage items and supplies. "Etsy has been pretty good for me, but craft fairs are where you can get a personal approach," said Lingham.
"It was a hobby that became a business," said Trish LaCharite, owner of Empty Nest Soap, a line of handcrafted, cold process soaps. LaCharite operates an account on Etsy, but sees an advantage to craft fairs. "Craft fairs are the way to go because you have an audience." For many craft fair attendees, the experience is an opportunity to see the uniqueness and art of different individuals. It is different from the sameness of the retail environment.
"This is my third time attending this show," said Herndon resident Cindi Brasington. Brasington had a booth displaying a selection of her quilts. "Because I am a quilter at heart and I like fabric, I thought why not make a little extra money?" Brasington does not currently operate an Etsy account or use a webpage, choosing instead to rely only on word of mouth advertising. "We had a good crowd come through," said Brasington.
Producing Director at Nextstop Theatre Company Evan Hoffman attended the craft fair to provide information on upcoming shows at NextStop Theatre, the professional theatre company in downtown Herndon. Also attending the event were Boy Scouts from Cub Scout Pack 157. Members of the cub scout sang several Christmas carols and sold Christmas wreaths. "We are working with Wreaths Across America to lay wreaths on cemeteries," said cub scout committee chair Kent Fullerton.
ON DEC. 13, National Wreaths Across America Day, remembrance wreaths will be placed at the headstones of fallen veterans at nearly 1,000 locations across the country and overseas. In Herndon, a remembrance ceremony will be held at Chestnut Grove Cemetery on Saturday, Dec. 13, at noon to ensure veteran graves are not forgotten.