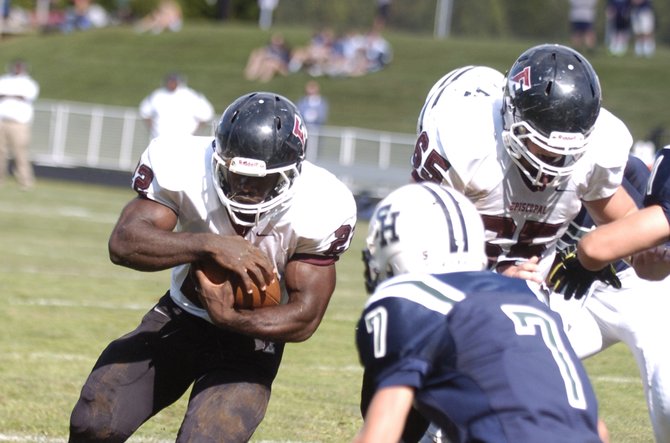 Episcopal head football coach Panos Voulgaris stood on the field at Flint Hill School and described Maroon running back Nigel Beckford following the team's season opener on Sept. 13.
"He's a Division I running back," Voulgaris said. "Someone's going to get real lucky when they get him at the next level."
While Beckford's future appears bright, the senior from Bridgeport, Conn., showed on Friday the Episcopal football team is lucky to have him now.
Beckford rushed for 312 yards and five touchdowns on 33 carries during Episcopal's 48-28 victory over Flint Hill. Ripping through the Huskies as part of the Maroon's no-huddle offense, Beckford scored on runs of 1, 5, 18, 1 and 36 yards.
"He's the best running back I've coached," Voulgaris said, "and as long as he stays disciplined, he can have a great year."
"He's the best running back I've coached, and as long as he stays disciplined, he can have a great year."

--- Episcopal football coach Panos Voulgaris about Nigel Beckford
Episcopal's potent, up-tempo offense was on display early, as the Maroon marched 70 yards in eight plays during the game's opening drive. Beckford punched it in from 1 yard, capping the 2-minute, 20 second drive and giving Episcopal a 7-0 lead.
After Flint Hill's ensuing drive stalled at the Episcopal 11-yard line, the Maroon drove 89 yards in five plays, taking just 66 seconds off the clock. Beckford's 5-yard touchdown gave Episcopal a 14-0 advantage.
"[This offense is] a new thing for me coming to Episcopal under Coach Voulgaris," Beckford said. "It's a fun offense. I'm new to the zone [scheme]. I'm a downhill-type runner, but … [it has made me more] versatile."
Beckford's 18-yard touchdown run with less than 9 minutes left in the third quarter gave Episcopal its largest lead of the day at 28-6.
"I think he's a very good running back," Flint Hill head coach Tom Verbanic said. "I think he does a lot of things very well. … To go along with that, we were out of position and against a back like that, when you put yourself out of position, you're in real trouble."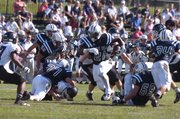 After falling behind by three scores, Flint Hill showed resiliency. A 28-yard pick-six by Jake Salewski and a two-point conversion cut the Episcopal lead to 28-14. Beckford scored on a 1-yard run to push the Maroon lead to 21 with 4:02 remaining in the third, but the Huskies quickly answered when Jonny Howard returned the ensuing kickoff 80 yards for a touchdown.
Flint Hill running back Christian Martey broke a 33-yard touchdown run with 10:17 left in the fourth quarter, pulling the Huskies within one score at 35-28, but Episcopal closed the contest with a pair of touchdowns, including a 68-yard interception return by defensive back Gary Williams, who picked off a pair of passes.
"We didn't do many things well today," Verbanic said. "… I just think that they came out and they outplayed us today. We fundamentally did not play very well. … It was almost chaotic, to be very honest with you, which means that I didn't do a very good job, either."
Episcopal senior quarterback Will Hollister (Leesburg) completed 11 of 17 passes for 128 yards, one touchdown and one interception. He also rushed five times for 38 yards.
Maroon receiver Brian Chase (Baltimore) hauled in a 30-yard touchdown reception.
Flint Hill's Martey carried 24 times for 120 yards and a touchdown. Sophomore quarterback Justin Saleh completed 15 of 32 passes for 205 yards, one touchdown and two interceptions.
Episcopal will travel to face Bishop Ireton at 2 p.m. on Saturday, Sept. 21.
Flint Hill dropped to 1-1, including a 27-18 victory against Paul VI on Sept. 6. The Huskies will travel to face Collegiate at 4 p.m. on Friday, Sept. 20.