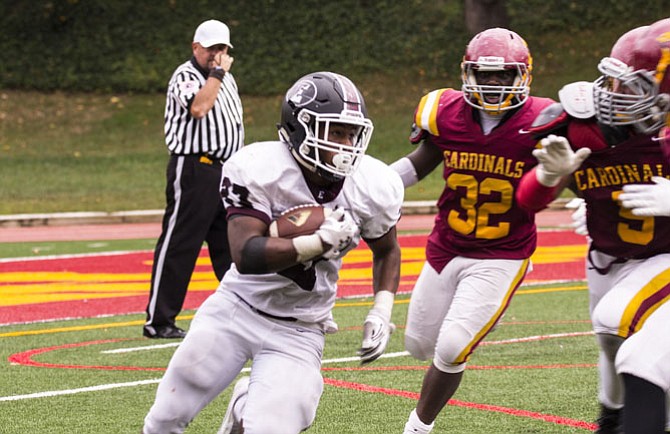 After losing at home to the Cardinals last season, running back Eli Blair-May and his Episcopal teammates had payback on their minds when the Maroon made the short trip to Bishop Ireton for an all-Alexandria matchup on Saturday afternoon.
"They got to have bragging rights on us last year," said Blair-May, an Alexandria native, "so we just wanted to come back and get some get-back this year."
With Blair-May leading the way, Episcopal dominated on both sides of the football, blanking Bishop Ireton 21-0 on Sept. 26 in front of a crowd that included spirited student sections from both schools.
Last year, the Cardinals, who would advance to the VISAA state championship game, edged the Maroon 26-24, handing Episcopal one of its two losses in 2014. On Saturday, both teams entered the contest undefeated, but it was Episcopal that built a 21-0 halftime lead and cruised to victory.
"It feels good," Blair-May said.
On offense, Blair-May carried 20 times for 211 yards and two touchdowns.
With Episcopal leading in the second quarter, the senior broke an 81-yard touchdown run to increase the Maroon's advantage to 14-0 with 10:26 remaining in the opening half.
Less than 4 minutes later, Blair-May raced 54 yards to the house, giving Episcopal a three-touchdown lead.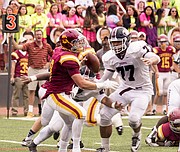 In two games, No. 27 has 42 carries for 390 yards and four scores.
"I thought he was excellent," head coach Panos Voulgaris said. "He gives great second effort, protects the football and he's a leader for us."
Defensively, Episcopal intercepted four passes and limited Bishop Ireton to 152 yards of offense. The previous week, Ireton scored 62 points against St. Albans and totaled 540 yards of offense, including 290 on the ground.
Patrice Rene, Mason Spence, Alex Collie and Blair-May each intercepted a pass for the Maroon.
"I thought they were aggressive [and] ran to the football," Voulgaris said about Episcopal defenders, "and that's the most important thing: knowing where to line up, running to the football and executing."
Ireton running back Perris Jones carried 18 times for 115 yards.
Episcopal quarterback Henry Hay completed 6 of 12 passes for 69 yards and a touchdown, and was intercepted once.
Episcopal (2-0) will host Collegiate at 4 p.m. on Friday, Oct. 2. Bishop Ireton (3-1) will host St. Stephen's & St. Agnes at 2:30 p.m. on Saturday, Oct. 3.