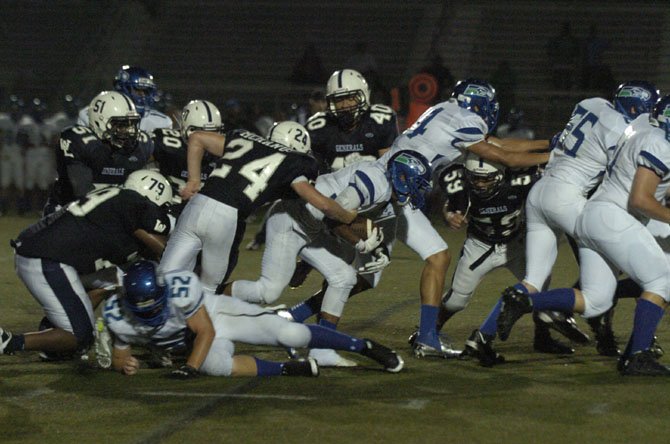 Not much had gone right for the South Lakes offense when the Seahawks took over on their own 19-yard line with less than 5 minutes remaining.
South Lakes trailed Washington-Lee, 8-7. Other than a long touchdown pass in the third quarter, the Seahawks struggled to move the ball against the Generals defense. South Lakes was running out of time and needed to make something happen.
"I just told the line to block hard and just give it your all," South Lakes senior Khayri Denny said, "and I'll go down and get the yards for them."
Denny had some help along the way, but his 12-yard touchdown run with 1:27 left on the clock capped a 13-play, 81-yard drive and propelled the South Lakes football team to a 14-8 victory over Washington-Lee on Sept. 12 in Arlington.
W-L took the lead with 6:58 remaining in the fourth quarter, when quarterback Sam Appel scored on a 1-yard run and followed by reaching the ball across the goal line for a two-point conversion.
South Lakes fumbled the ball away to W-L on its next play, setting up the Generals at the Seahawks 31-yard line. With their backs against the wall, the Seahawk defense stopped the Generals on fourth down at the 19-yard line, and the South Lakes offense responded with the winning touchdown drive.
"We wouldn't have won this game a year ago. We wouldn't have won this game two years ago."

— South Lakes football coach Marvin Wooten
"It's definitely a great win," third-year South Lakes head coach Marvin Wooten said. "What I love most about this game — because we knew W-L, they're a good football team — what I loved most about it is our kids had to overcome adversity. This group right here, they haven't really been faced with a lot of adversity. … To watch these kids come together and overcome that adversity is just a great feeling.
"… We wouldn't have won this game a year ago. We wouldn't have won this game two years ago."
Denny finished 37 yards and a touchdown on the ground and caught four passes for 85 yards and another score. Denny took a direct snap and ran 12 yards for the game-winning touchdown.
"He's our most dynamic player [on] both sides of the ball," Wooten said. "… Any great coach will tell you, when it's time to really test these kids, put the ball in your playmaker's hands and that's what we did. We just made sure that he got his touches. We kind of threw it on his back and he stepped up. He answered the call and that's what great players do."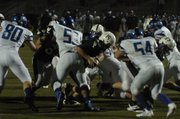 Wooten acknowledged the performance of sophomore quarterback Seth Ravenstahl giving him the game ball after he completed 7 of 15 passes for 107 yards, with one touchdown and an interception. Ravenstahl connected with Denny for a 65-yard touchdown with 10:58 left in the third.
"Seth's just a sophomore, so he still has some time to develop," Wooten said. "Right now, we don't have a seasoned quarterback. Seth is going to be that guy, but it's going to take time. We don't want to rush him. … That pass he threw in the third quarter — that was as good a pass as anybody's going to throw. He read it perfectly. I really thought that was the play of the game."
South Lakes improved to 1-1. The Seahawks dropped their opener against Westfield, 45-7, on Sept. 6.
A gutsy call by Washington-Lee head coach Josh Shapiro gave the Generals a fourth-quarter lead against South Lakes, but the Generals failed to hold on. Appel's 1-yard touchdown run with 6:58 remaining in the contest pulled W-L within a point at 7-6. The Generals lined up to attempt the game-tying extra point, but South Lakes jumped offside. The penalty moved the ball inside the 2-yard line and Shapiro elected to send his offense back onto the field for an attempt at a two-point conversion. Appel kept the ball and reached across the goal line to give W-L an 8-7 lead.
On the next play from scrimmage, W-L recovered a South Lakes fumble at the Seahawks 31-yard line. After the Generals picked up a first down at the 19, Appel threw incomplete four consecutive times, giving the ball back to South Lakes on downs.
The Seahawks responded with the game-winning drive.
"It was kind of one of those things where, how many times can we rely on our defense to bail us out?" Shapiro said. "And finally they caved."
Appel completed 14 of 26 passes for 109 yards and an interception. Junior running back Daquay Harris carried 23 times for 70 yards.
"Offensively, we can't really find our identity," Shapiro said. "We're so inconsistent."
South Lakes will host rival Herndon at 7:30 p.m. on Friday, Sept. 20. W-L will host Stuart at the same time.