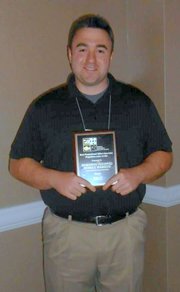 Approximately 450 delegates from Virginia gathered in early September for the 59th annual conference of the Virginia Recreation and Park Society, which was held in Williamsburg. The conference is a learning exchange and provides an opportunity for recreation and park professionals to collaborate and ultimately improve the delivery of parks and recreation services.
A highlight of each conference is a presentation of awards. This year Herndon Parks and Recreation had two items, which were selected in the 25,000 and less population category:
The 2012 Herndon Festival mobile website was voted Best Promotional Effort—Specialty
*The 2012 Herndon Parks and Recreation Department Summer Camp brochure was voted Best Promotional Effort—Traditional
To learn more about the Herndon Community Center and the department, visit www.herndon-va.gov, or call 703-787-7300.
More like this story