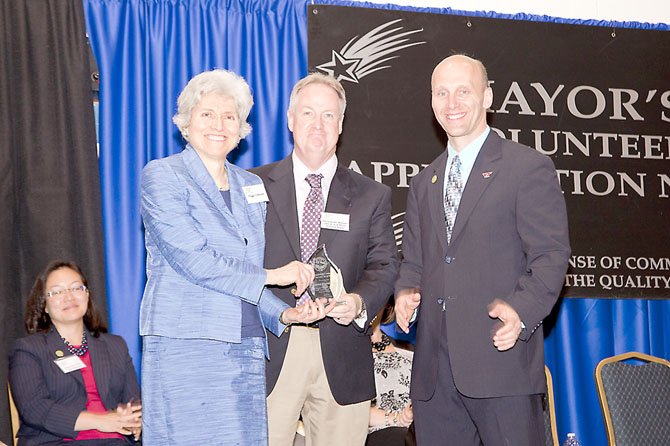 On April 15, 425 volunteers were honored for their service to the Town of Herndon from 38 different service organization and groups. Each of the honorees contributed 100 hours or more of volunteer service in the community last year. The 28th Annual Mayor's Volunteer Appreciation Night was held at the Herndon Community Center.
Citizens joined Herndon's Mayor, Steve J. DeBenedittis, members of the Town Council, Supervisor John W. Foust, and Delegate Thomas Rust in celebrating the spirit of volunteerism. The evening's keynote speaker was Andrew Horn, Social Entrepreneur and Advocate.
The Distinguished Corporate Service Award was added this year to honor up to two businesses or corporations that contributed to the town through outstanding commitment to, or promotion of, the town for the greater good of Herndon.
The awards were presented to Maude's Hair Salon located in the heart of Herndon to Virginia Dominion Power for their 20-year partnership with Herndon-Reston FISH to prevent the electricity in the homes of people in crisis from being discontinued.
Each year the town honors up to three Distinguished Volunteers.
The first Distinguished Service Award was presented to Bob Ashdown, who has served in several capacities for 40 years as a LINK volunteer and helped propel LINK to succeed and grow into an organization that serves over 7,000 individuals in Herndon, Sterling, and Ashburn. The second Distinguished Service Award was presented to the husband and wife team, Anthony and Marcia DiTripani who have been active in the communities of Herndon and Reston since they first moved to the area in 1969. Both have worked tirelessly for Herndon Reston FISH, including Marcia's service as President for five years. The third Distinguished Service award winner, Dave Kirby, currently volunteers planning the American Legion's Memorial Day and Veteran's Day services, managing the Legion's festival booth and volunteering for Friday Night Live for over five years, plus serving as a Board member of Herndon Hospitality Association.
For more information, visit the Town's website at www.herndon-va.gov, and click on parks and recreation, or call 703-787-7300.