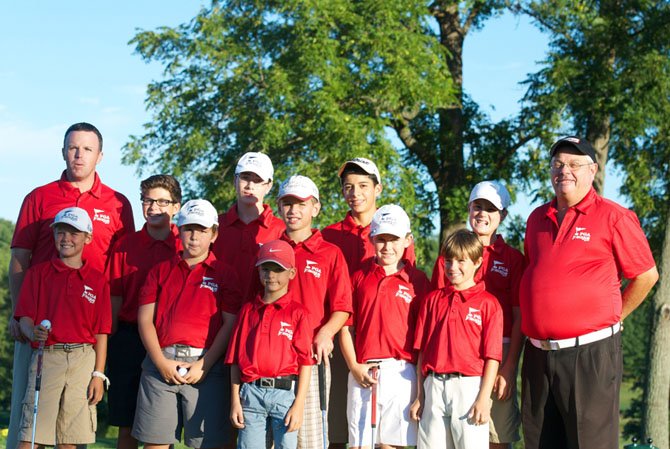 Ten boys ages 7 to 13 representing four Northern Virginia area golf clubs (Army Navy Country Club, Springfield Country Club, Country Club of Fairfax, and Mount Vernon Country Club) defeated similar all-star teams from Chattanooga, Tenn., Louisville, Ky., and Chesapeake, Va. to win the Mid-Atlantic Regional Championship of the PGA Jr. Golf League. The team comprises TJ Repczynski, Kyle Cardenas, David Stanford, Michael Stanford and Graham Kalan representing Army Navy Country Club; Logan Schwartz and Mason Jones representing Springfield Country Club; Wesley Duffy and Josh Dizinno representing Mount Vernon Country Club; and Noah Blocher representing the Country Club of Fairfax. "Beltway 1," as the team is known, now moves on to the National Championships to be held at TPC Sugarloaf in Georgia where they will compete against regional winners from Chicago, New England, Texas, California and the Southeast.
The season began with head-to-head competitions between the local clubs, the results of which determined the makeup of the all-star team. Before advancing to the regional competition in West Virginia, "Beltway 1" faced some fierce local competition against "Beltway 2" (a team comprising junior golfers from International Country Club, River Bend Country Club, Reston National, and 1757 Golf Club), followed by a challenging Montgomery County team, and finally a Gainesville-area team including Stonewall Golf Club and Piedmont Golf Club, among others.
Highlights of this season's "Ryder Cup"-like competition included a hole-in-one by Army Navy's TJ Repczynski (13) on the fifth hole at Army Navy's Fairfax Red course which helped propel Army Navy to its regular season top finish.
PGA Junior League Golf (PGA JLG) is designed to better socialize the game for boys and girls, ages 13 and under. PGA JLG features team vs. team competitions in structured leagues that provide a popular, less stressful scramble format as opposed to stroke-play competition. 
Junior League Golf launched as a pilot program in 2011, with teams competing in four select markets: Atlanta, Tampa, Dallas and San Diego. The Atlanta team won the inaugural JLG World Series held in September 2011 at TPC Sugarloaf in Duluth, Ga. In 2012, PGA Jr. League Golf saw close to 2,000 participants on over 120 teams in more than 20 select markets. The 2012 season culminated with five Regional Champions (teams from Georgia, Texas, New Jersey, California, and Florida) joining the host team from Illinois in the PGA JLG Championship held in September 2012 at Cog Hill Golf and Country Club in Lemont, Ill. Team California emerged victorious from the competition to bring the 2012 season to a close. In 2013, PGA Jr. League Golf becomes available nationally.  See http://pgajrleaguegolf.com/about to learn more.